Zelensky denies Trump tried to 'blackmail' him
By REN QI | China Daily | Updated: 2019-10-12 07:45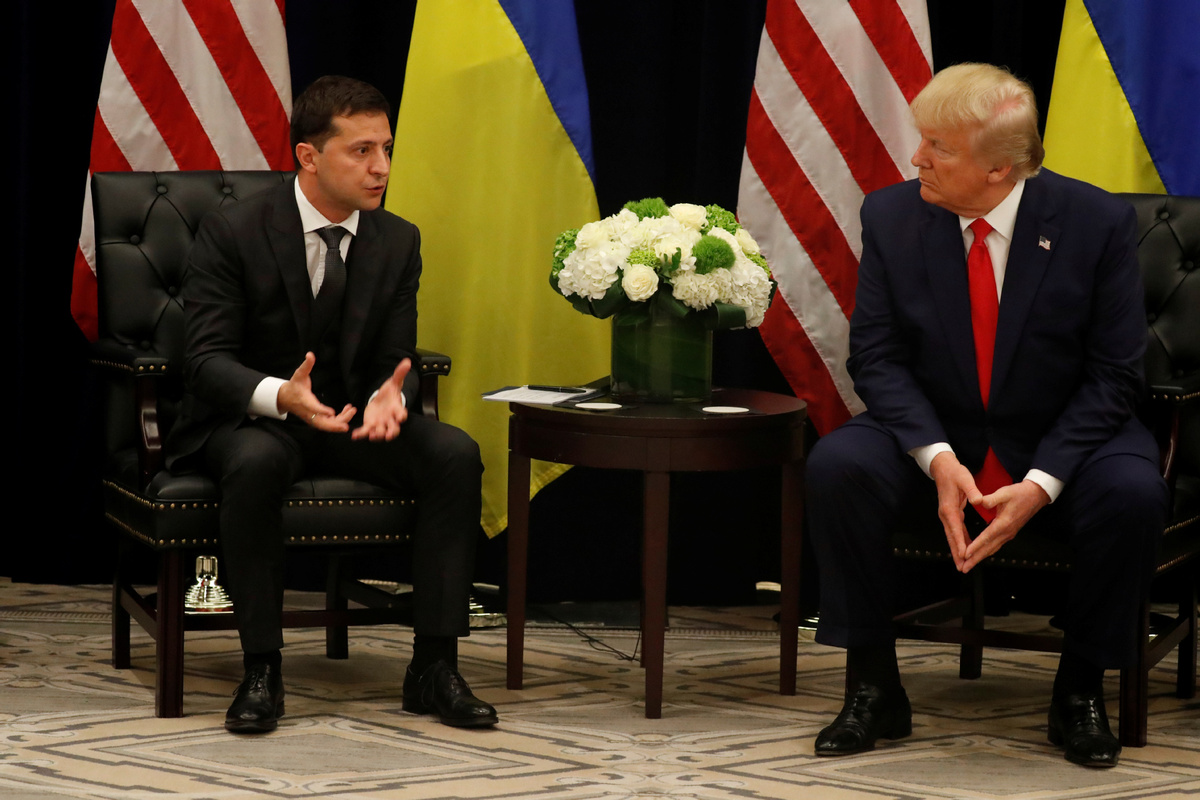 Ukraine leader tells marathon news conference he felt no pressure in call
Ukrainian President Volodymyr Zelensky on Thursday said there was no blackmail threat directed at him in a controversial phone call on July 25 with his US counterpart Donald Trump that sparked an impeachment inquiry in the United States.
Zelensky made the remark and was repeatedly asked about his relations with the Trump administration during a marathon news conference that lasted more than 14 hours in the Ukrainian capital city of Kiev with rotating groups of reporters.
According to the US media CBSNEWS, a rough White House transcript shows that in the phone call, Trump asked Zelensky to "look into" former US vice-president Joe Biden and his son Hunter. US congressional Democrats believe Trump was holding up military aid to use as leverage to pressure Ukraine and advance his domestic political interests before next year's US presidential election.
Zelensky said he didn't know at the time of the call that the US had blocked hundreds of millions of dollars in military aid to Ukraine.
"We didn't speak about it," he said. "There was no blackmail."
"I should not judge the actions of another president. His actions are governed by the laws of another independent country. ... I do not want to comment on the legality of the actions of the president of another country," Zelensky said.
He said he was open to a joint investigation into the 2016 US election but stressed Ukraine was an independent country with independent law enforcement agencies whose work he had no right to influence.
"I did not feel pressure and influence," said Zelensky, referring to his discussion with Trump.
While Zelensky was speaking, Reuters reported that prosecutors in the US said two associates of Trump's personal attorney Rudolph Giuliani had been arrested over a scheme to illegally funnel money to a pro-Trump election committee and other US political candidates. Zelensky said he had never met them.
Switching between Ukrainian, Russian and sometimes English, Zelensky's news conference ended just after midnight and was occasionally interrupted by protesters shouting from the floor below.
Although the news conference repeatedly circled back to questions about Ukraine's role in the impeachment inquiry in the US, the former comedian who won a landslide election victory in April also talked about his country's relations with Russia.
Zelensky accused Russia of delaying a summit aimed at resolving the conflict between Kiev and "Russianbacked forces" in the Donbass region that has killed more than 13,000 people in five years.
As for the news conference, Zelensky has broken a world record for the longest to date, his press secretary Yulia Mendel said.
The marathon news conference began on Thursday morning at a food court in Kiev, with 300 reporters accredited to ask questions.
Groups of up to 10 people could sit down at a table with Zelensky and interview him for 30 minutes.
As for the record books, Zelensky said he does not like awards, but appreciated the effort made in documenting the status of the feat.