Trans-Himalayan network taking shape
By MO JINGXI | China Daily | Updated: 2019-10-12 09:56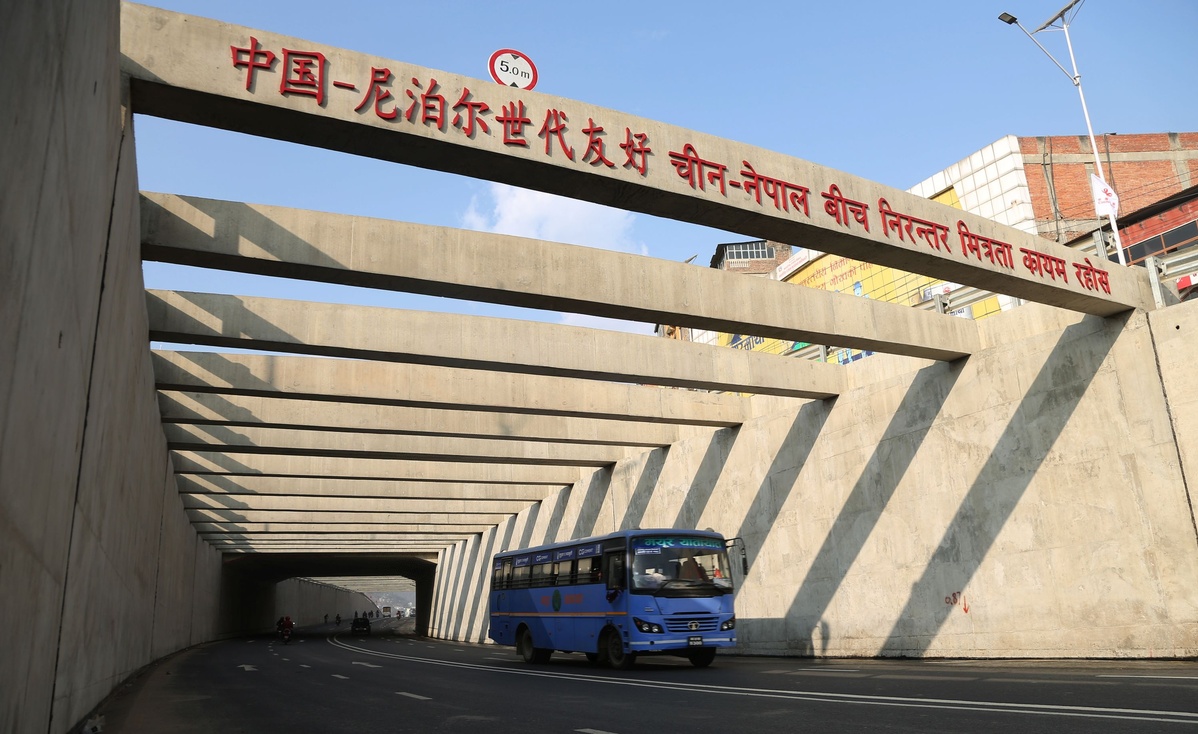 Chinese investment in Nepal exceeded $300 million last year, trade over $1 billion
A trans-Himalayan connectivity network taking shape will serve not just China and Nepal, but also the region as a whole, President Xi Jinping said in a signed article on Friday.
The article, titled "Toward Greater Progress of China-Nepal Friendship across the Himalayas", was published in three Nepali newspapers ahead of Xi's state visit to the South Asian nation this weekend.
Nepal has been an active participant in Belt and Road cooperation, and is working with China on a number of infrastructure projects to build or upgrade highways, ports, airports and power plants, Xi said in the article.
"China and Nepal are good partners for mutually beneficial cooperation," he wrote.
Nepal is China's important trade and development partner in South Asia, with two-way trade reaching $1.1 billion and Chinese investment in Nepal exceeding $300 million last year.
Since China and Nepal established diplomatic relations in 1955, the two countries have respected each other and trusted and supported each other, Xi said, calling the China-Nepal relationship an example of equality, friendship and mutually beneficial cooperation between neighboring countries.
In the article, Xi called on the two sides to deepen strategic communication, broaden practical cooperation, expand people-to-people exchanges and enhance security cooperation.
"It is important that we adopt a strategic and long-term perspective and draw up a blueprint for our bilateral relationship to take it to a new height in this new era," he wrote.
According to Xi, the two countries need to maintain high-level exchanges, enhance political mutual trust and continue to offer mutual support on issues concerning each other's core interests.
To broaden practical cooperation, Beijing supports Chinese business investment in Nepal in the four priority cooperation areas of trade and investment, post-disaster reconstruction, energy and tourism, Xi said, and China welcomes Nepal's participation in the second China International Import Expo next month to promote exports of its specialty products to China.
The president also said it is important that the two countries encourage more bilateral exchanges and cooperation in such areas as education and tourism, and support airlines in opening more direct flights to boost exchanges.
"China will give more government scholarships to outstanding young Nepalese and help train more professionals needed in Nepal's development endeavor," he said in the article.
Xi expressed China's support for Nepal in building law-enforcement capacity and said China will carry out law-enforcement training cooperation with Nepal.
He called for the two countries to scale up border defense contacts to fight transnational crime more effectively and strengthen practical cooperation in military-to-military visits, personnel training and equipment and technology consultation.
Nepal's government and people are pursuing their vision of "Prosperous Nepal, Happy Nepali" and the Chinese government and people are making strides toward the "Two Centenary Goals".
"With the aspirations and future of our people closely linked, it is only natural for China and Nepal to respond to the call of our times and step up cooperation for a better future," Xi wrote.