Inbound tourism bouncing back to new high, report says
By Cheng Si | China Daily | Updated: 2019-10-16 08:07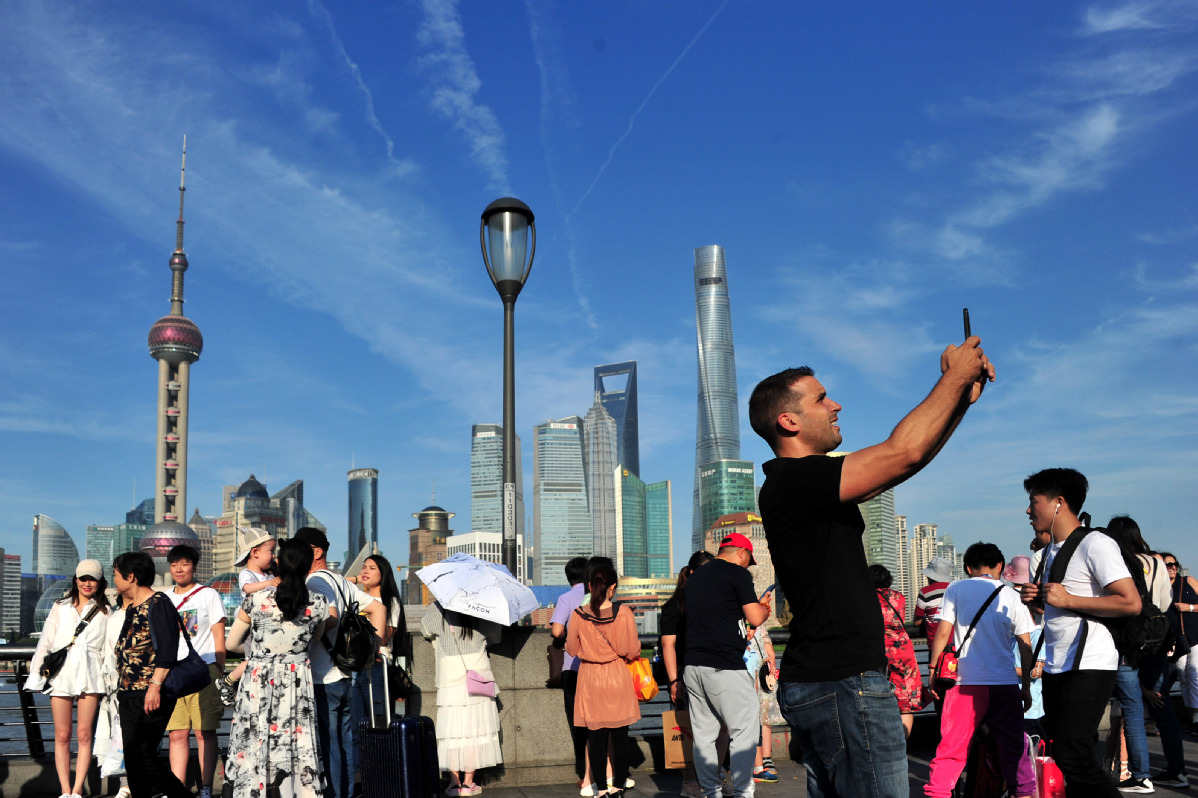 Optimizing visa policy, travel services and transportation key to further boost
China's inbound tourism has revived since 2015 after experiencing a downturn in recent years, but its potential has yet to be fully realized due to a stringent visa policy, imperfect tourism facilities and a homogenization of tour packages being offered, according to a report released by the World Tourism Alliance and China Tourism Academy.
Previously, a report by the China Tourism Academy said that about 73 million inbound visits were made in the first half of 2019, generating revenue of nearly $65 billion, both marking a rise of 5 percent compared with the same period last year.
From 2009 to 2018, the nation's inbound tourism increased after its watershed moment in 2015, when the sector was on an upswing after experiencing a continued decrease over the previous three years, according to the joint September report.
That report said that in 2018, the inbound tourism market hit a record high with visits reaching 14 million, increasing 1.2 percent year-on-year.
Among the visitors to the Chinese mainland, people from the special administrative regions of Hong Kong and Macao made up the majority during the 10-year period, accounting for over 74 percent of inbound travelers.
For example, in 2018, 74 percent of inbound visitors were from Hong Kong and Macao, and about 22 percent were from foreign countries including Japan, Australia and the United States, the report said.
Attractions highlighting Chinese traditional culture or history are among the most popular choices, including the Palace Museum, Tian'anmen Square and the Summer Palace in Beijing, the Bund in Shanghai and Emperor Qingshihuang's Mausoleum Site Museum in Shaanxi province.
Du Jiang, general manager of the China National Travel Service Group headquartered in Haikou, Hainan province, said that China is ranked fourth in the number of inbound visitors thanks to its rich natural and cultural resources, as well as its improved travel services.
However, the nation's inbound tourism still faces problems that hamper its future development, according to the joint report.
The report said that a preferential visa policy for overseas travelers is urgently needed, and tourism-related facilities have yet to be improved. For example, ambiguous signs at attractions or highways may mislead foreign travelers.
In addition, some homogenous tour packages are not attractive enough to overseas visitors and require more creative products, the report said. Pollution also had a negative impact on the inbound tourism market.
According to the report, measures to optimize the visa policy, travel services and transportation are key to boosting inbound tourism.
Moreover, education is important as more qualified people are needed in the industry. Higher education in tourism-related disciplines and cooperation between universities and travel companies are encouraged to produce more talent in areas of travel agency management, hotel management and tour guide training, the report said.