No let up for storm rescuers as Abe warns of prolonged impact
By Wang Xu in Tokyo | China Daily | Updated: 2019-10-17 08:53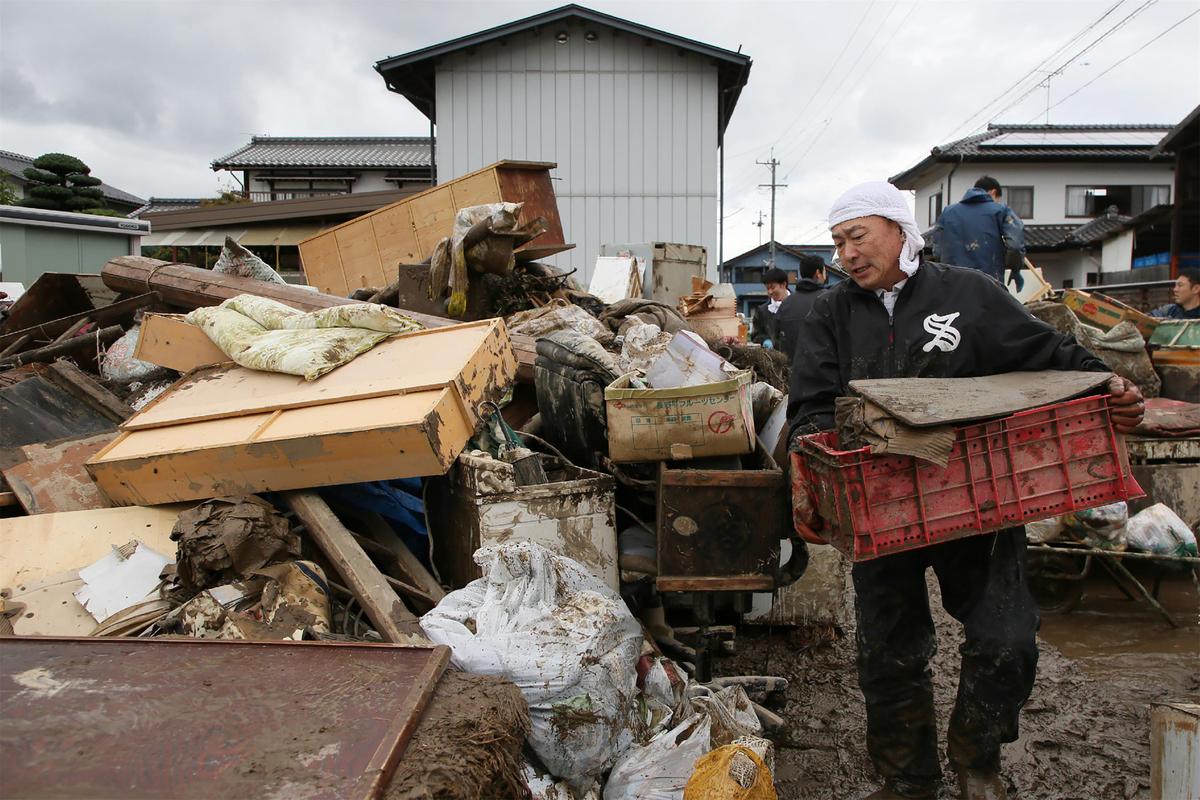 Rescuers kept up their increasingly grim search for the missing for a fourth day following the devastation wrought by Typhoon Hagibis, as Japanese Prime Minister Shinzo Abe warned on Wednesday of a "prolonged impact" from the storm and promised a special fund for disaster response.
Hagibis, one of the most destructive typhoons in decades, hit the country last weekend.
The death toll has risen to at least 75, according to public broadcaster NHK, with 13 missing, while tens of thousands of homes remain without power or water.
"We will make the utmost effort so that the disaster victims can return to their lives without worries as soon as possible," Abe said at a House of Councilors budget committee and promised the government will disburse about 710 million yen ($6.54 million) from reserves in the fiscal 2019 budget to deal with the aftermath.
"There are concerns that the impact on life and economic activities will be prolonged," he told a parliamentary session earlier.
The highest toll was 27 in Fukushima prefecture north of Tokyo, including a mother and son who were believed to have been in a vehicle when the storm started but were found nearly 4 kilometers apart.
Among the deaths were six Chinese, who were on a Panama-registered cargo ship, according to the Chinese embassy in Tokyo. The ship sank off Kanagawa prefecture, south of Tokyo, when the typhoon hit.
"There were 12 crew members on the boat. Seven of them were Chinese; one got rescued but the other six were killed," said Zhan Kongchao, consul-general of the embassy.
According to Zhan, the embassy responded immediately after the accident was reported and activated emergency procedures to gather information as well as to verify the reports.
"We have visited the rescued Chinese sailor and he is in a fine condition right now," said Zhan, adding that the embassy is working on providing assistance to the families of those who died.
In Beijing on Tuesday, Chinese Foreign Ministry Spokesman Geng Shuang thanked Japan for its rescue work.
"China expressed thanks to the Japanese side for their rescue efforts," he said.
Power outages
As of Wednesday, Japan's Ministry of Economy, Trade and Industry said that power outages continued in more than 12,000 households in nine prefectures across Japan, including seriously affected ones such as Chiba and Nagano, where 10 shinkansen trains - each with 12 carriages - were damaged by flooding at a depot.
The Ministry of Health, Labor and Welfare said almost 116,500 homes were without running water and more than 4,500 people were still in shelters.
On Tuesday, Toshihiro Nikai, secretary-general of Japan's ruling Liberal Democratic Party, apologized for remarks in which he described the typhoon damage as "so-so".
"It (the comment) was inappropriate if I caused misunderstanding to people affected by the disaster," Nikai told reporters after the comment triggered fierce criticism from opposition parties.
On Sunday, Nikai said the damage "was so-so compared with predictions" at an emergency meeting of LDP executives, while acknowledging the widespread damage.