London police ban on protest draws praise
By ZHANG YUNBI in London | China Daily Global | Updated: 2019-10-18 09:30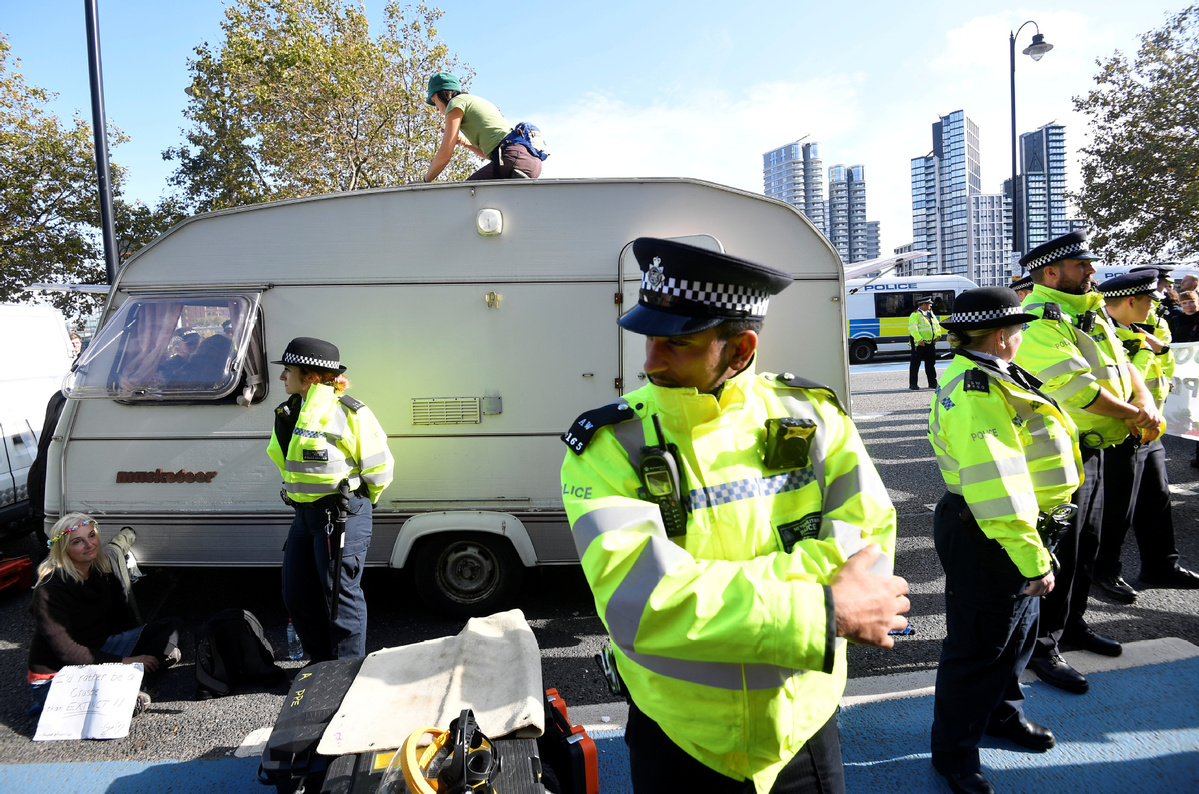 Hong Kong should learn from action taken on demonstrators over climate, netizens say
The London police action against protests that paralyzed public services and disrupted life in the city has drawn the support of netizens from both the United Kingdom as well as China.
The Metropolitan Police Service ordered a London-wide ban on protests under which any assembly, or a gathering of two or more people, linked to the Extinction Rebellion in London, is unlawful. Extinction Rebellion is a protest group that uses nonviolent civil disobedience to campaign on environmental issues.
Police cleared activists from Trafalgar Square, a public square in Central London, and other sites in the capital, where the group had gathered since it began its protest last week.
On Wednesday, police said they arrested a total of 1,642 people for taking part in the Extinction Rebellion protests across the city.
The Chinese netizens, while lauding police action, said that Hong Kong, which has been seeing violent protests for over 4 months, could learn from London's success in dealing with protests.
"Support the Hong Kong police to stop violence and terminate chaos with an iron grip," WeChat user Liyansen commented.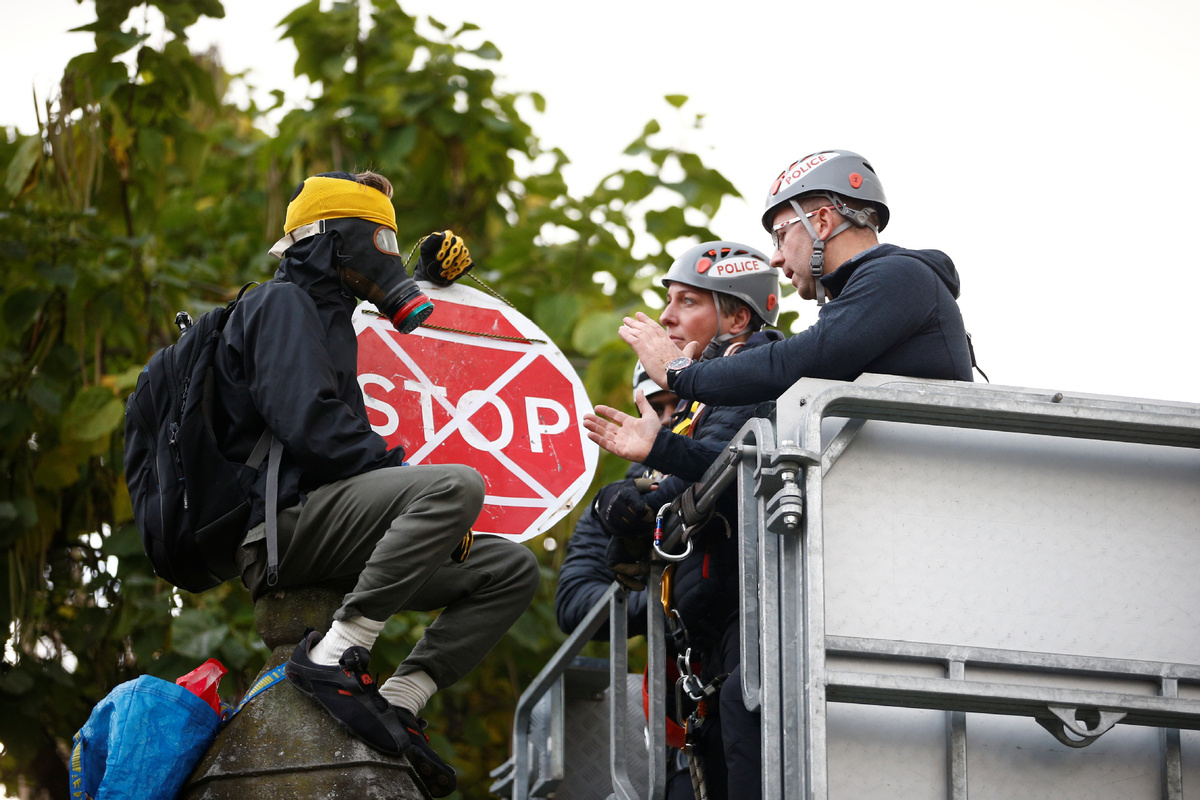 Micro blog user@manyrocks said the Western media had been tarnishing the Hong Kong police's reputation, and displaying "real double standard".
Another WeChat user Hammer said, "Those (radical actions by protesters in London) are way much lesser devil in comparison with what was done by rioters in Hong Kong".
Protesters had sought to block roads in an attempt to affect the London City Airport's operations. Paralympic medalist James Brown, for instance, climbed onto the roof of a British Airways plane on Oct 10, and was taken away by police.
The Independent newspaper said the protesters' occupation of the airport was similar to that of Hong Kong.
On Monday, police said in a statement that protesters must leave the Trafalgar Square by evening.
Later in the day, Metropolitan Police Service Deputy Assistant Commissioner Laurence Taylor said, "Officers have begun the process of clearing Trafalgar Square and getting things back to normal."
Extinction Rebellion said on Tuesday it had "let the Trafalgar Square site go".
"If you want to protest, you can go to Trafalgar Square. If you act unlawfully, we will arrest you and we will seize things that you are using to obstruct the highways in London," Metropolitan Police Commissioner Cressida Dick warned in a brief video speech issued through Twitter on Oct 9. The warning had received more than 1,800 likes.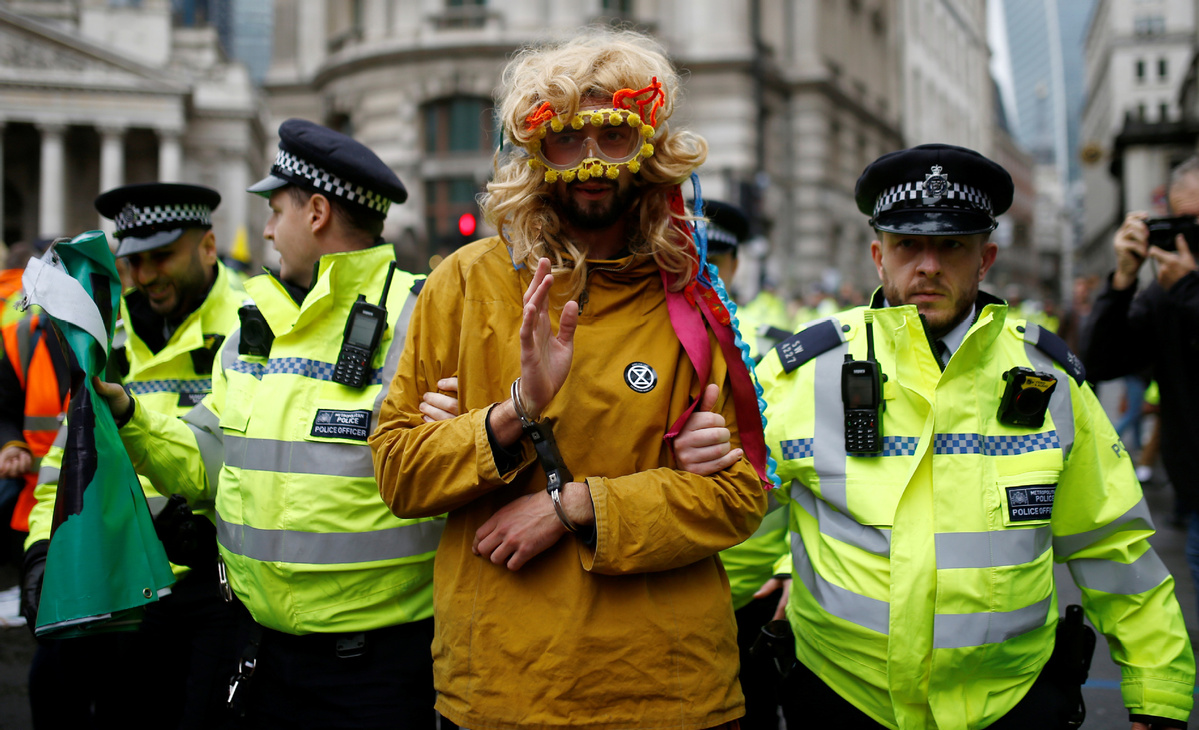 BBC reporter Nicholas Watt tweeted on Oct 10 that his flight from London City Airport to Dublin, Ireland, was grounded as a protester "stood up with iPhone to deliver lecture on climate change up and down aisle".
"So protester on our plane obviously clocked the best way round security: dress smartly and act as a normal passenger and then seize moment and limelight once plane on the move," he said in a later tweet.
Twitter user @TonyCla24819231 said, "The authorities should make his day and ban him from boarding an aircraft again."
In a signed article published by Evening Standard newspaper on Oct 11, Dick, the London police chief, said some protesters have a strategy to break the law as they "glue themselves to buildings and each other, climb to high places, lock themselves on to the underside of vehicles with D-locks around their necks" to deliberately make it difficult to clear them".
D-lock is a device used to secure a motorbike when parked.
"We have carefully unlocked, unglued and arrested those breaking the law, including taking down a protester from the top of an aeroplane," she said.
Police also released a video showing the barriers put up by protesters being removed.
Police authorities "are equipping more officers with Tasers", and have brought in 500 officers from the other forces, she said. A Taser gun is a nonlethal defense weapon that can incapacitate an attacker from a distance.