Abe's Yasukuni gesture angers Japan neighbors
By Wanag Xu in Tokyo and Wang Qingyun in Beijing | China Daily | Updated: 2019-10-18 09:46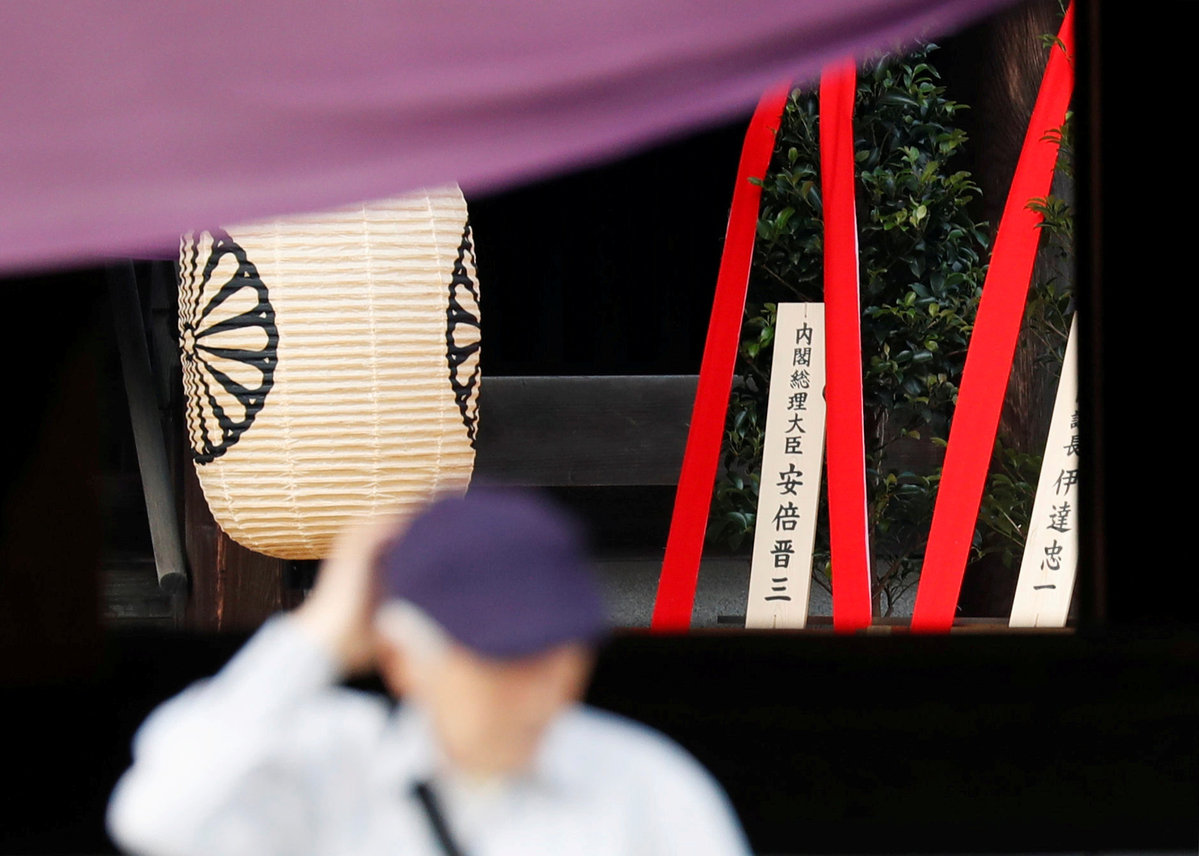 Japanese Prime Minister Shinzo Abe sent a ritual offering to the war-linked Yasukuni Shrine in Tokyo on Thursday in a move that drew a backlash from neighboring countries.
Although he avoided visiting the shrine, Abe maintained his controversial association with Yasukuni by sending the offering as its four-day autumn festival got underway.
China has lodged solemn representations to Japan over Abe's actions in relation to the war-tainted shrine.
The Yasukuni Shrine is a symbol of Japanese militarism that led to the country's wars of aggression, Chinese Foreign Ministry spokesman Geng Shuang said in a daily news conference on Thursday. The shrine honors 14 class-A war criminals who were responsible for the aggression, Geng said.
The behavior of the Japanese politicians reflects the erroneous attitude that Japan holds toward its history of aggression, said Geng, who urged Japan to honor its promise to face up to its history and earn the trust of its Asian neighbors and the international community through concrete actions.
Aside from Abe's gesture, a cabinet member visited the shrine on Thursday.
The Republic of Korea's Foreign Ministry said in a statement: "The government expresses deep regrets over the fact that Japanese government and parliamentary leaders again sent offerings or visited the Yasukuni Shrine that glorifies Japan's history of wars of invasion.
"Our government points out once again that Japan can contribute to the future-oriented development of ROK-Japan relations and gain the trust of neighboring countries and the international community only when Japan's responsible leaders show humble reflection on the past through action."
Japan's public broadcaster NHK said Abe did not visit the shrine because he was visiting the Miyagi and Fukushima prefectures that were hit by Typhoon Hagibis last weekend.
Seiichi Eto, Japan's minister in charge of Okinawa and what Japan calls "the Northern Territories" that are disputed with Russia, visited the shrine on Thursday.
Eto's Yasukuni visit was the first by an incumbent cabinet minister since April 2017.
The visit by Eto also triggered widespread criticism among Japanese lawmakers, such as Kazuo Kitagawa, a vice-representative of Japan's Komeito party, who said: " (He) should be cautious when visiting as a minister considering the current Japan-ROK and Japan-China relationships."
Kazuo Shii, chairman of the Japanese Communist Party, told reporters at a news conference: "The Yasukuni Shrine is a shrine that glorifies past wars of aggression. Visiting the shrine means vouching for that view of history.... Ministers of a state should not do that."