Questions raised over online property inheritance
By CAO YIN | China Daily | Updated: 2019-10-21 03:55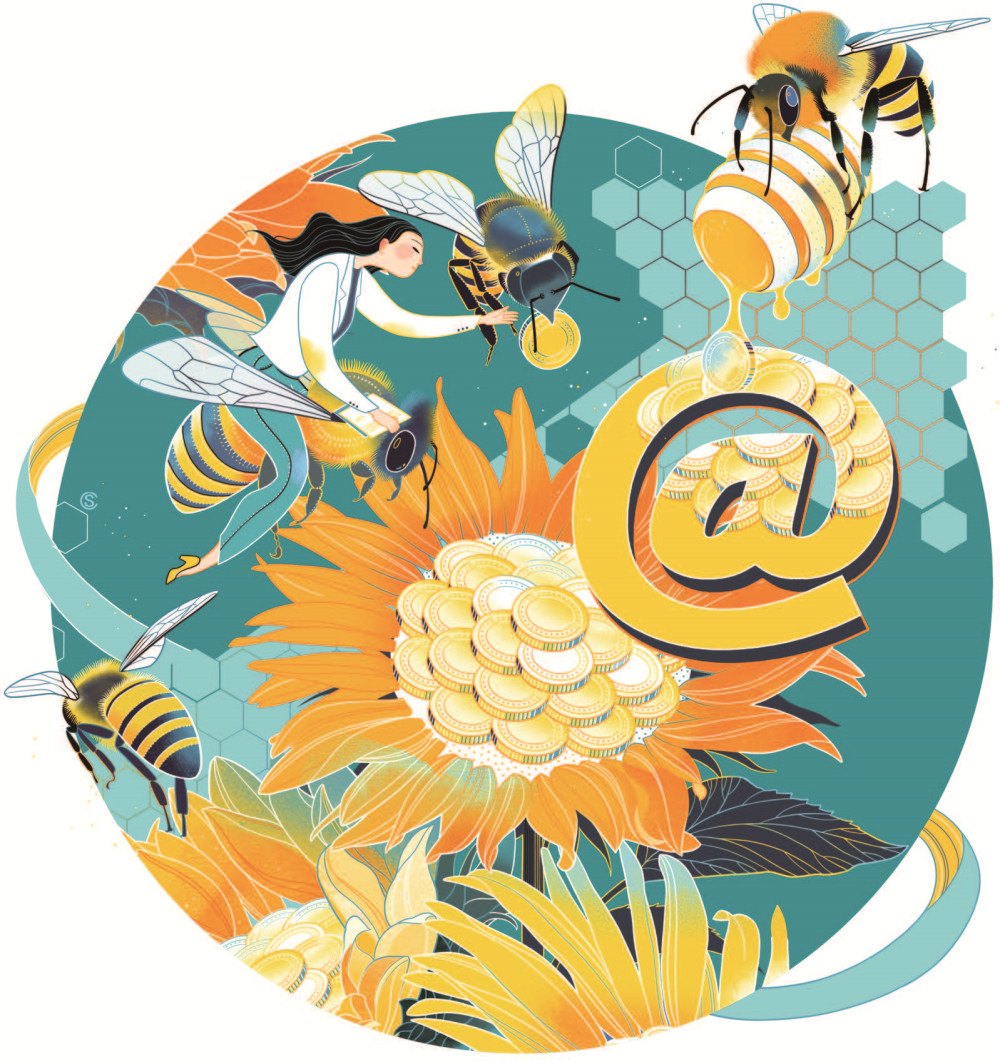 Family disputes taken to courts nationwide
When she returned to her hometown in Shanxi province during the recent National Day holiday, Kong Yiying, who works in Guangzhou, capital of Guangdong province, received a special "gift" -- her mother's more than 20 online accounts and passwords.
Holding a piece of paper listing her mother's account on Alipay, the popular online payment service of e-commerce giant Alibaba, on WeChat Pay, the online wallet of internet technology company Tencent, along with several social apps, Kong said she was initially surprised, puzzled and uncomfortable with her mother's decision.
"It was like a will," the 30-year-old, said. "I didn't know why my mom, who is in good health, had given me these digital numbers until she shared news of online property lawsuits with me."
Her mother, 54, became worried when she saw that some people had experienced difficulty in inheriting property online. Some had even taken family members and internet companies to court.
"She doesn't want me to face such trouble and hopes that I can inherit her virtual properties smoothly if she passes away or has an accident, so she told me the details of her accounts," Kong said.
But Xu Hao, from the Beijing Jingsh Law Firm, said the mother's decision will not help solve problems in online property inheritance. "The sharing of accounts just means Kong could log into her mother's apps in an emergency, but whether such online services are 'properties' and can be inherited is still unclear under the current laws.
"As we benefit from online services and products in the internet era, dealing with the digital data has become an urgent issue to be solved by rule of law," he said, suggesting that legislators, judicial authorities and internet companies join hands to conduct more research in this field.
Li Long, a judge from Beijing Chaoyang District People's Court, agreed. She said some courts nationwide have experienced disputes over digital property inheritance and allocation.
Referring to some cyberspace products, especially online currency, Li said more judicial research should be carried out and more time taken to assess whether they entail legal risks have a negative effect on internet development and social stability.
Family affair
Jia Zhu, 31, who works for a fashion company in Beijing, has concerns about the Alipay wallet, an online payment tool.
"The login for the app requires my thumbprint or facial recognition. If I die, can my husband or son withdraw the money in the app? How can they do that?" Jia asked.
She contacted the account operator and was told her family members could obtain the money, because the app is linked with her bank account. "They must submit documents to the operator proving proof of their identity and that they are relatives. However, the online account transfer or inheritance will take some time, as this requires a review," she added.
Li said savings or financial projects with Alipay, WeChat Pay and online banks can be protected by law, "because they are identified as properties that can be transferred into money. Properties can be inherited under the Chinese Inheritance Law."
She said one major difficulty lies in defining the points rewards or popularity of an online shop and equipment for online games.
"Are they valuable and should they be identified as properties? This legal gap is a controversial issue for courts nationwide. The definition is unclear, let alone protected by rule of law," she said, adding that evaluating such online products and services is challenging.
Li thinks that although the amount made by online shops is not difficult to calculate, "the trouble lies in assessing how much the shops are worth, especially those with millions of clients and a good reputation in the market".
Last year, Xinhua News Agency reported a dispute between a brother and sister in Chongqing's Bishan district over inheritance of a popular online shop. Both attempted to run the business after their mother, who owned it, died in June 2015.
In November last year, the brother took his sister to the district court, asking that he inherit the shop and its profits. She finally abandoned her inheritance claim, and the case was ended by mediation, according to Xinhua.
Liu Junhai, a law professor at Renmin University of China, said that if the mediation had not been successful, the court would have had to assess the market value of shop for inheritance purposes. "But our current laws do not stipulate which institute is qualified to do the evaluation and how to the value should be calculated," he added.
Liu encouraged third-party institutes to study this issue further, suggesting the nation's assessment association draft a guideline before legislation is introduced to help online platforms and courts better deal with inheritance among relatives.
Zhu Wei, an associate law professor at China University of Political Science and Law, said similar problems have been experienced in the livestreaming broadcast industry. "A 'hot' account attracts millions of followers online and can bring huge user benefits. Calculating its market value requires us to take this into consideration," he added.
'Inevitable problem'
In August, a report from the China Internet Network Information Center showed there were 854 million netizens in the country as of June, of whom 639 million had shopped online.
As a leading player in the e-commerce industry, Taobao has studied online shop transference or inheritance when users have died or divorced. An employee with the platform said, "It's an inevitable problem in the internet era, and our clients have high demands."
According to the Taobao website, its online shops can be transferred or inherited if owners die, have accidents or face broken marriages, but applicants must be reviewed after offering sufficient documentation, including proof of the owner's death, medical records as well as household registration or marriage certificate to prove relationships.
Since March, Taobao has also allowed transference between online shop owners. Transfers have not been restricted to family members.
The employee said, "Transferring online shops is a complex issue that needs further study and exploration," adding that the company will carry out more research to improve this service.
Li, the judge, applauded the move and said it would be good if disputes over online product transference between web platforms and users could be ended.
But dealing with online accounts, including photos and videos, remains a problem with inheritance, Li said. She cited one case in which a wife, after her husband had died, had failed to be provided with information related to this in an email even though she contacted the internet service provider.
"The company thought the contents were the user's private possessions that were not open to others, and took this measure to ensure cybersecurity," she said.
Liu said privacy protection is crucial and can be understood, "but I think some online contents — as a family's mutual memory — should be shared or inherited among the deceased's family members or relatives."
Dong Juan, from the Beijing Zhongwen Law Firm, called for internet platform operators to draw up and provide online agreements on inheritance for their users when they register, because in China it can take a long time to verify the documents needed for this.
If users are allowed to pass on their posts, pictures or videos to their family members online, the platform should offer help to open accounts. If there is no agreement, inheritance should not be allowed, she added.
Action taken
In October 2017, the Principle Provision of the civil code became effective. China's first law on virtual properties stipulates that digital data or online properties can be protected by a court providing there is an article in the law covering such protection.
Although this provision remains unclear, Dong regards it as a key legal step to solve problems relating to virtual properties.
Zhao Zhanling, from the Beijing Zhilin Law Firm, agreed. He said more time and research is needed to verify some online services and products, such as game roles and scores, adding that the law leaves room for further interpretation of this issue.
But Li said inheriting properties in online payment apps, including Alipay and WeChat Pay, should first be clarified by the law.
Dong's colleague, Li Ya, said some internet enterprises, including Alibaba, have their own rules covering online property inheritance. "If we can clarify and uphold this part in the law, the internet companies will better understand their duties and be more effectively regulated," he said.
Zhu, from China University of Political Science and Law, is in favor of China ruling on digital property inheritance by law as soon as possible, but added that virtual currencies are a very confused legal issue. It is too early to clarify this by legislation and more thought is needed.
Disputes relating to digital currencies, futures or the equity market have been emerging in cyberspace. "Improper transactions of such currencies may easily bring financial or legal risks, such as fraud," he added. "So, legislation in this industry must not be introduced too quickly. We need more time to study it," he added.