Prestigious Scottish school to open Chinese campus
By ANGUS McNEICE in London | China Daily Global | Updated: 2019-10-22 10:22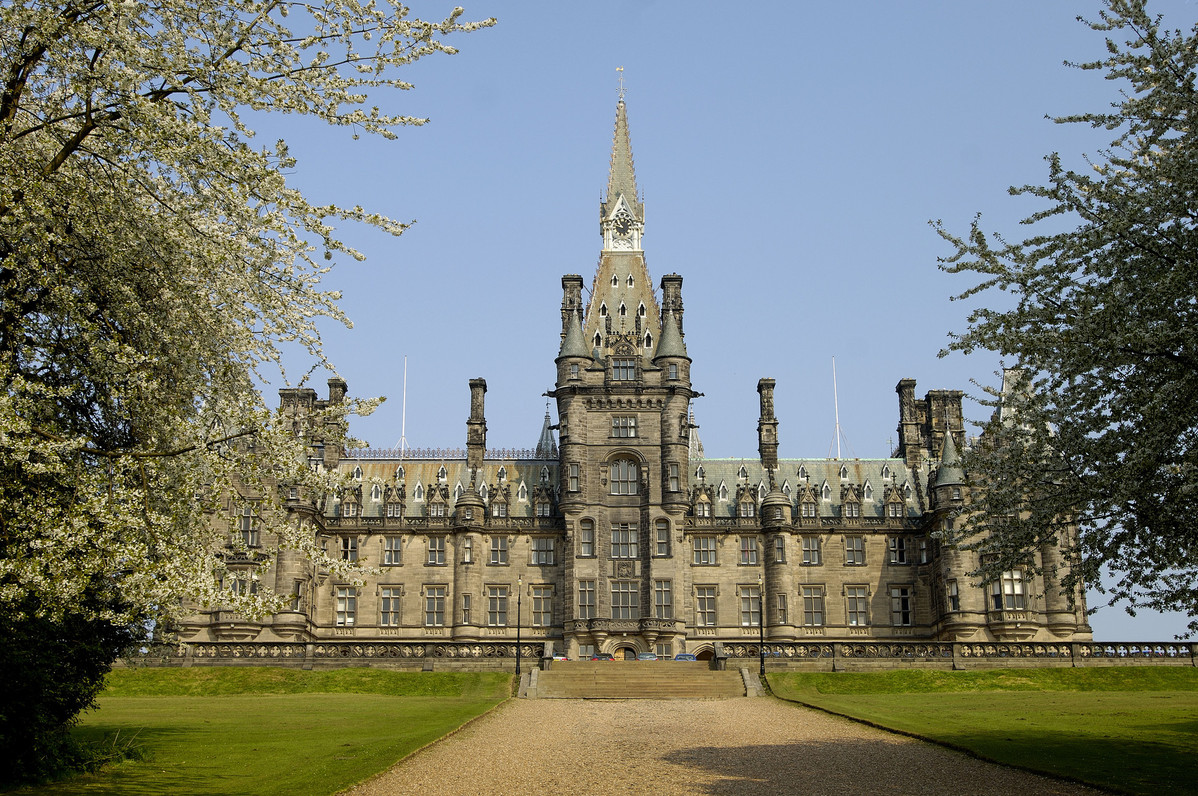 Architects have begun construction on the Chinese outpost of a top-ranked Scottish school that will offer bilingual education to elementary and high school students.
Fettes Guangzhou is a collaborative venture between Chinese education company Bright Scholar and Edinburgh-based Fettes College, opened in 1870, which counts former United Kingdom prime minister Tony Blair among its alumni.
Set to open in September next year, Fettes Guangzhou will be the brand's first international campus.
The school will be dual-curricular, offering up to 2,000 students aspects of both the British and Chinese education systems. Fettes Guangzhou will teach boys and girls and take full boarders as well as day students.
"Fettes Guangzhou will be a true reflection of Fettes College internationally, fully adopt our ethos, provide an outstanding academic education, focus on sector-leading pastoral care and introduce a wealth of co-curricular activities to broaden the horizons of all of its students," said Bruce Dingwall, who is deputy chair of the Fettes Trust.
Situated on the northern outskirts of Edinburgh, Fettes College was named Scotland's top independent secondary school in 2018 by The Sunday Times School Guide, which uses results from General Certificate of Secondary Education, A-Level, and International Baccalaureate exams to determine its rankings.
Several high-profile individuals have attended Fettes, including 2015's Nobel Prize in Economics winner Angus Deaton, Academy Award-winning actress Tilda Swinton, and sinologist Roderick Mac-Farquhar, who served as director of the Fairbank Center for Chinese Studies at Harvard University.
Bright Scholar is China's largest operator of international and bilingual schools, and the company has made a string of investments in British education in recent years.
In July, Bright Scholar acquired CATS Colleges, which is part of the Cambridge Education Group, for 150 million pounds ($195 million).
CATS Colleges is a global network that focuses on international students, with seven campuses and 10 language schools across the UK, the United States and China.
Bright Scholar also purchased Bournemouth Collegiate School in southern England, St. Michael's School in Wales, and Bosworth Independent College in Northampton.
Bright Scholar vice-chairman He Junli said the investments form part of a plan aimed at "distinguishing us as a global premium education service provider".
Other Chinese companies who have invested in British independent schools recently, include the Wanda Group, Hong Kong-based Full Circle Education, and Achieve Education Group of Shanghai.
Colin Tyre, chairman of the Fettes Trust, says that Bright Scholar is well placed to continue the school's traditions, as the company's vice-president of corporate development, Chen Shu, was educated at Fettes College.
"Having (Chen), an Old Fettesian, so closely involved in the project will also ensure that the ideals and philosophy of Fettes are adopted," said Tyre.
The new school will be on a 13,300 square-meter site in the Zengcheng District of Guangzhou. London-based architects Broadway Malyan will design the campus, in conjunction with Fettes College's architect Page/Park.