Rail operator on profit path
By Zhong Nan | China Daily Global | Updated: 2019-10-29 09:18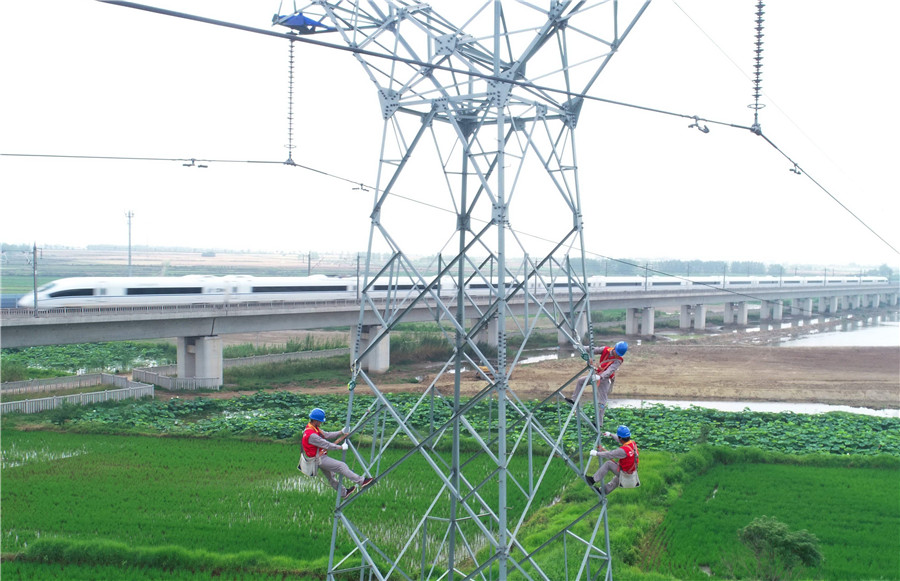 China Railway files application in Shanghai bourse for subsidiary to raise capital
The asset securitization of the Beijing-Shanghai High-Speed Railway, the country's most lucrative rail route, will lead the way for the country's debt-ridden national rail system to raise capital and deepen the mixed-ownership reform to restore its earning ability, industry experts said on Monday.
Their remarks came as the China State Railway Group Co Ltd, the national rail operator, submitted an application for an initial public offering at the Shanghai Stock Exchange for the Beijing-Shanghai High Speed Railway Co that included details of its profitable operations and levels of staffing.
The 1,318-kilometer railroad has reported profit growth for five consecutive years since 2014. It reported a net profit of 9.52 billion yuan ($1.35 billion) in the first three quarters of 2019, according to a filing published by the China Securities Regulatory Commission last Friday.
The company assets stood at a total of 187.08 billion yuan and liabilities of 27.35 billion yuan by the end of the third quarter on Sept 30, 2019. Its equity debt ratio is only 14.6 percent, far below the 65 percent average for the nation's railway operators as a whole.
As the majority of passengers traveling by air between the major hubs of Beijing and Shanghai are business travelers, they are "insensitive" to fares, and airlines rarely offer tickets at a discount on this route, said Cheng Zhiwei, a researcher at the National Development and Reform Commission's Institute of Transportation Research.
"Therefore, many people choose high-speed trains between China's two biggest cities, as they offer relatively cheaper prices and rarely experience delays on journeys due to thunderstorms, rain or snow," Cheng said.
Apart from its irreplaceable position and healthy financial returns, the entrusted management mode is the key factor for Beijing-Shanghai High-Speed Railway to make a profit and conduct an asset-light strategy, said Zhou Lisha, a researcher at the research institute of the State-owned Assets Supervision and Administration Commission.
Founded in 2008, the Beijing-Shanghai High-Speed Railway Co only had 67 staff members and 12 shareholders, including the China Railway Investment Co Ltd, the National Council for Social Security Fund, and the Jiangsu Railway Group, by the end of September.
Its business scope includes passenger transport, consulting services, equipment and material procurement, property management logistics warehousing, and parking lot services.
The company has outsourced the work of organizational, safety, land, software and transportation facilities management to other units of China State Railway Group Co Ltd such as China Railway (Beijing) Group Co, China Railway (Jinan) Group Co and China Railway (Shanghai) Group Co, paying the relevant expenses to ensure their operations.
The railroad reported a net profit of 10.25 billion yuan in 2018, up 13 percent year-on-year, the filing said.
This planned IPO will send more positive signals to other railroads across China, especially those in the country's coastal regions, to restructure their assets and introduce more shareholders from both the private and State-owned sectors.
Once the railroad officially goes public, it will also help China State Railway Group Co Ltd gain more funds to optimize its giant assets and operational systems through the stock market.
The Beijing-Shanghai line was initially proposed in 1990, but construction only began in 2008. The work was completed in 2011 at a cost of 221 billion yuan. The trains currently can run at speeds of up to 350 kilometers per hour.
Other bullet train services such as those between Hangzhou, the capital of Zhejiang province, and Ningbo in Zhejiang province, and between Shenzhen in Guangdong province and Guangzhou, the provincial capital, have all reported strong profit growth in recent years, said Yang Xin, a researcher at the China Academy of Railway Sciences Corp.
The high-speed rail links have prompted airlines to stop operating short-haul routes such as those between Wuhan, the capital of Hubei province, Changsha, the capital of Hunan province, and Nanchang, the capital of Jiangxi province, Yang said.
They have also stopped operating between Chongqing and Chengdu, the capital of Sichuan province, Zhengzhou, the capital of Henan province, and Xi'an, the capital of Shaanxi province.