Festival on intangible culture highlights link to poverty alleviation in China
By Wang Ru | China Daily | Updated: 2019-10-31 08:38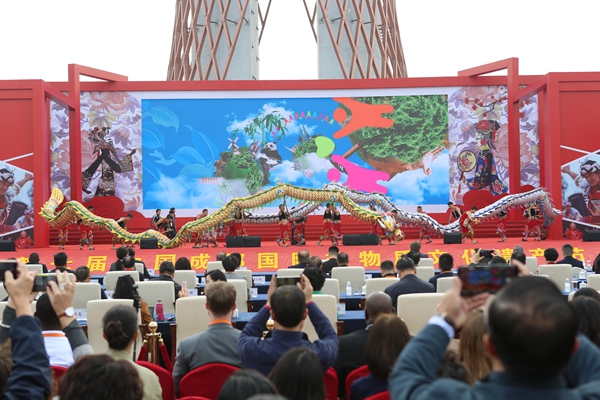 Xiao Hua watches the Chinese TV series The Story of Yanxi Palace, which focuses on royal life in imperial China, to see the embroidered dresses worn by actresses in the roles of the concubines.
"Some of the embroidery is relatively coarse, made by machines, but some are handmade and exquisite. I like analyzing the quality and craftsmanship," says Xiao in Chengdu, Southwest China's Sichuan province.
She recently attended the 7th International Festival of Intangible Cultural Heritage Chengdu as a "city-level inheritor" of Shu embroidery, a type of needlework that originated in the province.
Shu is an old abbreviation for "Sichuan".
Organized by the Ministry of Culture and Tourism and the provincial government, the festival was held in Chengdu over Oct 17-22, when more than 5,600 delegates from the field of culture in 86 countries participated in activities such as exhibitions, forums and competitions.
The main exhibition focused on how intangible heritage is helping poverty alleviation and rural revitalization in China, and looked at efforts made by different provinces. For example, 10 workshops imparting lessons on handicrafts and online retail have been established in Liangshan Yi autonomous prefecture in Sichuan.
Hu Yan, deputy director of the intangible cultural heritage department of the Ministry of Culture and Tourism, says: "We have identified 10 key areas and are supporting programs linking intangible cultural heritage and poverty alleviation. We have established 156 workshops, and have asked local governments, enterprises and universities to build brands with local features to help local people to make money."
A forum discussing how to promote rural revitalization through traditional crafts was also held at the festival, attended by experts from both home and abroad.
Guo Yi, director of Zhejiang province's intangible cultural heritage protection center, says a special group that includes members of both local and provincial cultural institutes has been established to help local people design cultural and creative products and for longtime practitioners to develop products with related cultural elements.
"Rural handicrafts should not be limited to villages. It should be promoted far beyond," says Guo.
Himalchuli Gurung, a culture specialist at the UNESCO Office in Beijing, says people should avoid excessive commercialization so that intangible cultural heritage does not become a simple moneymaking tool.
The festival also had smaller exhibitions like an international handicrafts show and an immersive experience of digitized intangible heritage.
Xiao says she was attracted by Shu embroidery when she discovered its beauty in 2005, and since then has worked on it with the help of her teacher, a longtime practitioner of the craft.
"When I learned more about embroidery, I began to realize it is not only about sewing and mending clothes. It has many cultural connotations. When I work on it, I feel like I am drawing," she says. "I also learned that in ancient China, Shu embroidery works were as valuable as gold and silver, and could be exchanged for battle steeds and daily necessities."
As Xiao realized the value behind the handicraft, she grew more interested in it and felt a sense of responsibility to pass it on, she adds.
Xiao attended Tsinghua University in Beijing in 2015, where she received training in intangible cultural heritage innovation through a government program.
"The country is carrying out the training of cultural heritage inheritors. Since 2015, we have held some 700 training courses, and trained 98,900 inheritors," Hu says.
Another practitioner, Wang Mingwen, a "provincial-level inheritor" of bamboo-woven birdcages, says he has been able to persevere with it because it runs in his family.
"I took up weaving bamboo birdcages when I was about 20 years old, and have been engaged in it for about 24 years. I didn't find it hard as other people did, maybe because I grew up seeing my father make them," Wang, now 45, says.
"I want to continue the cause which my father devoted all his life to. I also hope my child will inherit it, but that depends on him."
Government efforts are also visible in other areas. For example, Wang is happy to see the building of craftspeople's studios and a birdcage cultural museum by the government in his hometown of Zhilu in Chengdu, where hundreds are engaged in the handicraft.
Some foreigners who attended the festival spoke of their experiences in promoting and protecting intangible cultural heritage.
Korean art critic Byun Chung-ja says the protection and development of intangible cultural heritage in the Republic of Korea are managed by two separate government departments.
Guo says: "I believe it is a good way of management. While the protection of intangible cultural heritage is strictly the responsibility of one department, the other one can develop it based on market demand."
During the festival, Chengdu also promoted 10 travel routes that feature intangible cultural heritage in the city and will help tourists better enjoy their time there.