Only patriotic education can inoculate Hong Kong against ideological diseases
By Andy Mok | chinadaily.com.cn | Updated: 2019-11-03 09:18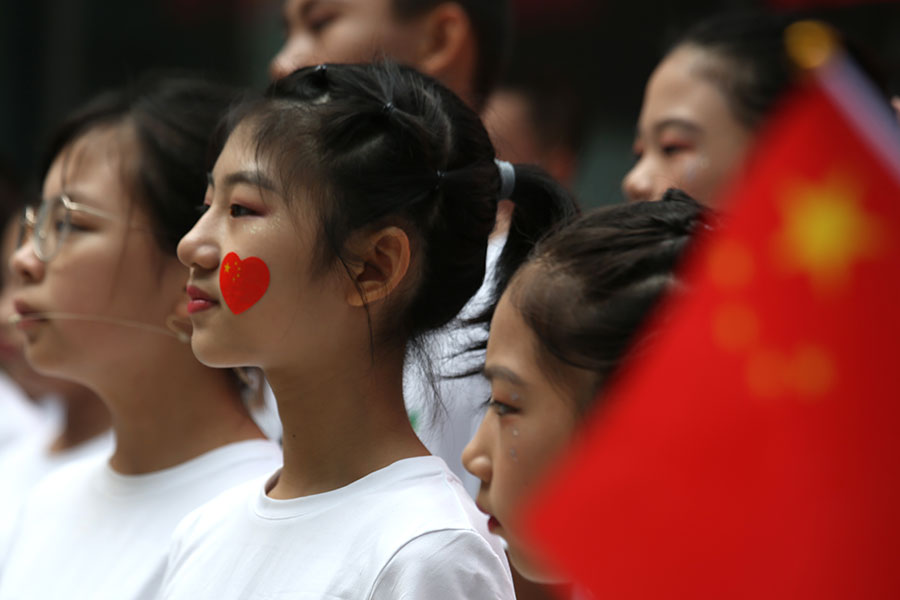 The fantasy of Western-style liberal democracy is a malignant virus that infects places with weakened ideological immune systems. Healthy and robust countries like China, Russia, Iran, Cuba and a few others have show their ability to withstand this disease and the demise that such an infection often leads to. Others, like Venezuela or those caught in color revolutions and the Arab Spring, have not been so fortunate.
Unlikely as it may seem, the Hong Kong special administrative region (HKSAR) is uniquely vulnerable as the escalating protests this year have shown.
On the surface, Hong Kong appears strong. After all, according to the United Nations 2018 rankings, more than twenty years after its return to China, its Human Development Index (HDI) is, at 0.917, deemed "very high", the seventh highest in the world. This places it ahead of Singapore, Canada and even the United States, which placed 13th.
Hong Kong ranks 16th in the World Justice Project's Rule of Law Index, based on the following four factors: accountability, just laws, open government and accessible and impartial dispute resolution. It was tied with Japan and ahead of France, Republic of Korea and the United States.
However Hong Kong's colonial past established a widespread racial discrimination perpetrated by the British elite against an ethnic Chinese majority. This left a legacy that continues to affect the city's politics to this day. Some may point to economic inequality in Hong Kong as an explanation for the eruption of unrest in Hong Kong.
And while inequality indeed is a factor, the more proximate cause is bigotry toward the Chinese mainland and a sense of superiority held by many Hong Kong citizens. As the protests devolved, the city's established socioeconomic hierarchy has been upended. This created anxiety, discontent and resentment in Hong Kong, which led to an opening for the opportunistic infection of the liberal democracy fantasy to take root.
While the HKSAR government has been roundly criticized by foreign media for its handling of the protests, much of this criticism is wrong.
In fact the HKSAR government has successfully walked a tightrope of containing the disturbances without either requiring the intervention of the Chinese mainland authorities or loss of life.
By way of contrast, protests over jobs and public services in Iraq have left more than 200 people dead. Those in Chile have resulted in 19 people killed so far with nearly 2,500 injured and even led to the cancellation of the Asia-Pacific Economic Cooperation summit in the near future.
Even criticism of the length of the protests is misguided. It is true that the protests have been highly disruptive and resulted in severe damage to Hong Kong's economy and reputation.
However given the outside support of these protests and the openness of Hong Kong, a painless and costless resolution was never a realistic option. Letting the protests drag on and escalate into violence while mitigating its worst effects was actually a savvy strategy. This approach now appears vindicated as the reported number of protesters has fallen from "millions" to thousands.
While the worst of the protests seems to have passed, the danger of Hong Kong's vulnerability has not. A weakened immune system will always lead to future opportunistic infections. Without addressing this weakness, Hong Kong will face similar – perhaps even worse – problems in the future.
The HKSAR government, like any other government, has three jobs: keeping its people safe; providing a path to prosperity; raising the moral standards of its citizens. So far it has largely delivered on the first task. By accelerating Hong Kong's integration into the Greater Bay Area it can better deliver on the second. But accomplishing the third is crucial to strengthening Hong Kong's immune system to prevent future outbreaks.
The problems of Hong Kong and that of terrorism have similar causes: a lack of realistic economic opportunities and misguided ideology. Regarding terrorism, China has shown the world a more effective and humane approach than that pursued by other countries.
According to ambassador Cui Tiankai, "China has not resorted to war as an answer to terrorism; instead, we have chosen education and training to help people affected by extremist and terrorist ideas return to normal life. This is in itself the best way of respecting and protecting human rights."
Similarly, the HKSAR government must find a way to dramatically improve the patriotic education of its citizens while accelerating Hong Kong's integration into the Greater Bay Areas to improve Hong Kong's economic future. Under the "one country, two systems" principle in Hong Kong, only by doing so can the HKSAR government fulfill its third and most important responsibility.
The author is a senior researcher at the Center for China and Globalization, a Beijing-based independent think tank.
The opinions expressed here are those of the writer and do not necessarily represent the views of China Daily and China Daily website.