A world of content
By Mei Jia | China Daily | Updated: 2019-11-08 08:46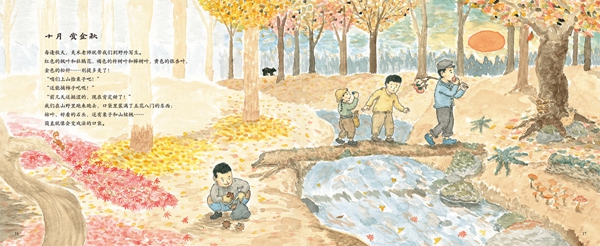 Songs, poems and modern mythology are all part of a growing catalogue of literary cross-border collaborations between writers, illustrators and China's leading publishers, Mei Jia reports.
The Spring in the North-or Kitaguni no Haru in the original Japanese-is probably the most well-known Japanese song in China and around Asia since it first released in 1977.
"It's said that about 1.5 billion people across the world can sing that song," says lyricist Haku Ide, 78, the man who penned the song over 40 years ago.
He recently published a picture book based on the poetic images evoked in his song through a Chinese publisher along with his 39-year-old illustrator son, Shinji Ide.
Haku Ide says he hopes his sense of nostalgia will resonate with readers when they thumb through the pages of the book of the same name as his biggest hit, especially people like himself who abandoned their rural upbringing for the hustle and bustle of life in the big city.
He has written the lyrics for more than 400 songs, yet this is the first time he has had his work published as a picture book. Based on his own childhood experiences, the book captures and documents typical scenes from daily life in northern Japan some 60 years ago. From flying kites, feeding silkworm and harvesting paddy fields, to playing ice-hockey on homemade skates-the expectations of each coming season unfold with every turn of the page.
Haku Ide says his father died when he was in first grade in school, and his mother was forced to support the family on her own.
"I don't remember ever seeing her sleep, because she always had endless work to do," he says.
Even in winter months when farmers had less field work, he describes the young child's reluctance to rub his mother's back and shoulders to ease her sore muscles after long hours of household chores.