China-Greece cooperation can strengthen Sino-EU ties
By Ding Chun | China Daily | Updated: 2019-11-12 08:06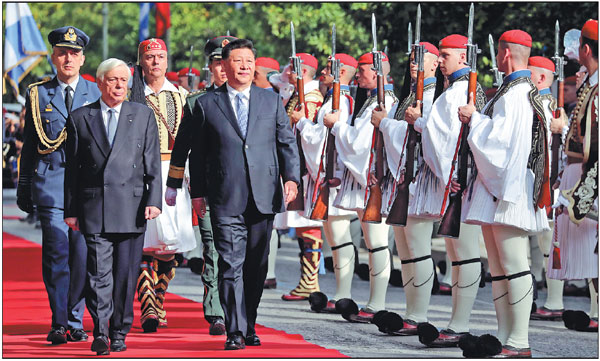 President Xi Jinping's three-day visit to Greece, which concludes on Tuesday, will promote win-win cooperation between not only China and Greece but also China and the European Union.
Trade has been a highlight of Sino-Greek cooperation based on equality and mutual benefit. Besides, China's investment in Greece played a key role in helping Greece overcome the effects of the EU sovereign debt crisis. In particular, Chinese investment in the Piraeus port, the largest in Greece, helped expand and modernize its infrastructure and improve its efficiency, while increasing employment. Which further strengthened Sino-Greek mutual trust, and China's assistance was appreciated by Greek President Prokopis Pavlopoulos as well as former prime minister Alexis Tsipras.
China and Greece established a comprehensive strategic partnership in 2006, under which they have further deepened cooperation. In 2018, Greece officially joined the Belt and Road Initiative, becoming an important bridge between China and the EU. And in April this year, Greece joined the cooperation mechanism between China and Central and Eastern European countries, turning it into"17+1" (17 CCE countries plus China) cooperation mechanism.
The complementary bilateral trade structure-China as an exporter of labor-and capital-intensive products and Greece as an exporter of resource-intensive, low-tech and intermediate products-serves the best interests of the two sides. According to China's General Administration of Customs data, China-Greek trade volume was $7.06 billion in 2018, up 36.3 percent year-on-year, with Greece's export to China increasing by 31.2 percent. Which shows bilateral trade has huge potential for development.
Also, an increasing number of Chinese companies, including Huawei, Xiaomi, ZTE, China Construction Bank and China Development Bank, have been increasing their investment in Greece. And more and more Chinese tourists are visiting Greece, which is further boosting the Greek economy.
Besides, learning Chinese is becoming popular in Greece with the establishment of the Confucius Institute in the country and some Greek private schools adding Chinese lessons to their syllabus. On the other hand, many students in China are studying the Greek language and culture, and exchanges between the countries' universities have increased. For instance, Peking University and some other universities in China now offer courses in the Greek language.
But the strengthening Sino-Greek ties have prompted some in Europe to say that China is taking advantage of Greece's economic condition to divide the EU, which is baseless because China's multi-level cooperation with Europe-with the EU, member states of the EU, with Central and Eastern Europe and Northern Europe-is based on equality and mutual benefit.
China has been reiterating its commitment to supporting European unity and the EU's role in international relations. China's cooperation with EU countries and the EU as a whole has been open and transparent. Greece became a part of "17+1" mechanism as the sub-regional cooperation is open to all EU states and institutions.
True, there are differences between China and the EU states in terms of culture, institutions, and the stages and patterns of social development. Along with this, growing challenges such as recession, refugee problem, rising populism and Brexit have raised the EU's concerns over China's expanding cooperation with EU states. As a result, despite welcoming Chinese investment and cooperation to overcome the sovereign debt crisis, the EU has recently set up a screening mechanism for investment, which to some extent is targeted at Chinese enterprises.
But cooperation and consensus exceed competition and disagreements between China and the EU. So the two sides should jointly promote multilateralism, an open global economy and free trade to offset the impact of unilateralism and trade protectionism being practiced by some developed economies.
China will further open up its economy and resolve its economic differences with the EU through dialogue, including by pushing forward negotiations on China-EU Investment Agreement. And by properly handling their trade and economic relations, China and the EU can further strengthen their win-win cooperation.
The author is the director of the Center for European Studies and Center for China-Europe People-to-People Exchange at Fudan University. The views don't necessarily represent those of China Daily.