The power of balance
By Chen Nan | China Daily | Updated: 2019-11-16 14:10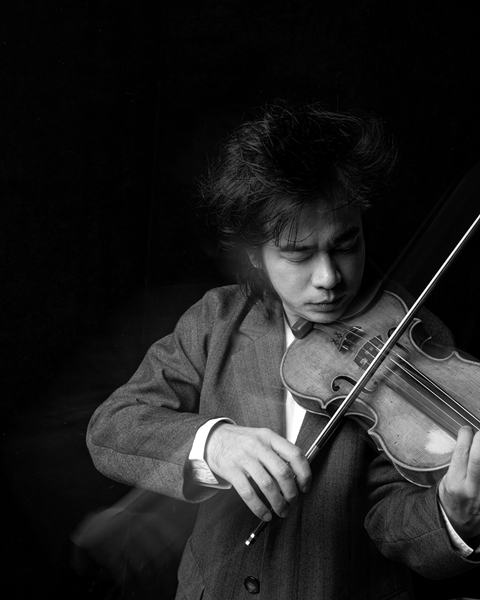 "I love this piece. Although it's only about two minutes long, it contains a lot of emotion. I was too young to interpret this work before, but now the timing is right," says Lin, 51.
He met Russian pianist Evgeny Sinaiski two years ago in Italy and Lin was impressed by the pianist's control of sound and tempo.
"We made a deal to perform together over the next 10 years, and to choose a different theme every year. We aim to play 10 concerts a year as too many shows will affect our lives," Lin says.
Talking about the selection of works for the new album, Sinaiski says: "Lin's choice of repertoires shows different colors". For example, the piece, Glazunov's Meditation in D major, op. 32, "presents the beautiful feeling between longing and looking back". The other piece, Allegretto espressivo alla Romanza, "looks and sounds like sunrise".
As he elaborates on the ideas behind the album, Lin holds out its cover, which features a photo of a vast, empty beach and sweeping ocean views the violinist took during a trip to Iceland in July.
"I always carries my camera. When I saw how beautiful the scenery was, I had to stop my car and take a picture. When I looked more closely at the photo, I was surprised to see a white swan in the sea and the shadow of my friend's son also in the picture," Lin says. "I really love the quietness and emptiness of the ocean in this photo. The swan and the little boy just happened to be in the frame. It's not something I planned, but it was pleasant visual surprise."
The classically-trained violinist who began playing at the age of 6, enrolled to study at the affiliated middle school of the Shanghai Conservatory of Music in 1981. He graduated from the Moscow State Tchaikovsky Conservatory in 1994 and studied with legendary violinist Zoria Usmanovna Shikhmurzayeva.
During his six years of studies in Russia, Lin became interested in oil painting and obtained a master's degree from the Surikov Moscow State Academic Art Institute.
"For a classical violinist like me, accuracy and solid skills are a necessity, which took me years of training to achieve. Painting is different. It allows me to express myself with much more freedom. I stopped playing violin for about three years when I was learning to paint," Lin says.
In 1996, Lin returned to China and started teaching at the Central Conservatory of Music in Beijing. He often performs with other Chinese musicians in chamber music groups, including cellist Chu Yibing and pianist Sheng Yuan.
He has expanded his oeuvre to write music for movies and TV series, such as the hit movie, Love is Not Blind directed by Teng Huatao in 2011, and TV drama Dwelling Narrowness also directed by Teng in 2008.
Lin's fans and friends call him Yan Ge, or Brother Salt, which is a nickname Lin gave himself.
"Finding the right balance is crucial for a musician, which is much like a chef making a dish. The skill of seasoning is a matter of balance between adding 'too much' and 'not enough' salt. That's why I call myself Salt," Lin says.