Sharper images brighten prospect of smart projectors
By Cheng Yu | China Daily | Updated: 2019-12-03 10:07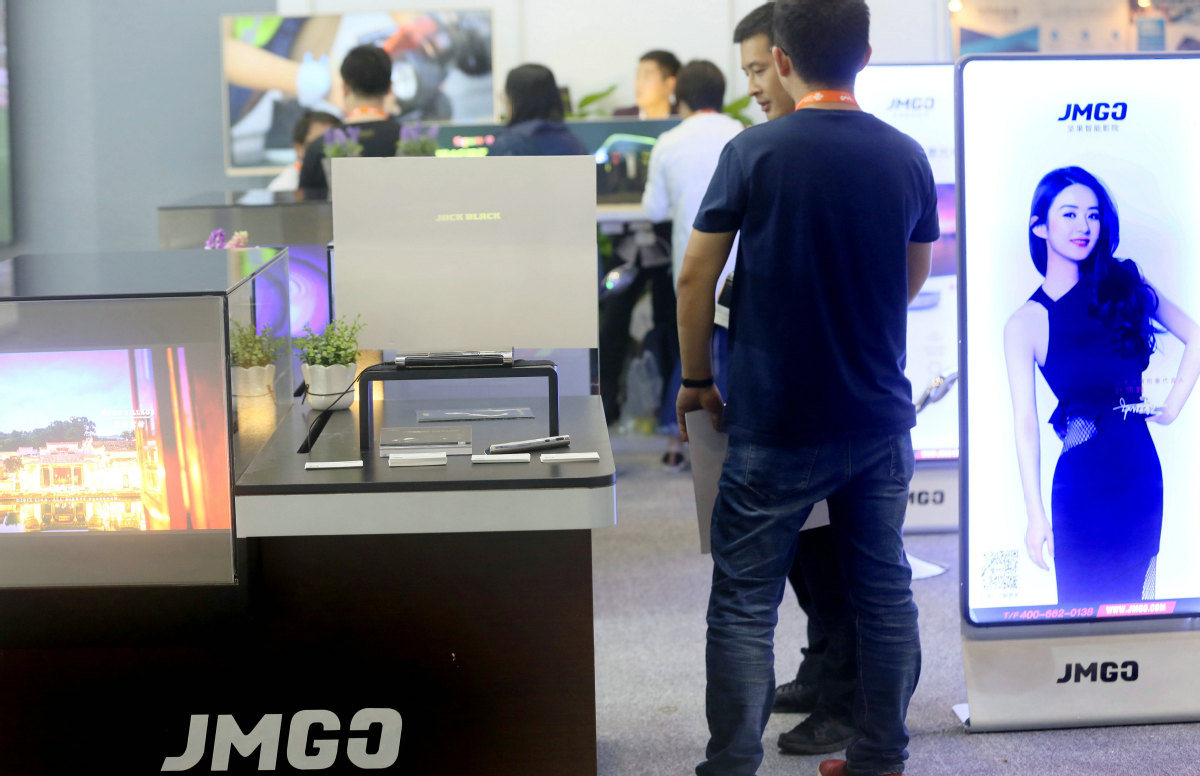 Demand rising from younger consumers, lower-tier cities and overseas markets
With the new UEFA Champions League on, the home of Li Jielin, a 29-year-old software engineer, has become a popular gathering place for his friends.
While beers and Li's good cooking skills are already a draw, the projector he bought recently is even more appealing to his friends.
With the new device, livestreamed matches are projected onto a wall, making Li and his friends feel as if they were at the game.
Li is among an increasing number of Chinese consumers who are using intelligent projectors, instead of televisions, to watch high-resolution videos on big screen.
A total of 2.6 million intelligent projectors were sold in China last year, an increase of 102 percent year-on-year, according to smart home data provider All View Cloud.
"The reason I chose an intelligent projector rather than a TV is that it is compact and convenient. It is not realistic to put a TV in my room," said Li.
Li rents a 35-square-meter apartment in northern Beijing. With a bed, table, refrigerator and other furniture, the home already seems full.
"Also, the intelligent gadget offers a more immersive watching experience as if we were in a movie theater," he added.
His JMGO P3 projector is no bigger than a bottle of mineral water. Thanks to its small size, he can take it wherever he goes to enjoy large-screen movies.
Even from a short distance, the device can project an image as wide as 254 centimeters, and the sharpness is as clear as that of a TV image.
Besides projecting images, Li's intelligent projector leverages remote monitoring technologies.
Shenzhen Holatek Co Ltd, its manufacturer, has been scrambling to innovate the design of its projectors to attract more users. One of its models, the JMGO 1895, is designed to look like a vitascope, an early film projector first demonstrated in 1895.
Just like its name suggests, 1895 is widely recognized as the birth of film worldwide, said Hu Zhenyu, founder and CEO of JMGO.
"Designs like this meet the current demand from young people born in the 1990s and 2000s who have a high preference for personalized products rather than function-oriented ones," Hu said.
A report from CBN Data pointed out that people born between 1990 and 1995 have surpassed those born in the 1980s to become the biggest spenders in the vertical e-commerce sector.
"With the boom in internet development, such young people are driving the wave of consumption upgrading. They are more willing to accept and buy high-tech e-gadgets," the report said.
Besides, the untapped consumption potential of lower-tier cities in China is also set to drive sales as increasing numbers of people from smaller cities and towns are buying projectors for a better viewing experience.
Behind such purchasing power is a new consumption norm in the country, a trend featuring residents of smaller cities, who are opting for higher quality goods and have a growing appetite to spend.
China's lower-tier cities are becoming "bigger, richer, and more eager to spend" and such consumption could triple to $6.9 trillion by 2030, according to a report from Morgan Stanley.
To meet these new demands, a total of 151 related companies have joined the race for intelligent projectors in China.
A group of internet firms including XGIMI, JMGO and OBE have attracted more than 1.2 billion yuan ($171 million) in investment over the past year. Leading internet and tech firms including Alibaba Group, Tencent Holdings Ltd, Baidu Inc and Xiaomi Corp have all joined the sector.
Xiaomi, better known for its affordable smartphones and other electronics, has recently launched a new projector in China, which includes several features that are usually found in more expensive products.
The Chinese intelligent projector market also faces strong competition from overseas companies like Epson and Sony. An IDC report suggested that of the top five intelligent projector firms by shipments in China in the first half of this year, three were foreign brands.
Japanese electronics manufacturer Epson, with shipments of 236,000 in the first six months of this year, accounted for 10.7 percent of the total. The other two, Panasonic and Sony, accounted for 3.3 and 3.0 percent respectively.
Zhu Yuanyuan, head of consumer electronics at AVC, said the intelligent projector segment is heating up on the back of China's consumption upgrade as more and more consumers seek a higher quality of life.
"However, facing fierce competition both at home and abroad, smart projector manufacturers should seek to improve brightness and sharpness (of images), and develop more products that can be used outdoors," Zhu said.
One notable trend, according to Zhu, is that Chinese intelligent projector makers are also gearing up efforts to go global.
In Japan, a market that boasts many world-famous tech brands including gaming leader Nintendo Switch, a lamp made by Chinese firm XGIMI sold out as soon as it launched at the end of last year.
The product, called PopIn Aladdin, is a dome-shaped light with a built-in projector and embedded Bluetooth-enabled speaker.
To date, the company has sold more than 20,000 units of PopIn Aladdin in Japan and has topped other Japanese projectors with a market share of 25 percent.
For Chinese intelligent projector firm XGIMI, success in Japan heralds its broader ambition to go global.
Founded in 2013, XGIMI ranked first in the projector market in China last year, according to IDC. To date, the Chengdu, Sichuan province-based company has sold its products in more than 127 markets including the United States, Singapore and India.
XGIMI is also looking to gain a lead in the European market by unveiling a new product toward the end of this year.
The fresh product will be in partnership with tech giant Google Inc and will be embedded with brand-new functionalities that are designed specifically for European users, said Zhong Bo, CEO of XGIMI.
"Through beefing up global efforts, we aim to become the largest intelligent projector firm in the world over two to three years," he said.
When increasing its presence abroad, the company chose to start in developed countries like the US and then expanded into markets such as Southeast Asia, Zhong said.
"If our products find consumer acceptance and become a hit in markets that are strong in technologies, it would mean we need not worry about entering other markets across the world."