Coast-to-coast storm takes Northeast turn
By HENG WEILI in New York | China Daily Global | Updated: 2019-12-04 00:41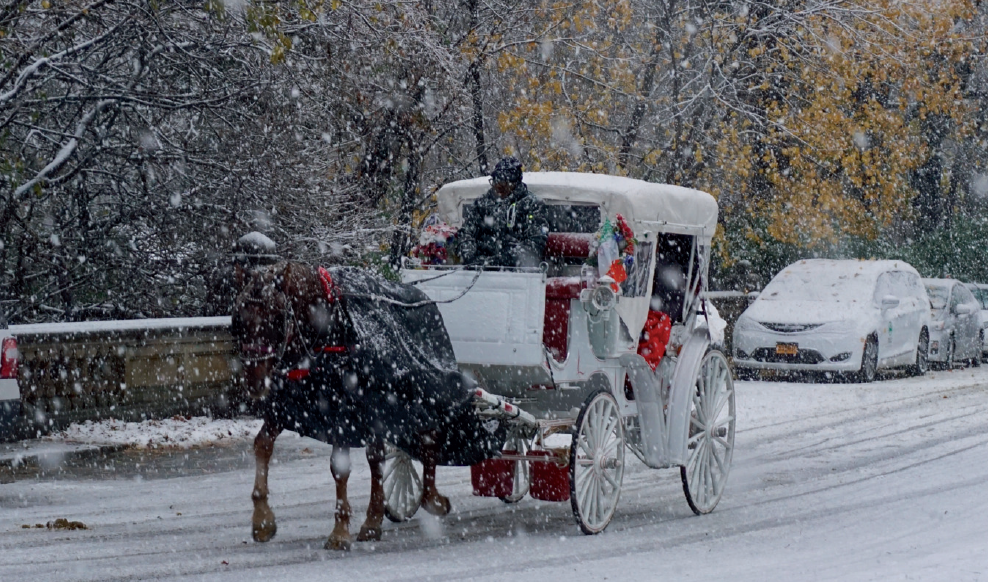 The Northeast got hit Monday with a snowy blast from a storm that had been pounding the rest of the continental United States since before Thanksgiving.
New York Governor Andrew Cuomo declared a state of emergency and sent out 300 members of the National Guard. State police had responded to more than 740 storm-related crashes statewide since the snow started falling.
By Monday afternoon, the storm had deposited 27 inches of snow in Delanson, New York, 25 miles northwest of Albany.
More than 660 flights into or out of the US were canceled Monday, with more than 4,000 delays, according to flight tracking site FlightAware. Airports in the New York and Boston areas accounted for many of the disruptions.
Alternating rain and snow showers switched to snow by midday, and were forecast by the National Weather Service to accumulate by the workday's end to 1 to 3 inches in New York and 4 to 6 inches in Boston.
More than 50 million people in the US faced a winter weather alert through Monday afternoon, said CNN meteorologist Dave Hennen.
In New York City, snowplow drivers got a police escort for the first time.
"One of the things we've learned from past storms is that our Sanitation plows need to get where the need is greatest, and sometimes they can't do that alone," Mayor Bill de Blasio said at a news briefing at the Office of Emergency Management headquarters in Brooklyn.
"So from now on, the NYPD will be escorting Sanitation plows when necessary to get them through," de Blasio said. "If there is a traffic jam up and we need the plows to get where the problem is greatest, NYPD is going to lead the way."
Heavy snow totals were expected in upstate New York, Pennsylvania, northwestern New Jersey, Connecticut, Massachusetts, southern Vermont, southern New Hampshire and Maine, with some areas already receiving a foot of snow, said meteorologist Bob Oravec of the National Weather Service's Weather Prediction Center.
"When it's all said and done, some areas will have over 2 feet of snow from this storm, especially over parts of the Poconos and Catskills," Oravec said of the mountain regions.
New Jersey Governor Phil Murphy urged all non-essential workers to head home at noon.
New Jersey State Police reported about 275 accidents as of 11 am Monday morning, according to nj.com. State Police Superintendent Colonel Patrick Callahan said the accidents were in addition to the approximately 200 "motorist aid" calls, which usually are from vehicles spinning out.
For many, the storm made for a complicated first day back at work after the long holiday weekend.
"I just hate driving in snow," Kaia Jansson said as she cleaned snow off her car in Albany. "It's always a mess, and it's cold and not fun."
In Boston, there also was concern about Tuesday.
"Remember, the final burst of snow comes tonight and during the Tuesday morning commute," tweeted Michael Page, a meteorologist at NBC Boston. "Your drive to work around Greater Boston will be much more wintry tomorrow than today."
"Why do I still live in New England?" Alana Kirkpatrick asked in Nashua, New Hampshire as she brushed mounds of snow from her car.
In Chicago, three sections of the Lakefront Trail were closed on Monday, due to high waves from Lake Michigan crashing the shoreline.
The same storm pummeled most of the US for days as it moved across the country, dumping heavy snow from California to the Midwest and dousing other areas with rain.
The largest snow totals were reported in two Western states early in the storm, according to weather.com. The Arizona Snowbowl ski resort recorded 4.5 feet of snow. The Big Bear Resort in Southern California's San Bernadino Mountains, with an elevation of 8,500 feet, tallied 48 inches of snow.
California has endured a series of devastating wildfires this year, and there was concern that a snowstorm could make for potential mudslides.
"Hillsides become vulnerable to erosion when the protective blanket of vegetation is burned off, and slopes can come crashing down in a torrent of mud, rocks and dead branches," the Los Angeles Times reported.
Reuters and The Associated Press contributed to this story.