At NATO summit, division along with some squabbles
China Daily Global | Updated: 2019-12-05 23:52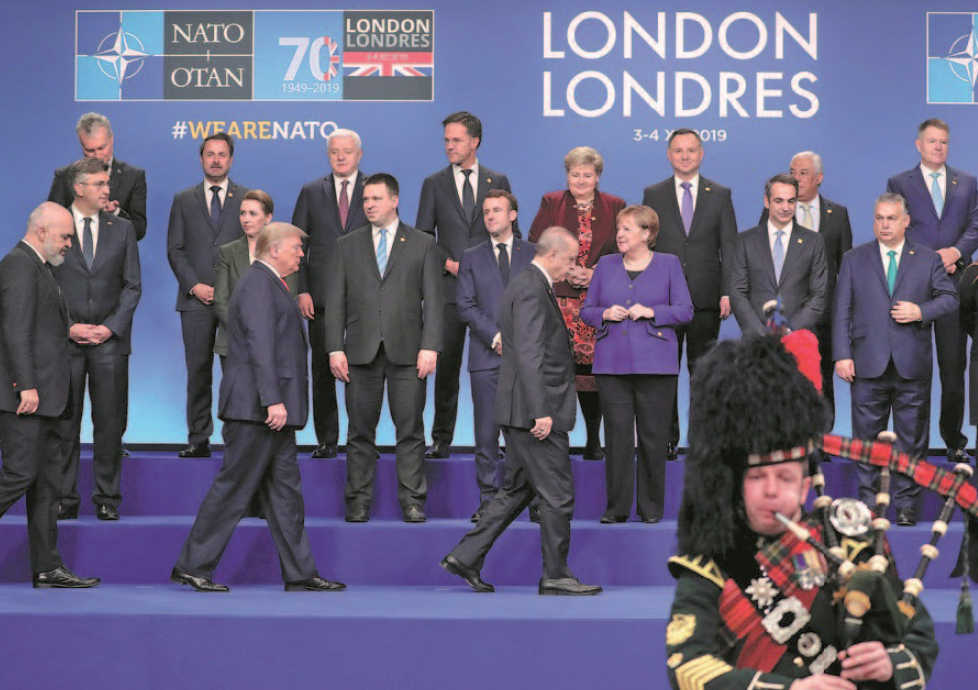 WATFORD, England – A NATO summit this week probably will be most remembered for the friction among national leaders, but earlier in the week, the military alliance's secretary-general said the group's 29 members do not want conflict with Beijing.
North Atlantic Treaty Organization Secretary-General Jens Stoltenberg said the bloc did not want to "create new adversaries".
"As long as NATO allies stand together, we are strong and we are safe. ... We are by far the strongest military power in the world," he said. "There's no way that NATO will move into the South China Sea, but we have to address the fact that China is coming closer to us, investing heavily in infrastructure," he added.
The summit also featured some headline-grabbing contretemps.
US President Donald Trump called Justin Trudeau "two-faced" on Wednesday after the Canadian prime minister appeared to be caught on camera joking about his media appearances during a chat with other leaders at the summit.
Trudeau was filmed at a Buckingham Palace reception for NATO leaders on Tuesday evening describing how surprised US officials appeared to be by Trump's comments at an earlier news conference.
The conversation, which involved Trudeau, British Prime Minister Boris Johnson, French President Emmanuel Macron, Dutch Prime Minister Mark Rutte and Queen Elizabeth's daughter Princess Anne, was captured on video.
While some media outlets reported that Trump canceled his scheduled news conference at the end of the summit on Wednesday because of the leaders' jocular comments about him, Trump said he already had briefed the media frequently during his two-day trip.
"When today's meetings are over, I will be heading back to Washington," Trump said in a tweet. "We won't be doing a press conference at the close of NATO because we did so many over the past two days. Safe travels to all!"
A tense opening on Tuesday as the military alliance held its 70th anniversary summit north of London showed some division.
Discussions were expected to focus on the growing threat of cyberattacks and security in space, but cracks emerged within the group as Trump and Macron set out opposing views.
There were sharp exchanges over many topics on Tuesday as the French president accused Turkey of colluding with Islamic State proxies, while Trump described Macron's criticisms of NATO's "brain death" as insulting and "very, very nasty".
Turkish President Recep Tayyip Erdogan relented on a threat to veto NATO efforts to bolster protection of Baltic countries against Russia unless the allies branded the Kurdish militias that defeated ISIS in Syria as "terrorists", a definition that Macron and the US reject.
In the video from the informal meeting of some of the European leaders, Johnson asked Macron: "Is that why you were late?"
"... It was like a 40-minute press conference," Trudeau said. "Yeah, yeah, yeah! Forty minutes."
Other words were exchanged but could not be heard, before Trudeau added with a chuckle: "I just watched his team's jaws drop to the floor."
Asked on Wednesday if he had heard Trudeau's remarks about him, Trump said: "He's two-faced."
He suggested that Trudeau was upset because he had challenged him for failing to meet the target of spending 2 percent of national output on defense.
"I find him to be a very nice guy, but you know the truth is that I called him out over the fact that he's not paying 2 percent, and I can see he's not very happy about it," Trump said at a news conference alongside German Chancellor Angela Merkel.
Trump later appeared to make light of his own remarks about Trudeau.
"That was funny when I said the guy's two-faced," the president was caught saying on an audio clip following a lunch with some of the NATO leaders.
At a final news conference, Trudeau played down the incident, saying he and Trump had enjoyed a great meeting and that the "jaw-dropping" comment was a reference to the announcement of the location of the next meeting of G7 leaders at the US presidential retreat, Camp David.
"Last night, I made a reference to the fact there was an unscheduled press conference before my meeting with President Trump, I was happy to take part in it but it was certainly notable," Trudeau told reporters.
"We were all surprised and I think pleased to learn that the next G7 will be at Camp David, I think that was an unscheduled announcement and ... I think every different leader has teams who every now and then their jaws drop at unscheduled surprises, like that video itself for example."
Trump and Johnson had spoken earlier on Tuesday in an unscheduled separate meeting. Trump tweeted that they "talked about numerous subjects including NATO and trade".
Macron stood by his comment that NATO was experiencing "brain death", saying on Wednesday that the remark had spurred the right kind of debate about the alliance's direction.
"I think it was our responsibility to raise ambiguities that could be harmful, and to tackle a real strategic debate," he said. "It has started; I am satisfied."
Trump said the European allies were "delinquent" in their failure to spend as much as the US on their armed forces. In response, Europeans have said that they will spend $400 billion collectively on defense by 2024.
"If we invest money and risk our soldiers' lives … we should be clear on NATO's fundamentals," Macron said on Twitter, adding that on Wednesday he would "defend the interests of France and Europe".
Heng Weili in New York and Reuters contributed to this story.