Why pantomime is serious business for British theater
By JULIAN SHEA in London | China Daily Global | Updated: 2019-12-13 11:24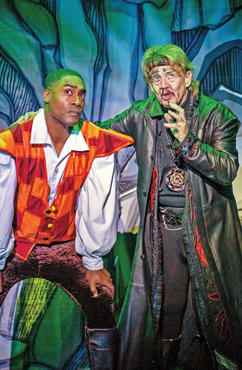 Britain has been the birthplace of many ideas enthusiastically embraced by the world, such as the postal system, railways, and the World Wide Web. But there are some British popular ideas that have remained mainly home-based, such as pantomime.
Every Christmas, normal theatergoing etiquette is put to one side as venues nationwide are given over to raucous performances involving audience participation, topical jokes, cross dressing, singing, dancing, and an inevitable happy ending. But the origins of this essential part of the British family Christmas are something of a surprise.
"Pantomime emerged out of the Italian Commedia dell'arte theater of the 16th century, which was groups of strolling players telling improvised stories based around a set number of plot lines, always the tale of two lovers separated by a meddling or interfering parent," Simon Sladen, from the Department of Theatre and Performance at London's Victoria and Albert Museum, told China Daily. "This spread to the UK, where it became a two-part show, the first half narrative and the second a slapstick physical comedy called the Harlequinade. When that fell out of favor, parts were integrated into the first half and modern pantomime as we know it came into being."
Many pantomimes are based around familiar stories like Aladdin or Jack and the Beanstalk, mixing traditional tales with contemporary musical and comedy references, and the all-important "oh yes I am" "oh no you're not" calling exchanges between actors and audience.
"In the 1800s, a producer at London's Drury Lane theater, called Augustus Harrison, realized story, spectacle, and celebrity were what sold tickets, so that's what he gave audiences, and it still defines what pantomime is to this day."
For venues, pantomime is no laughing matter-it is big business, with as many shows as possible crammed into the national spending season.
"Panto is a big revenue stream for theaters for the rest of the year, which is why they run for so long," Sladen continued. "Very little about the shows themselves is actually to do with Christmas but Christmas feels incomplete without pantomime. Everyone knows what to expect, kids know the story, and it's good family fun. If you get it right, you can hook people for life as theater lovers. So many people in the industry say panto is why they fell in love with theater and, as long as it's willing to evolve, it will survive."
Shows are usually done around a core script, with topical references thrown in, especially this year, with the election going on.
"There will be plenty of Donald Trump jokes, and there are sure to be ones about the election which will need updating because the election result comes out on National Pantomime Day," said Sladen. "When the election date was announced as being the day before, it was a gift for script writers."
Robin Askwith is a familiar face to British audiences from numerous film, television and stage roles, and this Christmas he is playing the villain Abanazar in Aladdin at the Hull New Theatre.
"Over 52 years, I've done all kinds of acting and pantomime is like nothing else," he told China Daily. "It's 50 shows over four weeks, you're on and off stage with sustained bursts of energy, and it's utterly exhausting."
Having to get energy levels up as if he were hosting a Christmas party for an entire theater full of people with every show means that making people happy is no joke.
"I live out in the Mediterranean and I train for this with weeks of swimming in the sea and going to the gym," he said. "In the old days, you could get by coasting a bit, but not anymore, it's intense. Backstage it's more like a gym than a theater. It's incredibly hard work, but it's worth it because it's so much fun."
With theaters keen to cash in on their busiest time of the year, the workload is demanding.
"It's a lot of condensed work in a small period of time, so you have be disciplined about it and go to bed early, and on your day off, you rest your voice," he explained.
Playing the villain, Askwith has a simple task when it comes to dealing with audience interaction. "I'm the baddy, so if they shout out, I just tell them to shut up". But do not expect him to branch out any time soon into the world of one of pantomime's toughest roles, the cross-dressing dame.
"It's a very specialized technique, and accepting a man dressed up as a woman like that is quite a big ask for modern audiences," he said. "It can be confusing, so only some people can do it.
"The best way to play a dame is for it to be a very warm, jokey, maternal character. Provided you steer clear of anything bizarre or distasteful, if you manage to make people forget that they're actually watching a man dressed as a woman, then you're doing it right."