UK speeds toward Brexit on Tory tide
By Angus McNeice in London | China Daily | Updated: 2019-12-14 06:00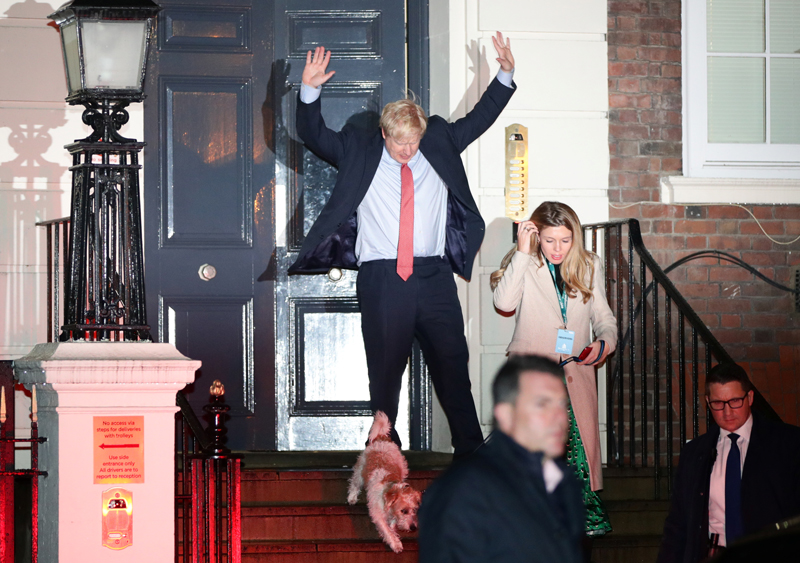 UK Prime Minister Boris Johnson said that taking the United Kingdom out of the European Union is now the "irrefutable" decision of the British people, following a general election result that delivered his Conservative Party a large majority in Parliament.
With just one seat left undeclared on Friday afternoon, the Conservatives had gained 47 MPs in Thursday's election, bringing the total to 364. Labour, the main opposition party, lost 59 seats, and will now be represented by 203 MPs.
Johnson delivered his victory speech in front of a lively crowd of campaigners in London, where the leader had retained his constituency of Uxbridge and South Ruislip.
"This election means that getting Brexit done is now the irrefutable, irresistible, unarguable decision of the British people," Johnson said.
Johnson had called the general election in late October, after several failed attempts to move Brexit legislation through Parliament, where the Conservatives at that time had lost a working majority.
His gamble paid off, with the vote delivering the Conservative Party its biggest win since the 1980s, and supplying Johnson with the support he will need to take the UK out of the EU by Jan 31 next year.
"We pulled it off. We broke the deadlock, we ended the gridlock, we smashed the roadblock," Johnson said. "As the nation hands us this historic mandate we must rise to the challenge and to the level of expectations, and Parliament must change so that we in Parliament are working for you the British people."
The UK voted to leave the EU in a referendum in 2016, and since then MPs have struggled to reach a consensus on an exit deal and a future relationship with the EU. With this new mandate, Johnson is well positioned to succeed where his predecessor Theresa May failed, and get a deal through Parliament. Once that withdrawal agreement is agreed upon by MPs and ratified by the EU, both sides will set about creating a new trading relationship, a process that is likely to take years.
In his speech, Johnson touched on other campaign promises, including increased investment in the National Health Service, infrastructure and police, and the introduction of an "Australian-style" points-based immigration system.
Labour leader Jeremy Corbyn also delivered a speech on Friday morning, in which he reflected on a "very disappointing night" and confirmed he plans to stand down as leader, without saying when.
"I will not lead the party in any future general election campaign," he said from his Islington North constituency, which he retained in the election.
While Johnson's campaign centered firmly around a vow to "get Brexit done", Corbyn had run a more traditional contest that highlighted a range of social issues.
"Brexit has so polarized and divided debate in this country it has overridden so much of a normal political debate," Corbyn said.
The Scottish National Party, or SNP, made significant gains in the election, adding 13 seats to bring a total of 48 parliamentary representatives and securing 45 percent of the vote in Scotland.
SNP leader Nicola Sturgeon said the result delivered a mandate for a second referendum on Scottish independence from the UK. Scotland held such a referendum in 2014, when 55 percent voted against independence.
That vote was held before the Brexit referendum, in which Scotland voted to remain. Sturgeon argues that, now the UK is on course to leave the EU, Scottish voters should be given a fresh independence vote.
"Scotland has sent a very clear message-we don't want a Boris Johnson government, we don't want to leave the EU," Sturgeon said.