Up close with Helen
By ZHAO XU and ZHANG YUAN in Cedar City, Utah | China Daily Global | Updated: 2019-12-14 03:55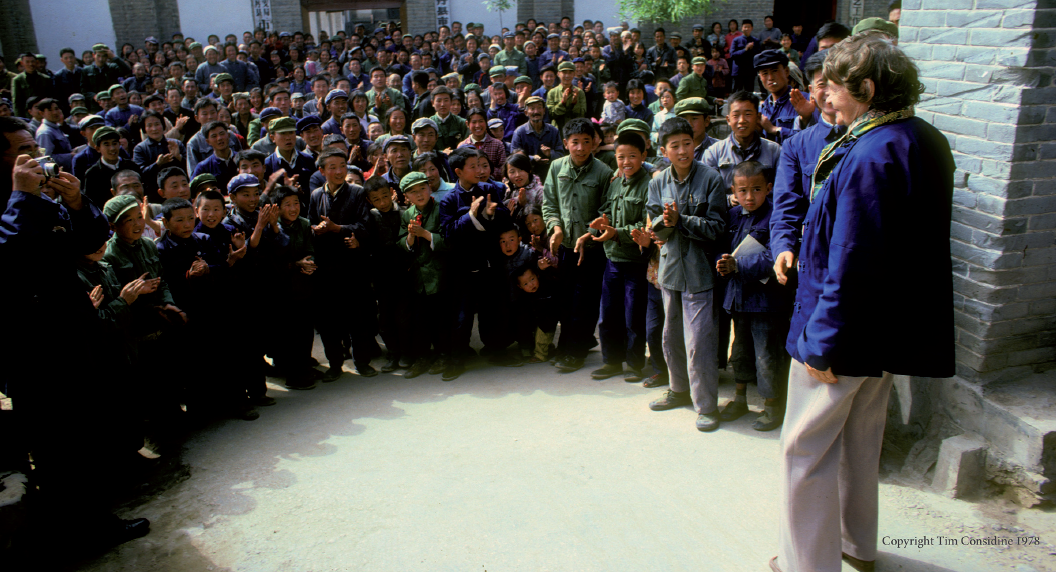 She lived a reclusive life for decades after tumultuous years in China, with a career largely overshadowed by that of her husband. Those drawn into Helen Foster Snow's orbit reflect on her pulling power.
Paper, paper and more paper – that is what greeted An Wei's eyes as the 40-year-old researcher from China stepped into the 1752 house of Helen Foster Snow in Madison, Connecticut, in September 1982.
"From floor to ceiling in every single room were manuscripts – papers that were heaped, one big pile on top of another," said An, founder of the Edgar and Helen Snow Studies Center in China. "Most of the papers were put into simple file-holders she had cut out of grocery boxes from the local supermarket."
Last month An, 77, was in Cedar City, Utah, where Helen, author of Inside Red China and former wife of the renowned journalist Edgar Snow, was born on Sept 21, 1907.
Inside the quaint New England house – the town itself was among the first towns in America – Helen had kept typing for more than 40 years on the same typewriter that she took from the United States to China in 1931.
Four years before An's visit in 1982, the two had met for the first time in Xi'an, Shaanxi province, where An worked for the provincial foreign affairs office.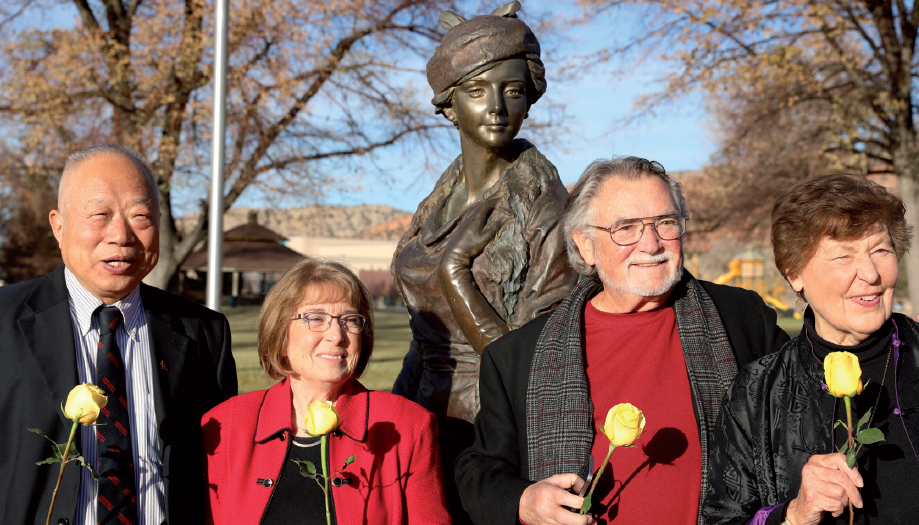 "Helen came in with a three-men film crew and stayed for about seven weeks, retracing her footsteps during her nine-year stay in China between 1931 and 1940," An said.
Assigned to Helen as her interpreter, An blew her away within a few hours of their meeting, by suggesting that the team go to the Xijing Guesthouse.
On April 29, 1937, Helen, under close surveillance by the Nationalist Government, jumped out of a hotel window in the middle of the night to flee to Yan'an, 350 kilometers to the north, where Communist soldiers had just gathered, having barely survived the encirclement of the Nationalists.
An was familiar with the minutest detail of Helen's dramatic escape.
"Before that night, she had planned to meet, just outside of the hotel gate, a fellow sympathetic American who would send the signal for her to come out by blowing cigarette smoke rings into the cool night air. But a sudden citywide curfew changed all that. The man was unable to get near the hotel, and Helen, realizing that he was not coming, went ahead on her own."
Out on the street, Helen jumped into the first rickshaw she spotted, asking to be taken to a "courtyard home with a big red gate".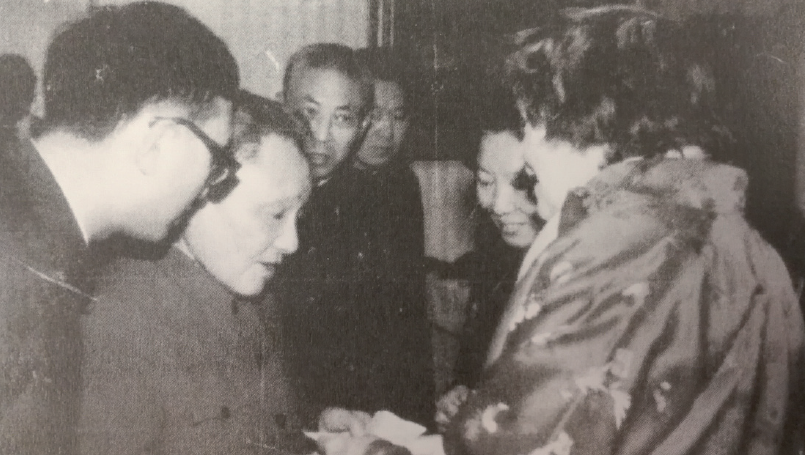 "Just then, she saw, in the murkiness of the night, a man riding a bicycle," An said. "Who would be doing so at this hour if it was not for a reason? She called out, and found herself face to face with her co-planner."
The two stayed in their hiding place until the wee hours of the next day, when they got into a pre-arranged car and drove out of the just-opened city gate, Helen wearing sunglasses and a man's suit, posing as the diseased son of an American missionary.
A boat ride followed, at the end of which Snow found herself in the territory of the Communists. But it took another bumpy day on a truck before she arrived in Yan'an late on May 2, 1937.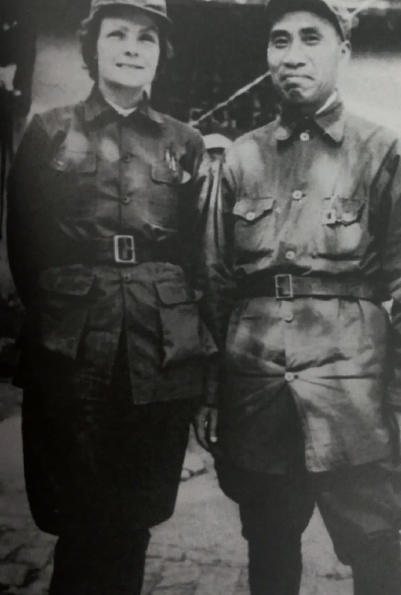 Early the next day, Helen, fazed and fatigued, awoke to the news that Mao Zedong and Zhu De, who would become the chairman and vice-chairman of the People's Republic of China in 1949, wanted to see her.
"Helen evoked that experience in her book Inside Red China," said An, an English major who as a young man yearned for English books. "I encountered her book, together with Edgar's Red Star Over China, in the small library at the Yan'an History Museum, where I worked in the early 70s." He read both voraciously.
So when Helen visited in 1978, An felt the heroine had finally stepped out of the pages. "At my mentioning of the hotel, Helen turned to my boss and said, 'This young gentleman has got to sit in my car," said An, who had no idea at the time that the trajectory of his life, like those of many who crossed paths with Helen, was about to change.
"She was the star who pulled us into her orbit," An said.
In 1931, when Helen, then 24, had arrived in China and worked in the US consulate in Shanghai, she became the belle of the foreign concessions.
Yet she was not going to spend the following years twirling on the dance floor, as many of her fellow expatriates did. Edgar, who had arrived in China three years earlier, took her to the world outside the walls of her residential enclave, a world wracked by war, disease and famine.
The two married on Nov 25, 1932, and moved to Beijing, where they became involved in student movements that were about to sweep across the country, in reaction to Japan's growing territorial ambitions in China.
With Edward teaching journalism at Yenching University, the couple turned their home into a gathering place for student activists. Among them was Huang Hua, who would be appointed the People's Republic of China's first permanent representative to the United Nations in 1971.
In June 1936, Edgar left Beijing for the Communists' base in the Northwest, where he would become the first Western journalist to interview Mao, leader of the Red Army. A picture he took of Mao in army fatigues would become the defining image of Mao for Western audiences for many years to come. And he would come back to write Red Star Over China, published in 1937, which gave the world its first glimpse into "the mysterious guerrillas that no one had written about", as An put it.
Helen's contribution was immense.
"Little was known that in September 1936, three months after Edgar left, Helen made her own first attempt to reach the Communists. For various reasons, she stopped in Xi'an, where she interviewed the Nationalist general Zhang Xueliang, the 'Young Marshal' who was a secret sympathizer of the Communists," An said.
Helen listened while Zhang talked about his thinly veiled desire to work with the Communists and fight the invading Japanese. Because her report could not be sent out from the Nationalists-controlled Xi'an, Helen sneaked back to Beijing to file her story for the Daily Herald in Britain.
That was a little more than two months before Zhang seized the Nationalist leader Chiang Kai-shek in a military coup known today as the Xi'an Incident, forcing him to form a coalition with the Communists.
Not entirely satisfied with her first trip, Helen, mesmerized by what Edgar had to tell about the "Reds", embarked alone on her second journey, made all the more dangerous by the attention generated by her husband's previous trip. This time she made it.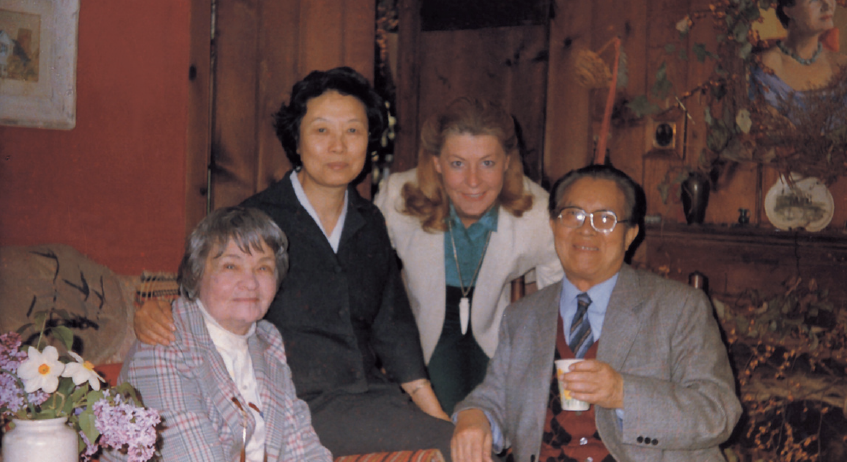 She stayed in Yan'an for nearly five months, documenting the lives of not only the army leaders including Mao and Zhu, but also the wives, children and the common soldiers. A large chunk of those interviews and observations went into Edgar's book, to which Helen also contributed half of the pictures.
"They were always working as a team," An said. "After Edgar left for Xi'an in 1936, he wrote to Helen asking for an interpreter. Helen sent Huang, who went and stayed with the Red Army from then on."
Despite all that, for many decades Helen remained – and many believe still remains – in the long shadow Edgar had cast, although they divorced in May 1949, and Edgar married the actress Lois Wheeler (1920-2018) soon after.
Helen's eclipse was so complete that when the actor and writer Tim Considine read about Edgar's story in the mid-1970s and wanted to make a feature film about him (Edgar died in 1972), his first reaction was to contact the "Mrs Snow living in New York".
"I called and we discussed the issue," Considine said. "Mrs. Snow wanted a particularly high level of control over the proposed film, so I dropped the idea and kind of forgot about it."
That was until one day when Considine's then-girlfriend, who worked at Warner Brothers Studio, presented him with some unpublished diaries and manuscripts that had landed on the desk of the studio chairman.
"They were penned by Helen," Considine said. "Only then did I realize that I had been talking to the second wife, that there was another Mrs Snow who had gone through it all with Edgar. I didn't know that; no one in America knew."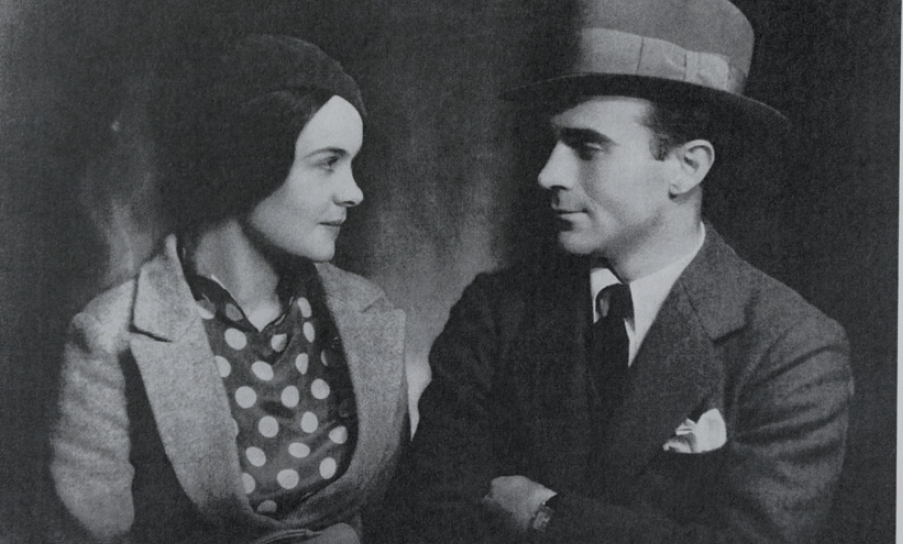 He immediately found Helen's address and called and persuaded her that they should meet at her home, where she had led the life of a hermit since 1941.
"I just was charmed by her. … We talked all day long and I eventually missed the last train and stayed for the night," said Considine, to whom Helen later made frequent phone calls and sent "volumes of letters", in which "she told and retold stories from the '30s".
One of those phone calls was made in 1977, when Helen told Considine that "Huang Hua was coming to New York and there will be a reception for him, but I'm not going".
"You must go," Considine remembers himself saying.
So at the New York reception one month later, Considine found himself sitting on a foot stool between Helen and Huang, who had shut themselves in a quiet room to have a proper talk where they sat on "two big overstuffed chairs". Considine tentatively proposed to Huang the idea of making in China a documentary about Helen.
In September 1978 the team, consisting of Helen, Considine, a videographer and an Academy Award-winning soundman, was in Shanghai, just in time to celebrate Helen's 71st birthday.
"She came to life in China," said Considine, whom Helen took everywhere from the historic hotel in the old concession area in Shanghai to the couple's courtyard residence in Beijing. But the highlight was the Northwest, where Helen met An.
"Helen talked in a super fast pace and was always with her notebook," An said. "She was too old to climb the mountains she once climbed. But we went to see the little rammed-earth house she slept in in Yan'an, where dirt used to fall off every time a mouse scurried along the ceiling.
In Xi'an, Considine filmed Helen standing right on one side of a trestle bridge with a train roaring by, an apt metaphor for the flying of time. The bridge looked down to the north gate of the city through which the car carrying Helen, dressed as a man, traveled on that early morning in April 1937.
After Helen returned to the US, she immediately wrote about her 1978 trip and sent the manuscripts to An, who translated a section of it before having it published in a Chinese literary magazine.
"Upon receiving a copy of the magazine, Helen asked a Yale University professor from Taiwan to translate my article back into English so that she could compare the two versions," An said. "I got to know this only years later. But what I did know was that she called to see if I was interested in translating more of her works."
Meanwhile in her hometown, Helen had found another dedicated helper in Sharon Crain, who majored in Chinese studies at Duke University and who first went to China in 1977. Crain had read about Helen when Deng Xiaoping, then China's vice-premier, visited the US in early 1979 to formalize diplomatic relations between the two countries.
"While Helen was invited to the reception in Washington, my husband and I were sitting in our home in Connecticut reading about her," Crain said. "In 1937, upon her departure from Yan'an, Mao wrote Helen a letter for her to take to Deng, in which Mao asked Deng to assist Helen and offer her protection and convenience during her interviews on the war front. Unable to meet Deng due to a change of events back then, Helen was able to present Mao's letter to Deng at the reception, calling him 'a hard man to find'."
Crain was fascinated before she arrived at the very last sentence of that New York Times article, which reads: "Helen Snow now resides in the small town of Madison." "I couldn't believe it: an important China hand lived three miles from my house and I had absolutely no idea about it," she said.
Crain telephoned her, but Helen's reaction was "one of fear". "She had been through the McCarthy era when anyone in America who had connections with China became objects of suspicion, interrogation and hate," Crain said. (Against that backdrop, Edgar left the US for Switzerland in 1959, where he died.)
But Crain was persistent, and Helen, who never learned to drive, needed someone to send her materials to the printers from time to time. That was the beginning of another lasting friendship.
"Huang Hua would always come to visit her at great effort when he was at the UN," Crain said. "And the day before, Helen would call me and say: 'When they come, go out and buy fast food.' Helen wanted to save every minute for what she called the food for thought."
When Crain visited China again in 1981, she met An at the insistence of Helen. The three would meet regularly at Helen's home while An was a visiting professor to Trinity College in Hartford between the summers of 1985 and 1986.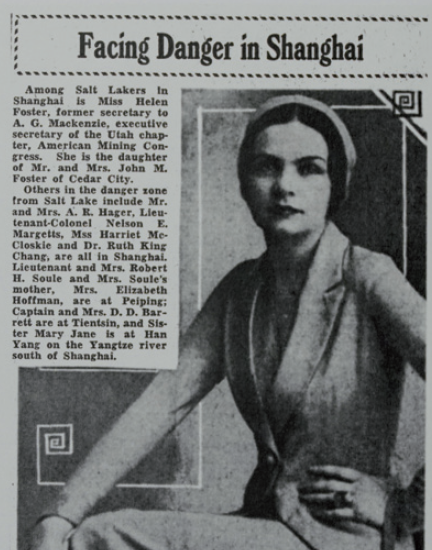 "I would ride the Sunday train to Helen's place, where, despite my willingness to help with household chores, she often insisted that I sit down and listen to her story," An said. "I tape-recorded her talks; there were about 70 hours in total."
Those tapes, together with her fountain pen and hemp shoes from the Yan'an period, are now in Xi'an, part of the collection of a former Communist army office-turned memorial museum, where Helen spent one night on her way back to Beijing in 1937.
An also took Helen's typewriter from the 1930s, after buying her another one from a local antique store. "Helen stuck to manual typewriters throughout her life," An said.
Helen was like that in many ways. Considine described her as "frozen in the '30s in her time", a description tinged with melancholy, even sadness. But at the same time, those around her were invariably impressed by the insatiable intellectual curiosity and daring soul of a true pioneer.
"It was she who originally came up with the proposal of industrial co-operatives, where people shared material and labor, as a way to continue manufacturing and providing much-needed support to the Chinese Army during the Japanese invasion," said Crain, pointing to the wide adoption of the idea by wartime China and India, where she is known as the Mother of Gung-Ho, gung-ho being the Chinese pronunciation of an abbreviation for industrial co-operative.
"At their peak in 1940, there were about 50,000 industrial co-ops operating in China, each with members ranging between five or six and a couple dozen," An said.
Later, the term gung-ho was picked up by the US Marine Corps Major Evans Carlson, who turned it into a rallying cry for his own boys in the 2nd Marine Raider Battalion, from where it spread throughout the entire Marine Corps.
Casey Williams, 65, born in Cedar City, grew up running along the streets with fellow teenage boys shouting 'gung-ho'. "We had no idea where it came from. For us, it just meant 'Go do it and do it well!'" the film director said.
Last month Williams, with members of Helen's extended family (Helen herself remained single after her divorce from Edgar and had no children), joined An, Considine and Crain in Cedar City to look into a life as remarkable as it was often obscure.
"I never met Helen," Williams said. "I drove by her house many times knowing that there was a legendary woman living inside. But as a young boy, my father took me to see the epic 1957 World War II film The Bridge on the River Kwai, set against that background of the Allies' construction of the Burma Road. That's when I knew that Helen's story had to be told, because it's just that epic."
"When you read Helen's writings about her life, it is so cinematic and the character arc so clear. One has to look at where she had come from to truly understand her compassion and empathy toward the Chinese Communists, as well as her courage and fortitude."
Helen, born into a Mormon family, had great-great grandparents who set foot on the shore of Massachusetts, having sailed from Europe, grandparents and parents who, partly escaping local antagonism and persecution the Mormons faced, migrated from Massachusetts to Chicago, and then to Missouri and finally to Utah, where they labored with fellow members of the church to build cities and towns on rusty red earth.
Things must have looked familiar once the young Helen entered the "red" land of the Communists, whom she called "my type of people".
"That pioneer heritage made her more aware of the hardship, suffering and the sacrifices that had to be made for things to happen," Williams said. "She understood that these men had gone through a crucible and had been tested in a fiery furnace, struggles that I myself cannot understand.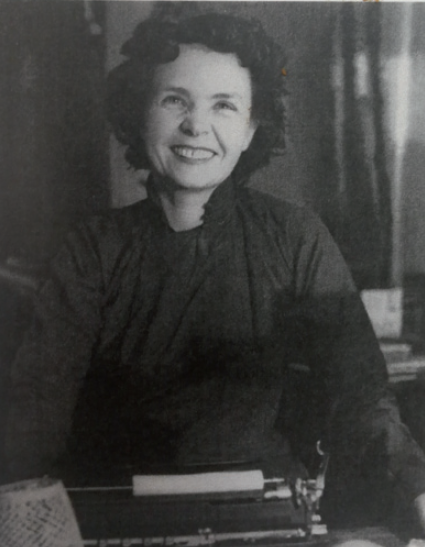 "The Mormon migration to the West was just a minute sampling of what the Chinese leadership went through in the Long March."
Reflecting on the legacy of Helen and Edgar, Crain said that while Edgar, who studied journalism at the University of Missouri, produced highly compelling reading, Helen, whose suffragette mother taught her to interview relatives and gave her the camera to take to China, cared more about documenting and recording every single piece of truth for future generations.
"Helen often said to me: 'I don't care if it's published now. Some day it will be'," Crain said. It is believed that when Edgar was writing up his interview with Mao, it was Helen who persuaded him to add more details that eventually turned it into a whole chapter.
In Edgar's 1958 autobiography Journey to the Beginning: A Memoir, he wrote: "I should at least give some account of my life with the very unusual woman who was to be my frequently tormenting, often stimulating, and always energetically creative and faithful co-worker, consort and critic."
Helen said in 1991, when she was 84: "I call my life 'bridging'. All my writing and thinking provides a 'bridge to the future', as I call it. It is a body of writing that bridges over, not between extremes of any kind, to find the valid thesis for building the best future."
Of all her more than 60 books, only seven were published in the US, including the 1984 autobiography My China Years: A Memoir. Loads of unpublished manuscripts and thousands of pictures and letters are now at Brigham Young University in Provo, Utah, as well as the Hoover Institution Library & Archives at Stanford University in California.
The "12 miles of 16-millimeter color film" that Considine had shot of Helen in China in 1978 were still in his keeping. There had been several ill-fated attempts to edit the film into a documentary or TV series, said the director, who still wants to see through "what Helen and I wanted to do first".
Some family members became involved along the way, including Helen's niece Sheril Foster Bischoff, who remembers gazing at Helen's picture as a little girl, enchanted by her effortless glamour.
One year before Helen died, Bischoff and her husband spent five weekend days, 13 hours a day, going through all the materials at her aunt's house in Madison, eventually condensing the 600 boxes to 200.
"We visited Helen for the last time in 1996, to deliver to her the handwritten letter given to us by Huang Hua during our trip to China in June that year," she said. Calling her "Dear Peg", Huang, who died in 2010, wrote: "Now 60 years later, looking back to that dangerous and challenging moment of history, I felt that we lived up to the expectations of our peoples."
These days, An, who has translated four of Helen's works, acted as a de facto consultant for both Bischoff and Adam Foster, Helen's grandnephew who helped set up the Helen Foster Snow Foundation last year and is now its president.
"In her final years, Helen lived a very frugal life – shopping for food about to exceed its shelf life and eating two meals a day," said An, who visited Helen for the last time in August 1995.
"A lot of friends from China offered financial help but she never accepted it, fearing that doing so might jeopardize her reputation as a journalist. She wanted every word she ever typed to carry the weight of a passionate yet objective observer. She's a patriot who loved her country fervently, as she did China.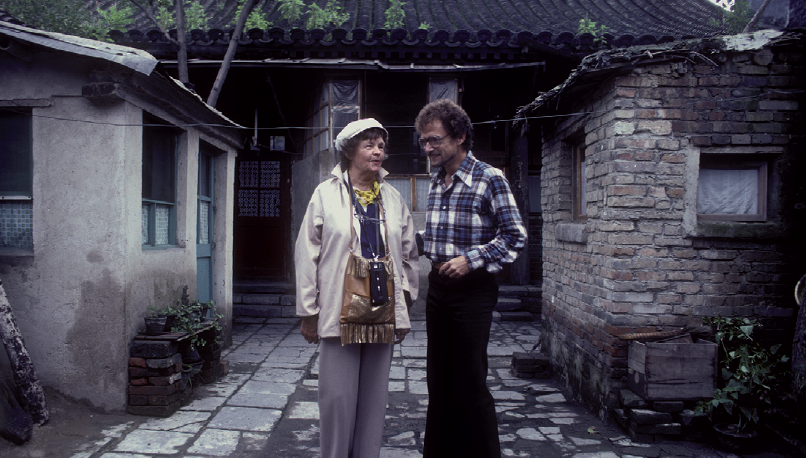 "She was extremely thin and weak. I asked her to rest, but she insisted that I turn on the recorder. When she was young, Helen dreamed of writing a great American story. All she did was to turn herself into one."
Helen Foster Snow died on January 11, 1997. In China, memorial services were held in Xi'an and Beijing. And since the land was frozen at the time, the coffin was laid into the ground on May 3 – 60 years to the day that Helen had first met Mao in Yan'an.
A week before her death, Sharon, who has taught China-US relations at Shaanxi Normal University since 1981 and has been a long-time trustee of the China Institute in New York, went to see her in the nursing home.
"She said to me, 'Sharon, I want to write some letters, and I want you to write them down and send them out for me'," Crain said. "For the 20 years that I knew her, Helen was not a person who would say thank you. You just did things because you loved her. You did things because they were important.
"But then she started to dictate two letters, one for Huang Hua and one for An Wei, to say thank you."
On one of those occasions the three were together, Helen took An and Crain to a cemetery in North Madison.
"This is where I'm going to rest forever," Helen said.
"If I were to come here to see you one day, what would you like me to bring?" An asked her.
Without hesitation, Helen replied: "A yellow rose and a piece of good news from China."
Contact the writers at zhaoxu@chinadailyusa.com.