FM calls out Washington over its misconceptions
By MO JINGXI | CHINA DAILY | Updated: 2019-12-14 07:00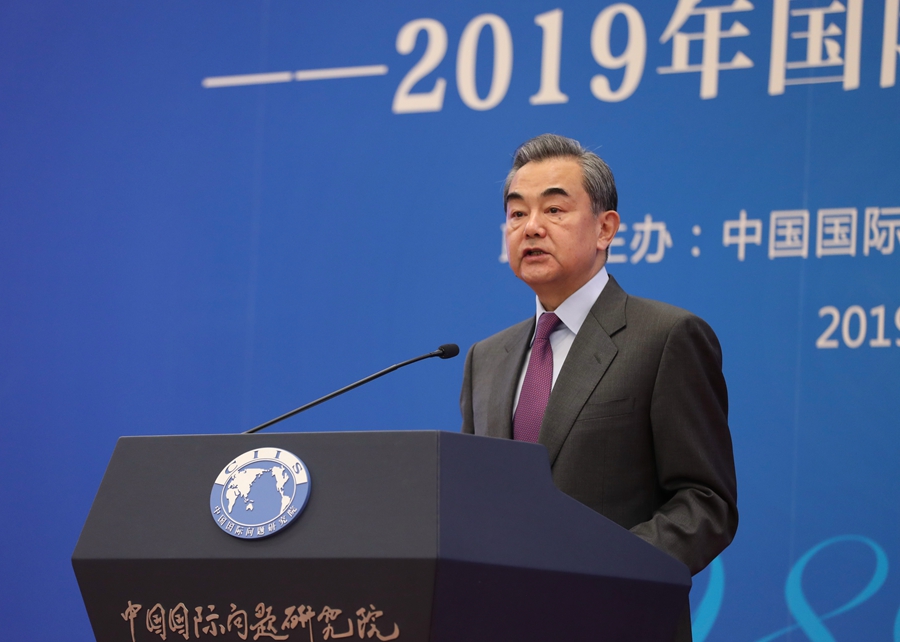 The United States should correct its misconceptions of China and work together with the world's second largest economy to find a way to peacefully get along with win-win cooperation, State Councilor and Foreign Minister Wang Yi said on Friday.
Speaking at an annual symposium in Beijing on international affairs and China's diplomacy, Wang said Washington's recent actions on a range of issues have seriously damaged the hard-won mutual trust between the two countries and also weakened Washington's international credibility.
"The bilateral relationship is now in a situation of unprecedented complexity," he said.
According to Wang, the "almost paranoid" behavior of the US includes unjust restrictions on China-US exchanges in trade, science, technology and culture, and smears and allegations against China on issues concerning national sovereignty and dignity.
The US has recently passed legislation that severely interferes in China's internal matters in Hong Kong and the Xinjiang Uygur autonomous region, which aroused firm opposition and strong protest from China.
"China will resolutely fight against foreign forces' interference in China's domestic affairs and cut the black hand supporting revolution in Hong Kong," Wang said at the symposium.
Wang added that the US has used various ways to discredit China's social system, development path and its mutually beneficial cooperation with other countries, and slandered China with trumped-up charges.
Noting that the wrong actions of the US are attributed to its wrong conceptions of China, Wang stressed that China never had any intention to challenge or replace the US and will never seek hegemony through strength.
"We always believe that cooperation is the best and the only viable choice for both countries," he said, urging the US to calm down and get its China policy back on the right track.
The sound and steady development of bilateral ties between the world's top two economies serves the interests of the two peoples and meets the common aspirations of the world, Wang added.
Speaking of the global situation in 2019, he said it was a year of much turbulence and mounting challenges for the world with increasingly bitter tension between multilateralism and unilateralism.
As the world's most powerful country, the US has walked away from its responsibilities and obligations and withdrawn from a long list of agreements and organizations, becoming the world's troublemaker, Wang said.
However, peace and development remain the prevailing trend of our times, he said.
In the face of unilateralist and hegemonic moves, China has firmly stood on the right side of history and on the side of the common interests of the overwhelming majority of countries, Wang said.