1st ever traditional Chinese medicine to enter Pakistan against bronchitis
Xinhua | Updated: 2019-12-15 00:32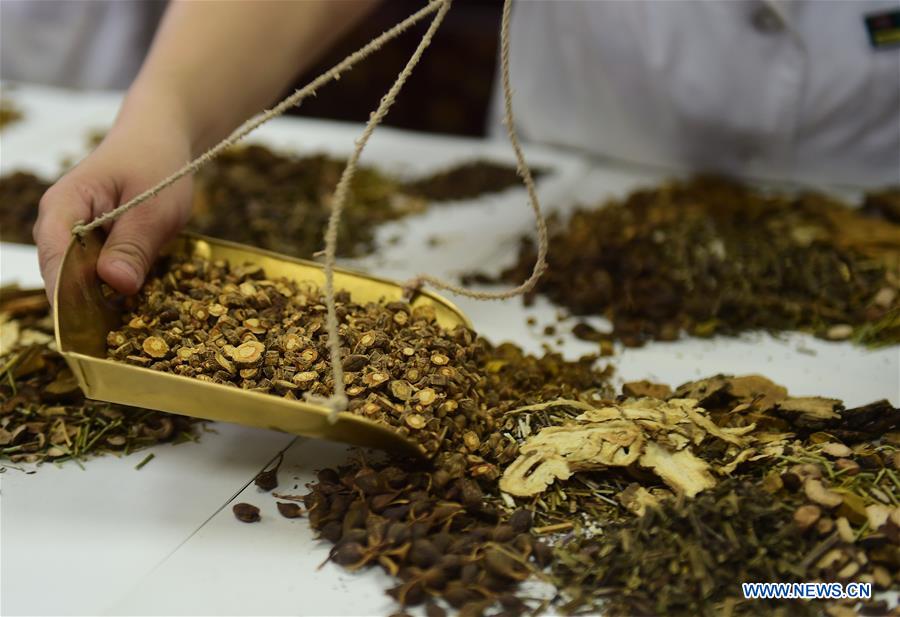 KARACHI, Pakistan -- The first ever traditional Chinese medicine (TCM) for bronchitis, the Yinhuang Qingfei Capsule, have passed a one-year trial against its competitor antibiotic medicine at a clinical research center in Pakistan and has been declared suitable and effective for Pakistani population, according to results announced by a Pakistani clinical research body here on Saturday.
Raza Shah, general manager of the Bioequivalence Studies and Clinical Research at the International Center for Chemical and Biological Sciences (ICCBS) of the University of Karachi, presented the test conclusion report at a ceremony and said that they conducted a randomized double-blind clinical trial of the efficacy and safety of the Yinhuang Qingfei Capsule of Anbang Pharmaceutical against Amoxicillin-Clavulanate in patients with chronic simple bronchitis.
Amoxicillin, a widely used medicine in Pakistan, "is losing its potency against bacteria due to resistance, so there was a need for alternate and Yinhuang Qingfei proved to be a good alternative," said Shah, adding that the Chinese capsule was effective in Chinese population against bronchitis and the clinic trail in his research center found it equally effective in Pakistani population with a curative index comparable to Amoxicillin.
A total of 212 patients were treated in the trial period and the effectiveness against cough rate in case of Yinhuang Qingfei was 72.8 percent and that of antibiotic Amoxicillin-Clavulanate was 71.8 percent, the report said.
On the occasion, Director of the ICCBS Muhammad Iqbal Choudhary said the trial of a traditional Chinese medicine for the first time in Pakistan is a historic step which will open new opportunities of cooperation in the field of medicine between the two countries.
The director said the majority of Pakistani population believes and trusts in the traditional system of treatment, which hinted at a big scope for the research and development in the traditional medicine in Pakistan. The director added that they are in talks with four other traditional Chinese medicine companies for trials of their medicines in Pakistan which would open a gate to enrich Pakistan's medicine market.
Chairman of the Hunan Federation of Industry and Commerce Zhang Jian told the audience that the success of the clinical trial shows that Chinese patent medicine has officially entered Pakistan.
"China and Pakistan have a vast scope for cooperation in the field of traditional Chinese medicine, and I hope more enterprises, experts and scholars commit themselves to the trade and research cooperation in the very field to push the cooperation and exchanges between China and Pakistan to a new level," said Zhang.
In November 2018, China and Pakistan signed a joint statement agreeing to enhance cooperation in traditional medicines. Prior to the statement, China's Hunnan University of Chinese Medicine, the ICCBS and Anbang Pharmaceutical established the Sino-Pakistan TCM Clinic Research Center to enhance bilateral medical studies.
Chairman of Anbang Pharmaceutical, Chen Feibao, said the effectiveness of Yinhuang Qingfei capsule to treat Chronic Obstructive Pulmonary Disease is higher than its competitor western medicine but its price is only 5 percent of that which will reduce the financial burden on Pakistani patients.
Chen said they will bring six more medicines of different diseases to Pakistan for clinical trial soon opening a way forward to start research in Pakistan's traditional medicine also.