Lin'an enhances its allures
By Yang Feiyue | China Daily | Updated: 2019-12-17 08:53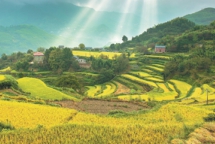 Xu Wanmin was busy cleaning his courtyard, taking care of his vegetable garden and checking out the kitchen in late November.
The winter chill didn't seem to enter his farmhouse in Lin'an district of Zhejiang province's capital, Hangzhou.
"We increased our price a bit, but business has remained brisk," Xu says.
His business usually decreased in winter. But the district's tourism upgrade means the off-season remains close to business as usual.
Xu lives in Lin'an's Wuxing village near the Zhexi Grand Canyon and Zhexi Tianchi Resort.
But the settlement hadn't thrived like other destinations in recent years.
So, from 2018, the district's culture and tourism bureau offered incentives to encourage villagers to meet travelers' demands.
The goal was to create demonstration projects as references and inspirations for the district's 1,500 rural-tourism players to improve.
"The upgrade will benefit villagers and enable more urbanites to enjoy villages," says Chen Weihong, deputy head of the Lin'an culture and tourism bureau.
Designers advised locals on how to capitalize on their pastoral appeal.
"We've asked land owners to use old-fashioned bricks and tiles during construction," says designer Shi Min, who Chen invited to participate in the tourism upgrade.
Villagers previously preferred modern building materials due to a misunderstanding of rural aestheticism, Shi explains.
Several facilities' aluminum panes were replaced with wooden ones, and plants crawl up traditional-brick walls.
The manual tofu mill resumed operating.