China's semiconductor industry shifts into a higher gear, here's why
CGTN | Updated: 2019-12-18 09:24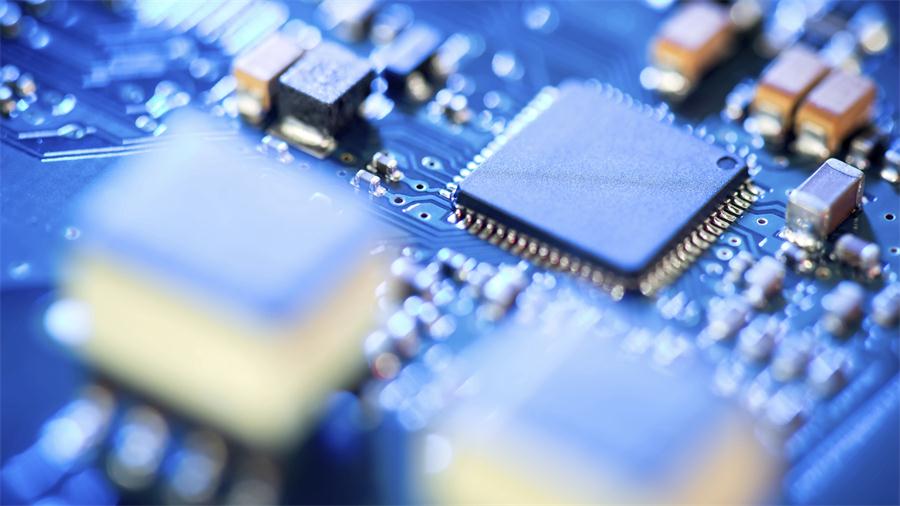 Editor's note: Bobby Naderi is a journalist, current affairs commentator, documentary filmmaker and member of the Writers Guild of Great Britain. The article reflects the author's opinions, and not necessarily the views of CGTN.
After a historic call to action by President Xi Jinping last year, China is spending billions of dollars to become a world leader in developing semiconductor silicon chips, including NAND, DRAM, CPUs and GPUs.
The world's largest importer and consumer of semiconductors has a vast electronics information market and there are many reasons why it has decided to reduce reliance on imports of the tiny devices, shift into a higher gear in all aspects of the semiconductor silicon chips, and allow for more competition in its semiconductor markets.
In the trade war era, the U.S. has banned advanced equipment for sale to China that has formed the technological revolution. Despite a recent trade thaw, the restrictive policy remains a bargaining chip in trade negotiations between the world's two largest economies. The U.S. wants to throw China and its growing capabilities in revolutionary technologies under the bus. It has restricted access to software, semiconductors and AI-related initiatives for firms like Huawei and SenseTime.
Each year, China imports some 200 billion U.S. dollars of semiconductors to power its "smart" devices, consumer electronics and computing products. The strategic industry requires billions of dollars in investment and has productivity gains in a range of sectors. China cannot afford to ignore the high returns.
Many emerging economies are dependent on China for technology and trade. They perceive China's technological rise as positive and prefer having economic ties with the economic superpower. China has launched a tech innovation board, called the STAR market, on the Shanghai Stock Exchange, to attract private capital and support talented entrepreneurs and start-ups in ventures that provision the development of advanced chips.
China currently produces over 16 percent of silicon chips. To compete for semiconductor leadership and make its economic relationship with emerging economies easier, China plans to produce 70 percent of all semiconductors it uses by 2025.
The country is one of the world's leading high-tech hotspots and innovators. A lesson learned from lingering trade friction is that the U.S. won't bargain its advanced chip technology. Chinese industry leaders have the upper hand when it comes to industrial base, economic-financial strength and quality of research and development. The way to make the most of it is to allow more private businesses to power ahead with multibillion-dollar projects in chip parks, and compete with global peers and contract suppliers.
To be sure, the Asian superpower has to achieve self-sufficiency in the critical semiconductor business, seeing that last year it had a trade deficit in chips of 228 billion U.S. dollars. To complicate matters, trade friction is still there while the U.S. continues to restrict exports of chip technology to China. It would be a historic blunder for its chip makers and technology firms to kick the can down the road and hope for the best. No American chip maker or contract supplier will ever hold back on the strategic technology.
Despite challenges and uncertainties, however, the public, the private sector and the government are all ready for change. In-country semiconductor companies are competitive enough to close the technology gap substantially with highly specialized tools and cutting-edge designs, as well as meet the challenge of supplying the needs of domestic firms. They have the required equipment, materials and skills to develop competitive products at lower costs.
As per President Xi's historic guidance and oversight, the capacity is there to set actionable plans for manufacturing chipsets. Chinese manufacturers can make significant progress in the field and have a good chance to achieve leadership and standards-setting power in the semiconductor industry. There is no question that government policies support and promote such self-reliance, making sure private investors and professional manufacturers can build a world-class chip industry and also be present in international markets.
The overwhelming conclusion is that it's now or never for the Asian giant's private investors and leading producers of high-end computer chips and specialist foundries to attain technological self-sufficiency. They have what it takes to build their own Silicon Valley and maximize the localization rate of advanced chips.
Sino-Skeptics can rant until they are blue in the face, but this is not a tale of getting mired down in the quicksand of debt strains and wishful thinking. High-end manufacturers in China have already made rapid headway in silicon chip design, quantum communication, supercomputing, cryptocurrency and AI-related initiatives. They have dominated next-generation technologies such as artificial intelligence and 5G far and wide, having transformed a growing number of emerging economies on a titanic scale. They can also develop their own semiconductor industry with comparable results.