Furore after project diverts donations meant for girls' education to boys
By Wang Yiqing | China Daily | Updated: 2019-12-19 07:34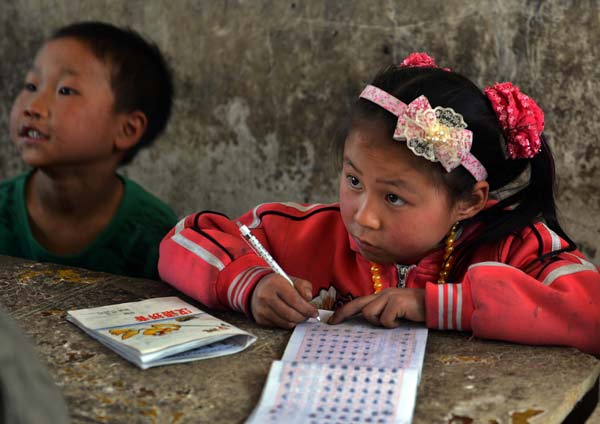 SPRING BUDS PROJECT, a charity project aimed at imparting education to girls from impoverished households, ran into controversy online after donors found that many of the beneficiaries were boys. Charity organizations should not violate donors's trust, and randomly change the purpose of donation. China Daily's Wang Yiqing comments:
The Spring Buds Project is implemented by the China Children and Teenagers' Fund to help female dropouts from impoverished regions continue their studies, claims the Fund's official website.
In the face of doubts raised by the public about the way the donation was distributed, the fund admitted that 453 out of the 1,267 beneficiaries in its ongoing program are boys, as also 47 out of the 100 beneficiaries in another program.
The fund claimed that a majority of the project's beneficiaries were girls, and the boys who received the donations were all from impoverished families.
But the donors are not happy. They criticized the fund for ignoring their right to know how the funds were actually used and for failing to help girls, the idea that made them pitch in.
The Spring Buds Project was established in 1989, when many girls were unable to receive education because of poverty and poor consciousness about gender equality in society, especially in the rural areas.
According to the fourth national census in 1989, 4.8 million children aged 7 to 14 had dropped out of schools because of poverty, and 83 percent of them were girls.
Many of those who donate to the project want to help girls who are deprived of education because of their families' preference for sons, and poverty. Through this project, donors want to wipe out this inequity between genders, but the way the fund was utilized defeats the purpose.
A basic principle of charity is that a specific donation should be utilized for a specific purpose, as desired by, or indicated to, the donor.
If there are some boys from impoverished families who, too, need help, the fund should inform the donors beforehand, rather than independently divert the funds. Charity organizations should pay great attention to procedural justice and be responsible to the donors.