A celebration in strings
By Chen Nan | China Daily | Updated: 2019-12-24 08:10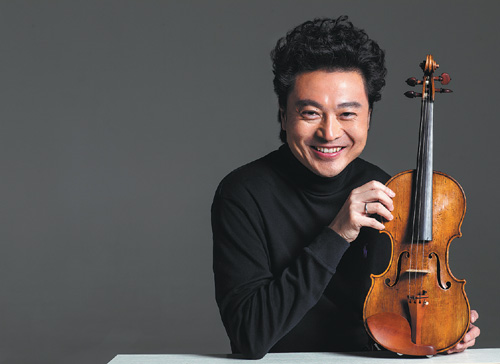 As part of its 20th anniversary season, China Philharmonic Orchestra has invited violinist Lyu Siqing to lead a concert showcasing the talents of young international instrumentalists, Chen Nan reports.
To mark his 50th birthday, violinist Lyu Siqing has been invited by longtime friend and conductor Yu Long to perform a special concert with the China Philharmonic Orchestra at the Forbidden City Concert Hall in Beijing on Wednesday.
Lyu will play Ludwig van Beethoven's Violin Concerto in D major, Op. 61 as part of a special series by the orchestra honoring the 250th anniversary of Beethoven's birth. This 2019/2020 performance season also marks the China Philharmonic Orchestra's 20th anniversary.
Lyu will play alongside young violinists to interpret the Four Seasons of Buenos Aires, a set of four tango-inspired compositions written by the Argentine composer Astor Piazzolla between 1965 and 1970.
"I used to focus on my personal pursuits, like touring in new countries and polishing my skills, but now that I'm 50 I realize that I want to attract more people, especially the younger ones, to our concert halls, and help young music learners to improve themselves," says Lyu in Beijing, adding that he will perform Buenos Aires Spring, the last piece of the Four Seasons of Buenos Aires.
The three participating young violinists-10-year-old Christian Li, Chloe Chua, a 12-year-old from Singapore and 19-year-old American Kevin Zhu-are all winners of the Yehudi Menuhin International Competition for Young Violinists, the world's leading contest of its kind founded by American violinist and conductor Yehudi Menuhin in 1983.
Lyu was a junior prizewinner in the inaugural Menuhin competition and before participating in the competition, he was invited by Menuhin to study in London at the age of 11.
In 1987, he became the first Asian violinist to win first prize at the prestigious Paganini International Violin Competition in Italy, which propelled him to stardom.
"I've listened to the three youngsters play and they remind me of my younger days. We are performing together for the first time and I hope it will inspire more young violinists," says Lyu, adding that one of the trio, Zhu, is studying at the Juilliard School in New York.
"Now many young people are learning to play the violin. There are so many child prodigies who have been displaying their musical talent from a very early age. However, just like athletes, these musicians must build up certain muscles through practice to help them better perform in the future. It also requires passion and a love for the instrument," he adds. "I've gained a lot of experience throughout my career which I want to share with these young violinists."