2019 marks fruitful year of China-Cambodia cooperation
Xinhua | Updated: 2019-12-31 14:36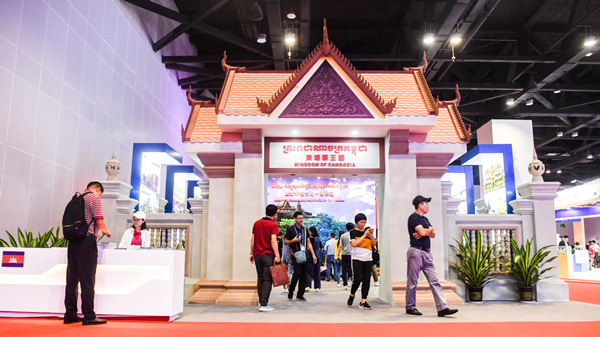 Broader cultural cooperation, closer people-to-people contact
For culture, the two countries had together organized a number of celebratory events in both countries such as art performances, cultural exhibitions, film festivals, visit exchanges, and study tours, among others, said a spokesman.
"With these events, the peoples of the two countries will get a better understanding about mutual cultures and civilizations, and their mutual contact will be closer," secretary of state and spokesman of the Ministry of Culture and Fine Arts Long Ponnasirivath told Xinhua.
He said China has played a leading role in helping Cambodia protect and preserve both tangible and intangible cultural heritages and in training human resources for cultural officials and archeologists.
For the tangible cultural heritage, the spokesman said the expert team of China has recently begun an 11-year project to restore the ruined former Royal Palace of Angkor Thom in the complex of the Angkor archeological park in northwest Siem Reap province after they had spent about two decades restoring the Chau Say Tevoda temple and the Ta Keo temple successfully.
Moreover, as the co-chair of the International Coordination Committee for the Safeguarding and the Development of Preah Vihear, China has been actively seeking funds to help restore temples at the Preah Vihear Temple in northwest Preah Vihear province, he said.
On the intangible cultural heritage side, Ponnasirivath said China has always supported Cambodia's moves in safeguarding and preserving intangible cultural properties.
He recalled that a few years ago, when Cambodia filed its document to the United Nations Educational, Scientific and Cultural Organization (UNESCO) for the registration of its Lkhon Khol, a masked dance-theater, on the organization's world heritage list, China had played an active role in supporting Cambodia and finally, Lkhon Khol was inscribed on the organization's list of intangible cultural heritage in 2018.
"In sum, China has helped us a lot in the protection and development of cultural heritages," he said. "Cambodia highly values China's assistance since it has not only helped restore our ruined temples to their original shapes, but also built up human resources for our officials and archeologists."
Long Kosal, a spokesman for the Apsara National Authority, an institution responsible for safeguarding and developing the Angkor archeological park, said joint celebratory activities were crucial to further promoting cultural and tourism ties between the two countries.
"We have seen a dynamic engagement between the two countries in many forms, both in tourism and culture programs," he said. "It's a blossoming year for our relationship."