China's intercultural communication with the world in new decade
By David Bartosch | chinadaily.com.cn | Updated: 2020-01-03 13:58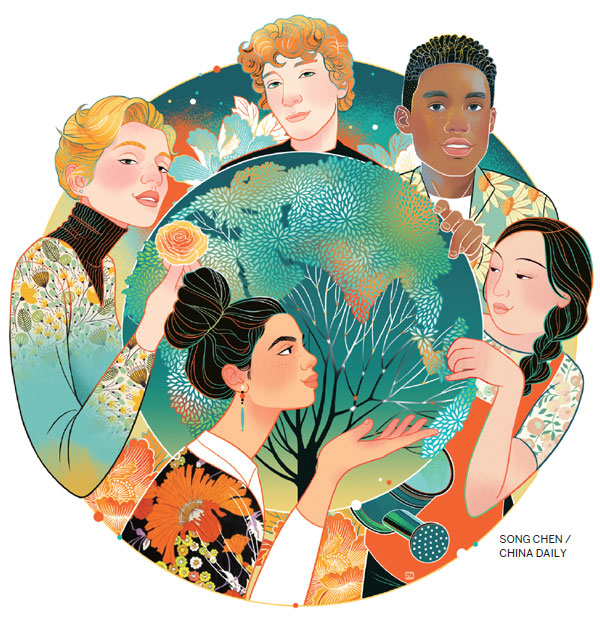 2019 also marked the last year of the second decade of the 21st century. We are stepping into the third decade. During the past two decades, the world has undergone enormous changes, politically and economically. Since then, the world has been developing into a multipolar direction. The turn itself has been mostly imperceptible at first, but constantly increasing since the beginning, and becoming obvious during the last decade: We work together in more and more intertwined schemes. In this global sociocultural transformation, China has gained special importance. Having become the biggest producer of goods and the second-largest economic power, two-thirds of the world's fast train routes and the world's longest highways are found in China.
China and its partners are working toward world integration in a multipolar scheme. It has been rightly emphasized that we all should come together to foster win-win-strategies and intercultural communication. A growing cultural and intercultural awareness is needed. The Conference on the Dialogue of Asian Civilizations, held in May 2019 in Beijing, has been an important step in this direction. Many thousands of official cultural exchange implementation plans are signed between China and most countries worldwide each year. Last year, cities like Beijing and Berlin and many institutions developed joint programs in cultural exchange. The China Soong Ching Ling Foundation, for example, is developing great programs for children to bring Chinese and other cultural elements together. Countless Chinese people are proactively engaged in people-to-people cultural interactions all around the world.
Evolving like a collective sociocultural brain which is growing more and more interior life-lines of vivid communication, the Belt and Road is providing myriads of new possibilities and opportunities for culture-related economic developments. Beijing can be taken as an example: The restaurant scene represents the food cultures of all of China and the whole world. Countless exhibitions of works of art, traditional and modern, from all corners of the world can be visited. A great variety of top-notch international musical events have been held last year. A lot of cultural institutions from many nations are seated in Beijing.
A new form of harmonic power, as the author has coined it, is spreading its wings, dealing with the world culturally in a contemporary way which is conscious of China's and the world's heritages. The world is brought together at one table to share ideas and projects, benefits, and to develop the future conjointly. Harmonic power means gaining through sharing. This is the hallmark of a new world consciousness of humanity, emerging just here and now.
China has been one-sidedly perceived as a productive and economic power by many countries. But Chinese civilization, fluid and mutable as it is, is also among the most ancient and persistent. China's historical and cultural consciousness has evolved over many thousands of years. Modern Chinese writing goes back to the oracle bone scripts. The related artefacts are more than 3,200 years old. Currently, they are on display in the National Museum in Beijing. Isn't it amazing that these very ancient roots are still alive in the branches of the modern Chinese written language?
Many young Chinese are very interested in their ancient culture, being eager to learn and to practice it. The precious heritage has evolved in a vivid and youthful spirit, but also in combination with modern and futuristic technological developments. In this context, a growing awareness of heritage and environment is developing. China has addressed the general fields of sustainable development and environmental as well as climate protection from additional cultural and educational angles. These are all very positive developments.
In this context, the development and worldwide communication of the harmonic power of heritage-conscious modern Chinese culture will be one of the major tasks of the new decade. China's harmonic power is based on the urge for peace, exchange of cultures between civilizations, tolerance, respect and the ability to make differences complementary. We have to close the doors of an age of winner-takes-all mentalities of the preceding centuries. Myriads of beneficial win-win-possibilities lie in our hands already. We have to consciously decide what our global future should look like. It is of utmost importance to make the right decisions for a more integrated and connected world system now.
Every person, every country and every civilization has to realize that it is in the world and how it is in the world, namely a world which is shifting and evolving at an accelerating pace. And we all -- individual persons, families, communities, regions, nations and civilizations -- have to reflect on how we have become what we are in constant interaction with others. It is of great importance that all civilizations nurture their cultures and start to communicate those cultural elements which are fitting and useful for others as well on the basis of larger frameworks like the Belt and Road Initiative. This will be the big task in the third decennium of the 21st century — to actively create a peaceful future for all.
The author is a professor at Beijing Foreign Studies University.
The opinions expressed here are those of the writer and do not represent the views of China Daily and China Daily website.