UNESCO, China Report Press team up to publish magazine in Esperanto
By Wang Ru | chinadaily.com.cn | Updated: 2020-01-08 15:03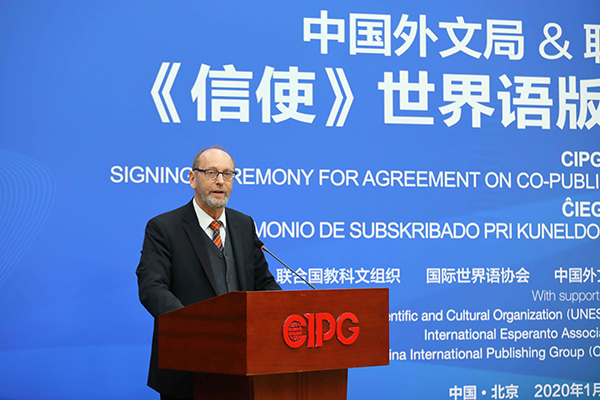 On Jan 7, the signing ceremony for an agreement on co-publishing the Esperanto edition of The UNESCO Courier was held in the China International Publishing Group.
Organized by the China Report Press and China Esperanto Association, the ceremony marks the partnership between UNESCO and China Report Press under CIPG to translate and publish the Esperanto version of The UNESCO Courier, a flagship magazine of UNESCO.
The magazine is published as a platform of communication between different civilizations. It resumed publication in 2017 with support from Chinese government and now it is published in 11 languages.
According to Du Zhanyuan, president of CIPG, "The cooperation between CIPG and UNESCO is a good beginning, and an opportunity. In the future, the communication on this platform will enable both sides to cooperate in more areas."
"The publication of the Esperanto version of The UNESCO Couriercomplies with UNESCO's mission to promote cultural diversity and the use of Esperanto," says Ian Denison, chief of UNESCO Publishing and Branding.