RRR cut allows banks to better support real economy
By Xin Zhiming | China Daily | Updated: 2020-01-10 10:15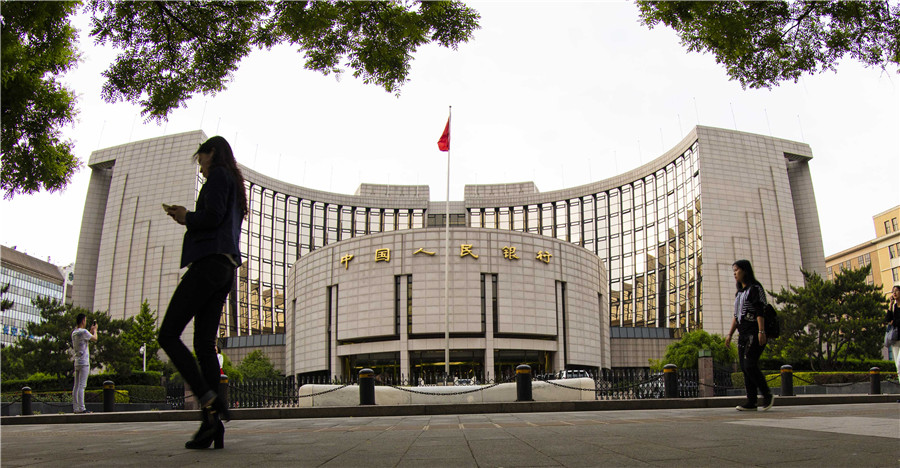 China announced at the start of this year that it would cut the reserve requirement ratio, or the amount of cash banks must keep in reserve, to free up about 800 billion yuan ($115 billion) for funds to potentially boost infrastructure and other sectors and help stabilize the economy.
Considering the slowdown in domestic economic growth and the international economic landscape, the Jan 6 RRR cut is a step to appropriately increase liquidity to boost growth and, in the short term, satisfy the high demand for funds that usually occurs at the start of a year.
Generally, demand for funds rises strongly ahead of the traditional Spring Festival, which falls on Jan 25 this year. It is estimated that in January, there will be 600 billion yuan worth of reverse repos and more than 250 billion yuan worth of targeted medium-term lending facility loans maturing, leading to a fund shortage of over 850 billion yuan. The move by the People's Bank of China, the central bank, to cut the RRR in the short term offsets the maturing monetary facilities to maintain the stable supply of money and ease liquidity shortage in the market.
The cut is also a countercyclical measure to "effectively increase funds of financial institutions and lower their funding costs so that they can better support the real economy", the central bank said.
China's small-and medium-sized financial institutions, such as city commercial banks, rural cooperative banks and township banks, which mainly serve private, small and micro enterprises, will have access to more than 120 billion yuan worth of extra long-term funds after the RRR cut.
The central bank estimated that the cut will help lower the funding costs of financial institutions by 15 billion a year, which will in turn help lower the financing costs of small and micro enterprises and private companies.
China's small-and medium-sized enterprises account for more than half of the country's GDP growth and tax revenues and most of the jobs. But the financing bottleneck has become a major problem affecting their development. China has cut the reserve requirement ratio four times since the start of last year, which has substantially improved the access of small-and medium-sized enterprises to lower-cost funds.
The improved performance of small-and medium-sized enterprises is crucial for the economy, whose growth slowed to 6 percent in the third quarter of last year.
The RRR cut is mainly targeted at revitalizing the economy, allowing increased funds to flow into areas such as infrastructure construction through bank loans to increase economic activity and create jobs.
In the annual work conference of the central bank, convened last week, policymakers claimed that countercyclical adjustments should be strengthened and liquidity should be kept "reasonably ample" so that monetary supply and social financing scale can match the pace of economic development.
Economists widely expect the RRR cuts to continue if economic growth weakens further this year. The country could also cut benchmark interest rates to further reduce financing costs of enterprises.
Considering China's massive economic scale of about 90 trillion yuan, such countercyclical measures will help boost growth.
Policymakers agree that funds will be encouraged to flow into the real economy, supporting small and micro enterprises and infrastructure construction, rather than pushing up asset prices, which would incur serious financial risks.
As proof of the country's still prudent monetary policy stance, funds flowing into the real estate sector will be strictly controlled, the authorities said. Last year, governments at varying levels issued 570 real estate regulatory policies, the most in recent years.
The tone-setting Central Economic Work Conference, convened in December, reiterated that housing is for living in, not for speculation, meaning control of the sector will not be loosened any time soon.
The Ministry of Housing and Urban-Rural Development said late last month that it will ensure the stable development of the real estate sector and will not use the stimulation of the sector as a means to boost economic growth, a stance that was put forward at a key meeting of the Political Bureau of the Communist Party of China Central Committee in late July. Therefore, the RRR cut this time may generally benefit the real estate sector, but capital flowing into the industry is set to be put under strict control.
Facing increasing financing pressure, some domestic real estate developers have opted to reduce property prices, especially in the winter, which is often the low season for the sector. Industry watchers said developers should prepare for another difficult year.
From a global perspective, China's move is nothing unusual as a large number of economies have introduced proactive monetary policies to boost growth.
As the world economy slows, protectionism is on the rise and global trade has faltered. Policymakers worldwide have had few viable choices but to cut interest rates to keep their economies on track.
Last year, 48 countries cut interest rates a total of 85 times, according to Jiemian, a Chinese-language online news provider.
Countries around the world have tried to bolster weakening economies by cutting lending costs.
Among those that cut interest rates last year, Turkey made the steepest cut by a total of 1,000 base points and India made the most cuts-five. Compared with those countries, China's pace of monetary adjustments is quite mild.
For China, however, the problem is that cutting benchmark interest rates might trigger some undesirable side effects such as further ballooning of real estate bubbles and intensified capital outflow pressure.
Chinese policymakers, therefore, have been cautious about lowering interest rates. To maintain stable growth, they have instead resorted to RRR cuts three times last year, which can release more funds into the market and are less likely to trigger asset bubble risks.
The author is a senior staff writer of China Daily.