Job growth strong in 2019 due to healthy demand, govt policies
By CHENG SI | CHINA DAILY | Updated: 2020-01-21 09:14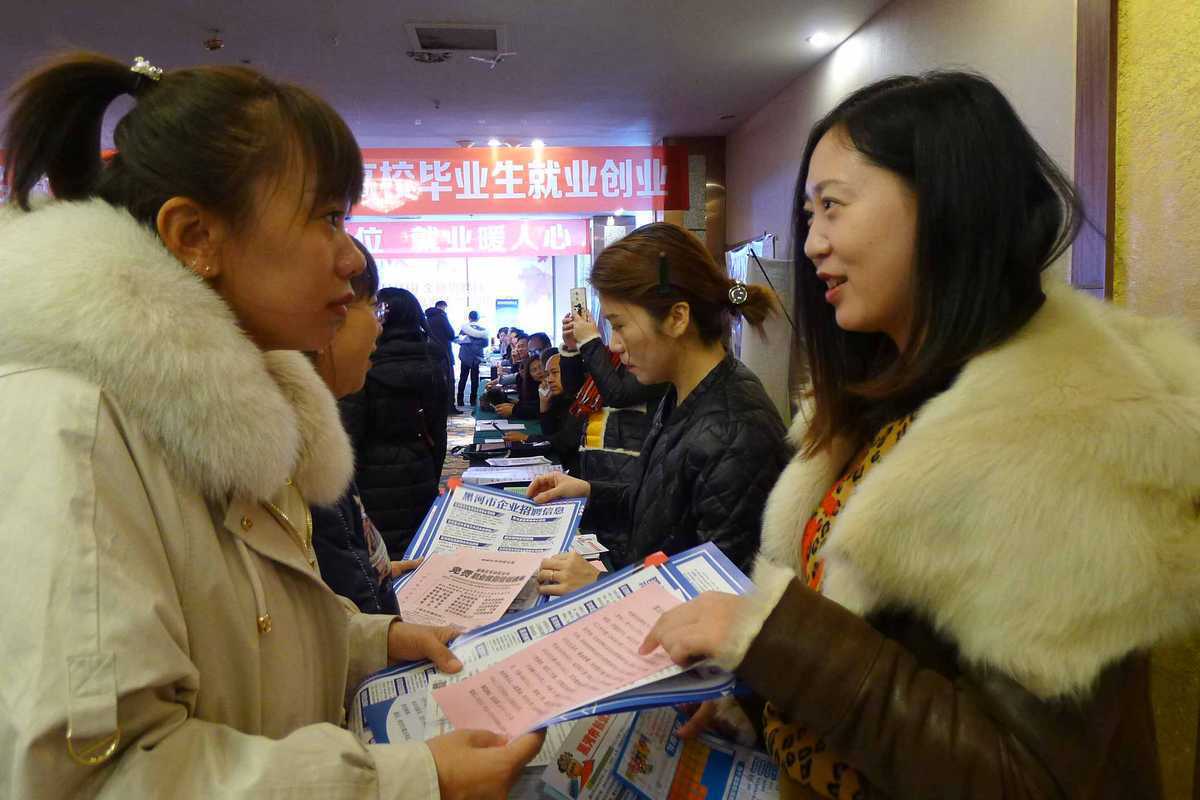 Growth in the nation's employment showed surprisingly good performance in 2019 thanks to growing domestic demand and sound implementation of supportive State-level policies.
According to the latest data by the National Bureau of Statistics on Friday, about 13.5 million jobs were created in urban areas last year, higher than the 11 million target.
The NBS said that it is the seventh consecutive year with more than 13 million urban jobs created.
In addition, the unemployment rate in surveyed urban areas was within a reasonable range of 5 to 5.3 percent, lower than the target of 5.5 percent.
Data from the NBS shows that the population of migrant workers also increased slightly by 0.8 percentage points to over 291 million in 2019. Their average monthly salary also rose by 6.5 percent to about 3,962 yuan ($578).
"The biggest reason for the steady growth of the job market is sound economic development and the policy of 'employment first', which played a key role in stabilizing the job market and the growth of new job creation," said Chen Lixiang, vice-dean at Peking University's China Institute for Occupation Research.
He said that while companies involved in foreign trade may have seen downturns, the rapid growth of domestic demand has strongly promoted employment, especially in the service industry.
"Innovative activities were also intense in 2019, making small and medium-sized companies attractive to job-seekers," he said.
Zhang Ying, employment promotion director of the Ministry of Human Resources and Social Security, said at a news conference in Beijing earlier in January that progress in stabilizing the job market is a result of both supportive policies and sound economic development.
"The government has elevated stabilizing employment to be its priority," she said. "The sound economy also plays a key role. The nation is optimizing its economic structure, strongly boosting the emergence of new industries and professions, and bringing more job opportunities."
She said that some preferential policies that the government granted to enterprises and key groups including college graduates, migrant workers and demobilized military staff members in skills training secured the continuous growth of the job market.
However, Chen, the vice-dean, said that the job market still faces challenges.
"The nation is in the process of restructuring its economy, which will be painstaking and take a long time but will affect the job market," he said. "Also, small and medium-sized companies have unstable financial conditions and business operations that may affect employment."
He said that to further stabilize the job market, the government can attach more importance to domestic demand and innovative activities, which are two main drivers to growing employment.
Stabilizing employment will remain the priority of the government's work in 2020, according to a news release by the Ministry of Human Resources and Social Security in earlier January.
Tens of thousands of job fairs were held in 2019, offering job information to over 100 million people, the ministry said.