What Chinese Lunar New Year means to me
By David Bartosch | chinadaily.com.cn | Updated: 2020-01-21 10:35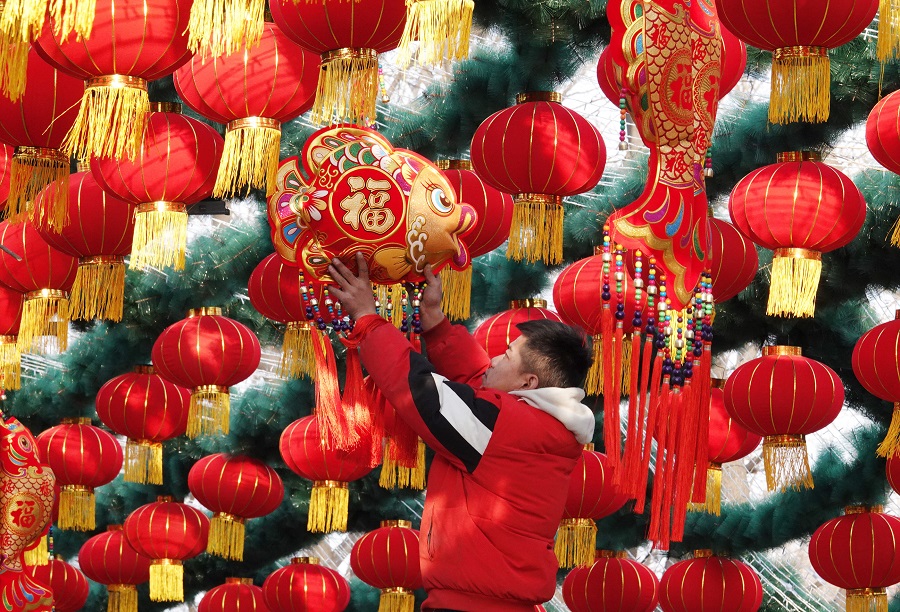 It's that time again: Hundreds of millions of otherwise quite location-bound people all over China travel like "once-a-year-nomads" by land, water and air over sometimes very long distances to embrace their beloved parents and relatives in their arms and hearts.
Although I am not Chinese, Spring Festival means very much to me as well. I have experienced many Spring Festivals in China. My big Chinese family has always treated me so well and as one of theirs on these occasions! I also warmly cherish the memories of many Spring Festival activities with Chinese and German friends back in my home country. Chinese Lunar New Year has long since been celebrated internationally.
Just recently, I was granted the utmost honor to be part of a group of foreign academic experts received by Premier Li Keqiang, as well as Vice-Premier Liu He and Xiao Jie, state councilor and secretary-general of the State Council, on occasion of the upcoming Spring Festival. I will never forget the great atmosphere in the Great Hall of the People, and that the premier took so much of his valuable time to listen to us and talk with us in such profound and warm-hearted ways.
My Spring Festival experiences are related to the family and friends outside the family, as well as official political contexts. But what runs through all of this? And what can we learn from it?
A recent invitation to be a guest on Tian Wei's TV show World Insight on CGTN, China's English language TV station, brought the answer. When discussing the topic of Spring Festival, our famous TV presenter made a wonderful observation. She remarked how wonderful it is for her to notice the first look of her beloved family members just when returning home for Spring Festival after a long absence.
In my opinion, this very first look reveals the very fundamental characteristics of a very basic truth: We are creations of unconditional parental love, as our parents themselves and any siblings are. At the same time, we have a moral duty to exert the same universal force of human love and care. Our parents and grandparents have cared for us, as they have been cared for by their parents and grandparents. And so we are caring for our children and grandchildren, and our parents and grandparents.
This is the root of humanity and of all humaneness. It is the invaluable universal gift of life that has been bestowed on us by our parents, which makes us part of a particular family. The family is the self-generating entity by which human life-experience runs endlessly throughout history, wave after wave, life after life. Every family is a living twig among a billion twigs growing on the powerful branches of the tree of human life, leading back in time for hundreds of thousands of years.
The medium of all of this human life is unconditional love, expressed by mutually caring for each other, and passed on from generation to generation. I understood that it is exactly this spirit of care, and relatedness, and warm-heartedness that already ran through all my personal Spring Festival experiences in the family, the social sphere and the official event which I have mentioned above.
According to Wang Yangming, a famous Ming-dynasty philosopher, universal love can only be achieved if we start practicing the love that so naturally occurs in the relationship between parents and children. Then we'll also learn to see others like we are, namely as loving as sons and daughters, as loving parents. This expanding compassion, love and care, will then become the very basis to be compassionate and to love all forms of non-human life as well. How could a person truly care for animals and plants, if he or she couldn't even care for his or her own closest human relatives?
I think that the upcoming Year of the Rat is of great symbolic significance for mankind. According to the traditional Chinese calendar system, the new lunar year marks the beginning of a new sixty-year-cycle. These following 60 years will be crucial for the further development of mankind! Will we be able to grow together as a loving and caring world community? To create this favorable state of harmony in diversity, we have to manage to develop a universal love for each other. The billion starting points for this learning to love humanity are our own respective families. What we are basically looking for cannot be found anywhere else. We only have ourselves, being truly related by the bond of love and life expressed in our relationships.
This is what the truly human spirit of Chinese Lunar New Year can teach the whole world — and this is why so many Chinese friends are "on the move" these days: Home is where loving hearts meet!
The author is a professor at Beijing Foreign Studies University.
The opinions expressed here are those of the writer and do not represent the views of China Daily and China Daily website.