Spring Festival in the city and countryside
By Mitchell Blatt | chinadaily.com.cn | Updated: 2020-01-21 10:44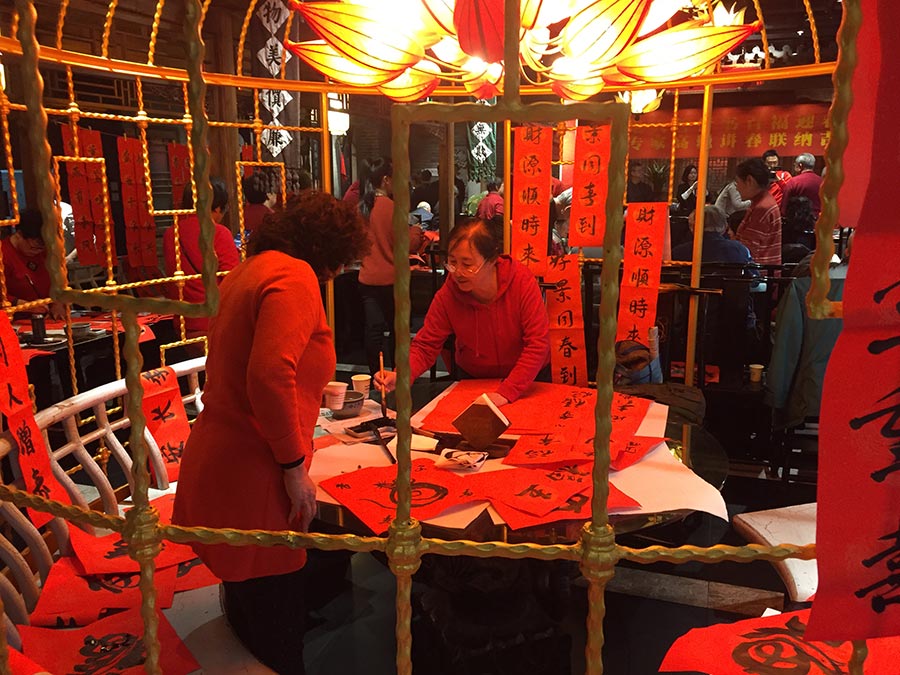 During Spring Festival week, close to 400 million Chinese people will crowd train stations, airports and highways on their way back to their hometowns. As for me, an American with a deep appreciation for Chinese culture, I am waiting at the Denver International Airport overnight to fly out to China tomorrow morning to celebrate the Chinese New Year.
I have done Spring Festival in China multiple times, in multiple different ways, and it never gets old for me. In the big city, small town, and the country village, there's always a different feeling. Once I even wrapped dumplings with my mother while celebrating Spring Festival in the United States.
My first time celebrating with friends was in Shanghai. My friend Frank invited me to join his family in the private room of a restaurant for a catered dinner. Parents and children were there. After plate after plate of sumptuous cuisine, we went around the table and gave our wishes for the new year.
The next year, I was traveling by myself, staying in Beijing. Despite not being with old friends, I felt the spirit of the festival all around the city. Being in a hostel, I was able to make new friends. We ate our own Spring Festival Eve feast of barbecue skewers and beer, then bought fireworks and went to the Houhai bar district. We lit them off on a pier over the lake and watched them shoot up into the air and explode, leaving trails of sparks.
The most difficult thing about celebrating Spring Festival in a big city is finding a restaurant that is open. Almost all the shops and establishments close for a week or two, as workers and proprietors return to their ancestral hometowns to celebrate with their big families. Cities like Shanghai, Beijing, and Shenzhen, where half or more of the population moved in from elsewhere, are ghost towns. Luckily, I like Lanzhou beef noodles; those shops mostly stay open.
In the countryside, it is completely opposite. Two years ago, a friend, Robin, invited me to celebrate Spring Festival at his family's home in Baichi village in the north of Central China's Henan province. The village residents were hospitable and somewhat surprised to see a foreigner. Much food was eaten and beer drunk at neighbors' homes. The county seat, Nanle, was crowded with vendors selling fireworks, joss paper, Spring Festival door hangings, and butchered sheep by the roadside. One day, Robin and I went into Nanle to bathe at the public bathhouse, where we had to wait half an hour because the place was so crowded.
Without a doubt, the drinking experience during the Spring Festival feast in Henan was much more intense than that in Shanghai. Almost everyone who came to Robin's home brought a bottle of baijiu or rice wine with them. Long tables were put in two rooms of the house, and each was covered with food. If your glass was empty, it would be filled quickly; if it was full, you'd better empty it! Then, at midnight, fireworks blasted from the courtyards of just about every house simultaneously.
In the countryside, it is easier to observe traditions. Villages will frequently hold dragon dances for Spring Festival. Robin and I went to a temple fair, where we played all sorts of carnival games and walked through a Chinese haunted house.
Although Spring Festival is different in the city and countryside, the feeling is the same. No matter where you are celebrating, it's the warmth of friends and family that defines Spring Festival. The whole country stops for a week. There's a sense of overwhelming community in the countryside. There's a strange sense of peace and absence of work-life pressure in the quiet city.
Even on the crowded train Robin and I took to return to Nanjing, where we had "no seat" tickets, the Spring Festival spirit was in full supply. Fellow standing travelers exchanged cigarettes as they passed the hours. When everyone was slumped on the floor and asleep, a man offered me a stool to sit on in the aisle.
On the flight from Denver to Los Angeles to Shanghai this year, I met another passenger who was on her way to celebrate Spring Festival with her family in Henan. Of course she shared some dried candou beans with me. Happy Spring Festival!
Mitchell Blatt is a columnist for China.org.cn, a freelance writer, the author of Panda Guides Hong Kong, and a recent graduate of the Johns Hopkins School of Advanced International Studies.
The opinions expressed here are those of the writer and do not necessarily represent the views of China Daily and China Daily website.