Verdict on Brexit hinges on trade deals
By EARLE GALE in London | CHINA DAILY | Updated: 2020-02-01 09:32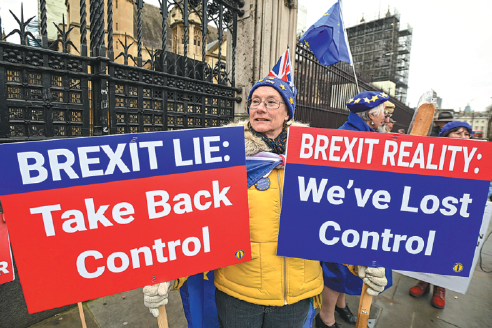 With the sand in the Brexit hourglass finally running out and the United Kingdom, after three and a half years, having completed its walk to the door of a club it vowed in 2016 to leave, it is time to ponder what waits on the outside.
While the experts say many of the 17.4 million people who voted to leave the European Union did so out of frustration at the bloc's freedom of movement rules, it is unlikely Brexit will result in a significant change in the number of continental Europeans living and working in the UK.
International trade is where the change will be most apparent.
And trade was at the heart of the UK's decision to join the bloc in 1973, back when it was called the European Economic Community, or Common Market.
When the dust settles, the UK's trading relationships with other nations will either be much better or much worse.
Pro-Brexiteers lamented that membership of the bloc barred the UK from negotiating trade deals with other nations, including the United States and China. The UK's EU supporters retorted by saying frictionless, borderless, tariff-free trade with Britain's neighbors was a far greater prize.
It may be several years before we can say for sure whether, in trading terms, the UK profited or lost out by leaving the EU.
But proof that trade deals are possible surfaced on Thursday when the United States sent Secretary of State Mike Pompeo to London to talk to Prime Minister Boris Johnson about issues that included a post-Brexit free-trade deal. The meeting followed promises made by US President Donald Trump that such a deal awaited.
'Level playing field'
And the UK will also be looking to negotiate a free-trade deal with the club it has just left, the EU, in talks that should start on March 3.
Ursula von der Leyen, president of the EU Commission, said on Wednesday that she expects London to agree to uphold existing EU trading standards if a deal is to be forged.
"We are considering a zero-tariff, zero-quotas free-trade agreement,"Reuters quoted her as saying. "But the precondition is that EU and British businesses continue to compete on a level playing field."
President Emmanuel Macron of France has said he too is ready to talk about a trade deal, but he insisted the EU will "not bow to pressure or haste". Macron had earlier told the EU's chief Brexit negotiator, Michel Barnier, to be "cold blooded" during such talks, the Express newspaper reported.
Dominic Raab, the UK's foreign secretary, said Friday's exit from the EU was "the start of a new chapter for an independent, sovereign Britain".
"Whether we are reducing trade barriers between nations, tackling climate change, or improving lives around the world, our vision of a truly global Britain will be a force for good," he said.
'Global Britain'
But that new "global Britain" will start with an 11-month transitional period, during which the nation can negotiate trade deals but must abide by EU rules. The number of deals in place on Jan 1, and their specifics, will determine whether, trading-wise, the UK made a go of its exit from the EU.
Tim Maloney, a partner at international law firm Dorsey & Whitney who has advised clients on Brexit-related issues, said that in the short term, because of the transitional period, it will be "business as usual" for UK companies, but he cautioned that trade deals will be hard to land.
"Businesses should be extremely skeptical about the UK government's aspirations being achieved for a trade deal with the EU or the US," he said."The EU does not have a hard deadline."
"It is conceivable the UK may be able to secure a non-comprehensive trade deal by the time of its stipulated deadline," he said. "This might conceivably cover limited categories of goods, such as pharmaceuticals and motor vehicles, plus possibly cybersecurity."
But he said there appears to be little chance of securing a deal with the EU for the service sector.
"Uncertainty in the banking sector and among the business community is understandably very high," he said. And that uncertainty, he noted, is likely to lead to a "period of market volatility".
earle@mail.chinadailyuk.com