Heritage dances through the ages like a dragon
By He Qi in Shanghai | China Daily | Updated: 2020-02-14 07:18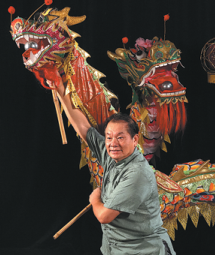 Lu Dajie, a 72-year-old inheritor of the Pudong dragon dance, says he's glad the Shanghai Pudong New Area Sanlin Town Cultural Service Center has been assigned to protect the dance.
He says the government's continuous support over the past decade has enabled the dance, which is believed to be a 2,000-year-old rain-and-harvest ceremony, to undergo a revival.
It has been used in recent years to commemorate significant occasions, such as the opening ceremonies of new stores, festivals and competitions, Lu says.
"The dragon dance has entered the cultures of the army, communities and campuses in recent years," Lu says.
"This shows that intangible cultural heritage is still very much alive. Some schools have started to teach students. And some universities offer courses."
The Ministry of Culture and Tourism tasked 63 departments and organizations in Shanghai with the protection of 55 forms of the city's intangible cultural heritage on Nov 29, including operas, festival lanterns and paper-cutting.
The assignments are intended to enhance the preservation of the city's traditions. The Shanghai Intangible Cultural Heritage Center was given the overall responsibility of protecting and promoting local heritage.
"The list is helpful for identifying protection responsibilities and improving such mechanisms as support and supervision," the center's office director Zhang Liming says.
Lu says: "I believe the dragon dance will survive and evolve with so many people caring about intangible cultural heritage."