Internet firms provide aid for merchants
By Fan Feifei | China Daily | Updated: 2020-02-18 09:17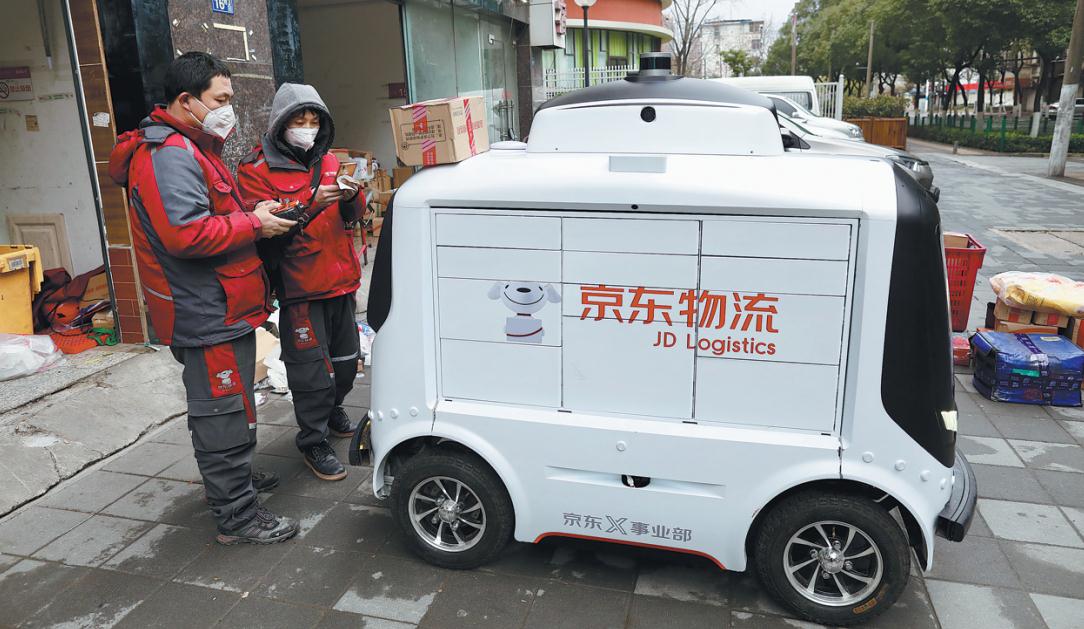 Measures include expense reduction, financial and logistics support, data flow information sharing and health protection
Chinese internet companies are reducing or scrapping commission fees, extending payment deadlines and providing loans with low interest rates for merchants on their platforms to help the latter alleviate pressure caused by the difficult situation resulting from the novel coronavirus outbreak.
Chinese e-commerce giant JD has rolled out 11 subsidy support measures for 250,000 merchants on its platform. These measures include expense reduction, financial and logistics support, data flow support, technical support and health protection.
For the merchants in Hubei province, the epicenter of the epidemic, JD will waive one month of fees, provide a maximum insurance premium of 300,000 yuan ($43,000) and give their products more traffic data support on its online marketplaces. Additionally, one month of free operations will be offered to these merchants.
JD Health, the health and medical unit of JD, will provide free doctor consultation services for all enterprise employees across the nation. JD Digits will also launch an interest fee reduction and delayed repayment policy.
JD Logistics will provide one-on-one customer service for new merchants who use JD's fulfillment services and 48-hour rapid contract signing, enabling them to get up and running on the platform hassle-free.
Alibaba Group said all of the merchants on Tmall, its business-to-customer site, will be waived of service fees for the first half of this year. For select vendors from Hubei province, Tmall will help manage virtual stores' operations for three months free of charge.
MYbank, an online private commercial bank under Ant Financial, announced a series of measures aimed at helping small business owners overcome the economic impact of the epidemic, especially those in Hubei province.
It will offer 20 billion yuan worth of special loans to Taobao and Tmall merchants. Starting on Feb 2, MYbank reduced interest rates of business loans by 10 percent for 1.8 million Hubei small business owners, including 1.5 million mom-and-pop shop owners and 300,000 medical supply dealers. Small businesses whose owners are infected by the coronavirus can also contact MYbank through its hotline to apply for interest exemptions.
Small and medium-sized enterprises are a fundamental and crucial part of China's real economy, and these measures are aimed at ensuring these businesses can cope with and survive these challenging times, MYbank said.
Internet search engine giant Baidu Inc has opened 240 artificial intelligence technologies and offered free access to its internet of things platforms for one year, as well as provided remote office services to SMEs in Wuhan free of charge.
Chinese commercial giant Suning.com Co announced a string of preferential measures to ease the pressure of retailers on its platform. This includes exempting the platform usage fees and commission fees on 308 epidemic prevention and control products, such as masks and disinfectant and commodities involving people's basic livelihood, from February to March.
"Goods and material support must be given top priority during difficult times," said Suning Chairman Zhang Jindong, adding the group will continue to offer assistance to their partner merchants, especially small-and medium-sized enterprises to minimize damage, as they are playing a vital role in creating jobs in China.
Suning Logistics has offered a 50 percent discount on delivery charges for retailers who sell such products. It will also lower the loan interest rates by 20 percent and grant small loans on credit for them.
Brands partnered with Suning's brick-and-mortar retailing plazas will also be exempted from rent for the period between Jan 25 and Feb 28, Suning Plaza Commercial Management said.
Chen Liteng, an analyst from the Internet Economy Research Institute of China E-commerce Research, said the merchants are important partners of the platforms so their current difficulties and losses will have a negative impact on the platform operators.
"The capital and technology support will help enterprises tide over the difficulties, which is also a future investment that internet platforms have made by themselves," Chen said.
After the epidemic, the partnership between merchants and platforms will be more solid and conducive to their long-term cooperation and is a win-win development, Chen noted.
In addition, Alibaba's local services company said it has decided to waive commission fees for merchants listed on its lifestyle services platform Koubei since restaurants, supermarkets and convenience stores have encountered some difficulties during the coronavirus outbreak.
The commission fees will be suspended for merchants until Feb 29, while merchants in Wuhan, the capital of Central China's Hubei province, will have their fees exempted until March 31.