Magnificent robots make medical magic
By Shi Jing in Shanghai and Li Wenfang in Guangzhou | China Daily | Updated: 2020-02-19 10:30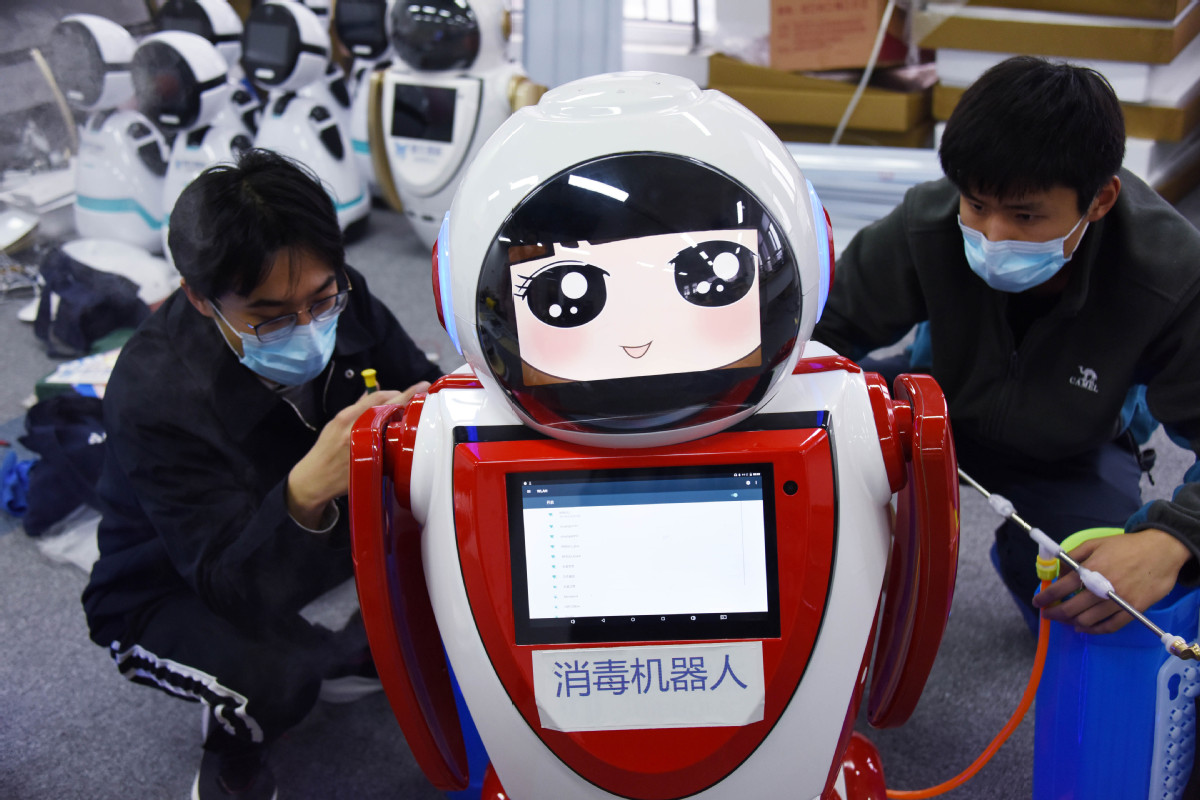 Custom automation promises to evolve into trillion-yuan industry as demand surges amid novel coronavirus spread
Pan Jing, founder of Shanghai TMiRob Technology, is a little bit overwhelmed by the unprecedentedly huge demand for the firm's disinfection robots after the novel coronavirus epidemic hit China hard.
"We have come across great challenges in our supply chain over the past week. All our inventory has been exhausted. Even the robot model demonstrated in the exhibition hall of our company has been purchased and delivered," he said on Feb 6.
The company wasted no time. Staff at TMiRob have been working overtime during the Chinese Lunar New Year holiday. To help combat the virus, TMiRob has so far delivered 42 disinfection robots to Hubei province, where the most infections have been reported. That number of delivered machines is equal to one-sixth of the company's monthly output, said Pan.
By combining chloric acid and plasma, the company's robot can disinfect the environment where both human beings and machines are present. The robot can move around on its own and deliver intensive disinfection services in areas frequented by patients and medical workers alike. The robot can operate automatically so it can minimize people's extra exposure to the hospital environment, said Pan.
At present, TMiRob's disinfection robot has been used in 60 hospitals in China, among which 14 are based in Shanghai, said Pan. Another 70 Chinese hospitals are using other robot models produced by the company. With more staff returning to their positions after the holiday, the company is expected to produce 300 robots every month, he said.
Founded in January 2015, TMi-Rob has mainly targeted the high-end medical service robots. One year later, the company obtained the first patent for invention. Two of its robot models entered on-site trials at a hospital in Wuhan, capital of Hubei province that has become somewhat infamous as the epidemic's epicenter.
TMiRob has completed four rounds of financing, with the disclosed amount reaching over 250 million yuan ($35.6 million). The company's major investors include ZJ Venture, the investment arm of Shanghai's Zhangjiang High-Tech Park, prominent venture capital firms CDH Investments and IDG, and Ecovacs, China's largest in-home robotic products manufacturer.
Similarly, the automatic mobile disinfection robot made by Shanghai Lingzhi Technology Co Ltd has started its on-site application in hospitals in Wuhan and Shanghai during the ongoing fight against the novel coronavirus.
Zhang Kejun, the company's general manager, said the robot is installed with an internal disinfection system that can release disinfection gas. The machine is capable of autonomous navigation and replace human beings in the performance of tasks like complete disinfection in epidemic areas. A robot can carry a maximum 1,500 milliliters of disinfectant, providing three hours of nonstop work each time.
Two robots that can transport medical and daily goods have been used at Guangdong Provincial People's Hospital. They are believed to be the first of their kind to be deployed in quarantined wards.
Robot Pingping is responsible for moving medicines and food. Robot An'an handles medical waste and contaminated goods. A robot can work six to eight hours on a single charge over 20 minutes, and can go to the charging point by itself when power is low. It is also easy to sterilize the machines after work.
Luo Xiaodan, deputy director of the infectious disease department of the hospital, said that the robots, donated by a technology company, were handed over to the hospital on Jan 28 and pressed into service after two days of test runs.
Luo's department is engaged in screening suspected cases, and is also responsible for collecting highly detailed information on patients' latest movements and behavior, besides providing medical treatment, if necessary. The department's doctors and nurses have shouldered heavy workload since the coronavirus outbreak, said Luo.