Online classes can't replace classrooms
By Xiong Bingqi | China Daily | Updated: 2020-02-22 09:59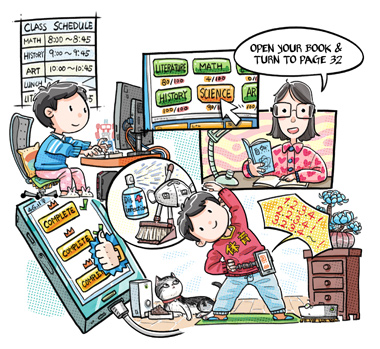 This week should have seen the beginning of a new semester. Instead, China has been witnessing a different kind of new semester because of the novel coronavirus outbreak: many Chinese schools have suspended the new semester and moved the classrooms online.
On the first day of school, DingTalk, a virtual workplace developed by Alibaba Group, held online classes for an estimated 50 million students nationwide, from primary to high school level.
The huge demand prompted many to assume that online classrooms are the source of future prosperity. But according to a guideline issued by the Ministry of Education on Feb 12, "postponement of school without suspension of learning" is not equal to learning through online courses. As the education authorities have said, it is unnecessary for every teacher to record online courses to be evaluated for quality. Also, kindergarten classes cannot be held online.
Therefore, it is still too early to say this is the onset of "spring" for online education.
To prevent the spread of the novel coronavirus, schools have postponed the new semester, and after-school training institutes have been closed. This has made online education an indispensable medium for students to take lessons, leading to an explosion of viewings on online educational platforms.
Yet online classes can never replace real classes. Whether online education would continue its explosive growth even after the epidemic is contained would depend on the quality of courses it offers. If user experience is poor, the rapidly growing traffic on online education platforms will contract in the near future, bringing little profit for the online education companies.
In fact, despite the huge flow of capital into online education platforms, merely 5 percent of the platforms are making a profit. Although online education platforms have taken up the grand mission to replace the traditional teaching mode, they exhibit little superiority over the traditional education institutions except that they can overcome the time and space limitation.
More suitable to impart knowledge and skill because of their unfettered access to resources and students, online courses have been found wanting when it comes to educating students in aspects such as morality, social responsibilities and physical exercise, which play a big role in the development of a person.
Besides, because of poor interaction, knowledge teaching may be compromised online. Also, complaints by students, teachers, parents have exposed the weaknesses of online education. For example, paying little attention to the online teachers, many students have been reported to be busy chatting or posting messages online. And a class of 60 students is said to have clicked hundreds of thousands of likes for their teacher during a single live-streaming lesson.
Moreover, parents are under pressure to fully cooperate with the online teachers as they have to monitor and tutor their children at home to ensure they are not distracted while attending online classes.
It is also harmful to urge teachers who are not qualified to do so to start live-streaming. The poor quality of education they impart may have the opposite effect on the students, which may affect the students' development in the long run. Such problems also exist in some traditional educational institutions which have hastily switched to online platforms to cut costs, without paying attention to quality.
The epidemic, however, may accelerate the demise of some offline institutions whose performance has been poor. But that does not mean online platforms are having an easy time, because most of them are offering free lessons to compete with rivals and attract more students. And although the epidemic may have prompted more subscribers to join online education platforms, it would be far-fetched to assume that online education institutions are making big money.
Basically, it is content rather than the form of education that plays a decisive role in the education sector's competition. So, poor quality online education platforms are likely to have a short life despite the increase in traffic due to the epidemic.
The author is the deputy director of the 21st Century Education Research Institute. The views don't necessarily represent those of China Daily.