Telecom carriers offer special services to help tame nCoV
By Ma Si | China Daily | Updated: 2020-02-24 09:40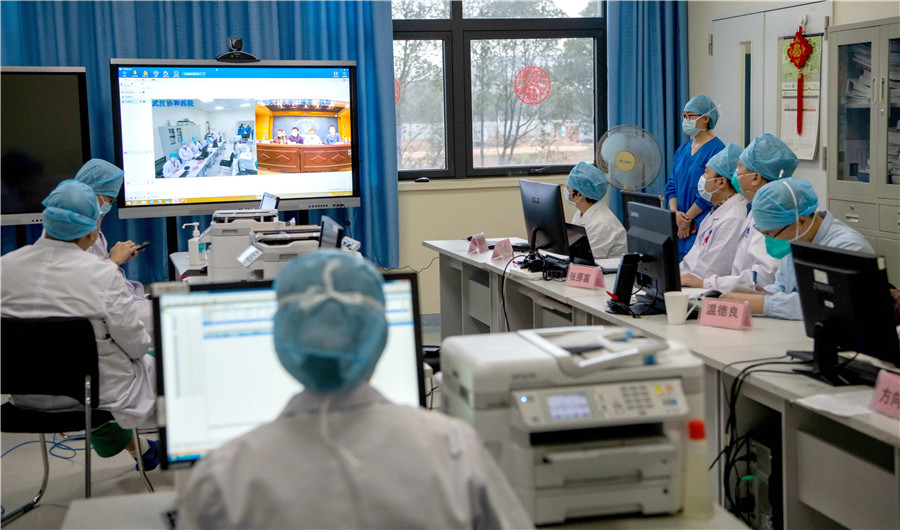 Innovating high-tech, operators unleash robots, cyber platforms to contain infection
"Before touching a clean mask, wash your hands thoroughly with both soap and water. Then orient the top of the mask properly and make sure that the mask's bendable side is facing upwards." That is how a 5G-enabled robot instructed a group of patients at the Shanghai Sixth People's Hospital Affiliated to Shanghai Jiao Tong University on how to properly wear masks.
In provinces like Hubei and Zhejiang, and municipalities such as Shanghai, these robots, donated by China Mobile and Cloud Minds, are offering a variety of automated medical services to help reduce pressure on front-line health workers who are dedicated to containing the novel coronavirus outbreak.
Standing over one meter high, the robots are equipped with arms or hands that can swing freely, with display screens on the chest. They are part of broader efforts by China's telecom carriers to use cutting-edge technologies to fight the epidemic.
China Mobile said about 600 more robots will be donated to hospitals. These robots can now offer medical advice, deliver drugs, guide on routes, and conduct disinfection at hospitals. They can also check patients' temperature and perform other repetitive work.
"Using the robots to do such work in isolated wards can effectively reduce cross-infection, and enhance the efficiency in taking care of patients," said Huang Xiaoqing, CEO and founder of Cloud Minds, a company specializing in operating robots.
As the number of confirmed cases of COVID-19 in China surpassed 70,000 as of Feb 17, the big three telecom carriers China Mobile, China Unicom and China Telecom scrambled to tap into state-of-the-art technologies like 5G, artificial intelligence and big data analysis to combat the epidemic.
Currently, China has about 1.6 billion smartphones in use. Some users have more than one smartphone. This allows the three carriers to use data analysis in epidemic prevention.
They have given full support to local governments in sending messages about the epidemic to the public.
Also, as arresting the rapid spread of the virus became the key to ensuring safety, China Telecom developed a 24-hour online housekeeping video platform for epidemic prevention, which uses new technologies such as cloud computing and the internet of things to monitor and control the traffic in key areas.
Lin Rui, an employee at China Telecom, said: "By using such a cloud video platform, we have helped safeguard many places, such as some communities and the construction site for a makeshift hospital Huoshenshan in Wuhan, the capital of Hubei province and the epicenter of the novel coronavirus outbreak."
As early detection, isolation and treatment are vital to containing the virus, China Mobile developed a remote medical consultation platform.
It empowers doctors to treat patients who are far away. By simply downloading and installing an app on a smartphone, doctors in Guangdong province can help treat patients in Hubei province. So far, over 140 doctors in Guangzhou-based Sun Yatsen Memorial Hospital have used the platform to address more than 1,900 requests from patients.
Lu Shu, an employee of China Mobile, said 5G-enabled online medical consultation services can greatly reduce the traffic to hospitals' outpatient departments and thus help prevent cross-infection among crowds.
Lu said the company has also developed solutions to support telemedicine, and remote imaging, which can contribute to the nationwide epidemic battle.
As tens of millions of white-collar workers and students work and study from home to avoid the novel coronavirus epidemic, cloud-based office tools like video conferencing and online training modules are gaining traction in China. The three telecom carriers have played a big part in facilitating remote work and study.
China Telecom, for instance, said it has developed a whole suite of online learning solutions and systems to enable students in Wuhan to continue their studies.
The Tongzhou campus of Beijing No. 2 Middle School launched distance teaching through cloud-based online classrooms, becoming the first school in Beijing to offer e-learning amid the outbreak, thanks to technological support from China Telecom.
Lin from China Telecom said though regular classes have been suspended at schools, students can still continue their study right from their homes.
In the field of remote work, China Unicom has helped sign a clutch of contracts. A software project signing ceremony was held through a video conference on Feb 7, with the two sides based in Beijing and Qingdao, East China's Shandong province, respectively. The event marked an innovative way to maintain economic growth amid novel coronavirus outbreak.
During the ceremony, Beijing-based software company DHC confirmed investment in a project valued at 3 billion yuan ($428 million) in Qingdao Laoshan district.
The three telecom carriers announced that their services will not be shut down because of phone bill arrears, and guaranteed normal communication for frontline medical staff.
Quality mobile communication services have a vital role to play in combating the virus, they said.
"United, we can definitely conquer the virus," an employee from China Unicom said.