Self-driving trucks on track
By BELINDA ROBINSON in New York | China Daily Global | Updated: 2020-02-25 03:47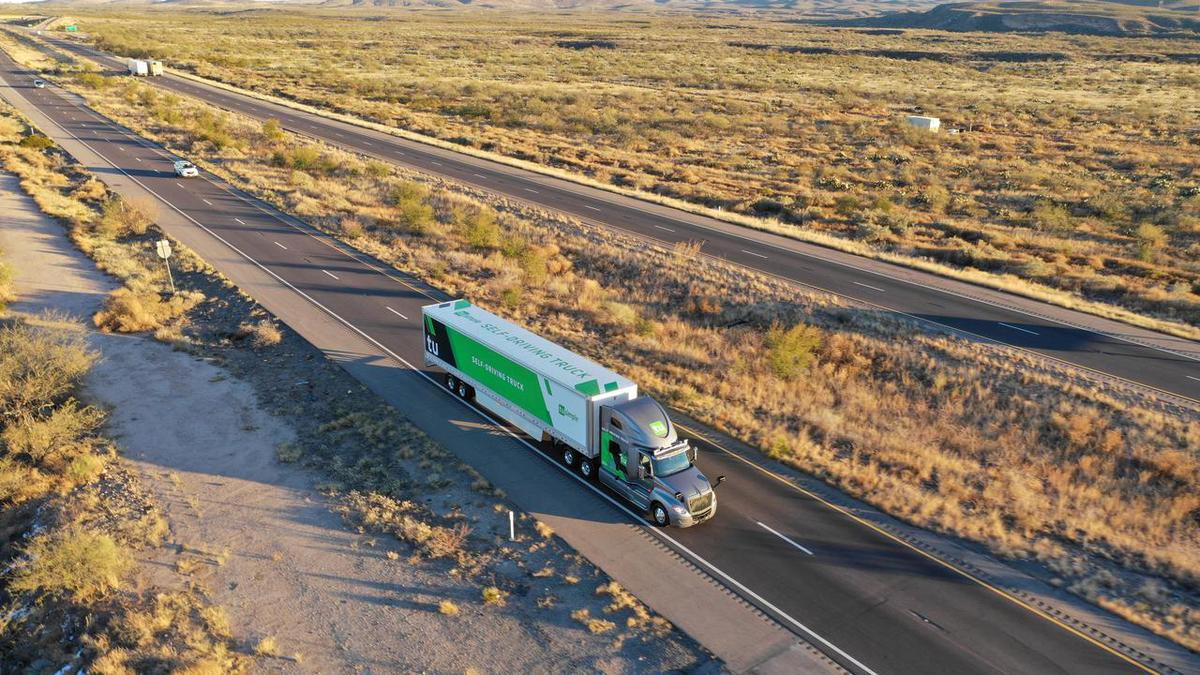 US, Chinese tech companies have developed software for autonomous, long-haul trucks
Several US and Chinese tech firms have developed highly sophisticated software for autonomous long-haul trucks that can carry tons of freight cross-country and operate with only minimal human assistance.
Self-driving truck companies such as TuSimple, Embark, Waymo, Starsky Robotics, Ike, Kodiak Robotics, Plus.ai and the Chinese companies Pony.ai and FABU Technology are all speeding toward autonomous freight hauling.
TuSimple, founded in 2015 by President and Chief Technology Officer Xiaodi Hou, is valued at $1 billion. It operates self-driving trucks out of Tucson, Arizona, with backers that include the US Postal Service and Chinese tech firm Sina, owner of Weibo, and US chipmaker Nvidia. It is developing a commercial-ready, fully autonomous driving solution.
Robert Brown, director of public affairs for TuSimple, told China Daily: "We believe that autonomous and long-haul truck drivers will work in collaboration for many years to come. There are more goods being shipped than ever before, and the trucking industry is the backbone of that economy.
"Autonomous driving can help make our roads safer because a TuSimple truck can see more and react 15 times faster than a human. TuSimple trucks are able to see and react faster because on average, the trucks have 10 cameras, five radars and two lidars that enables the truck to "see" all around the vehicle.
The autonomy of vehicles is ranked on a scale from 0 to 5. Zero means no autonomy. Levels 4 and 5 mean complete autonomy, meaning the vehicle may not have a steering wheel or pedals or a need for human intervention. Most firms are currently operating at level 3, which allows the automated system to operate with a driver ready to assist.
However, Plus.ai, which has research and development centers in Beijing, Shanghai and Suzhou and specializes in self-driving truck technology, said one of its vehicles had traveled 2,800 miles from Tulare, California, to Quakertown, Pennsylvania, carrying 18 tons of Land O' Lakes butter in December.
It was the first-ever coast-to-coast trip by a level 4 self-driving truck with a refrigerated trailer. Additionally, China Post and Deppon Express in China began delivering packages with self-driving trucks made by FABU Technology in 2019.
To drive a commercial truck in the US, federal law requires drivers to be at least 21. A high school diploma isn't required but a Class A commercial driver's license is. The average annual base salary for a trucker in the US is $59,730, according to Indeed.com.
In 2018, a 60,000-trucker shortage in the US was expected to double over the next decade due to drivers typically aged 55 and up and a lack of women or younger men to replace them.
Brown suggests the use of autonomous big rigs could help as the US trucking industry needs to hire 1.1 million new drivers by 2030.
But the sophisticated, 70-foot-long trucks that can drive from a depot onto a highway with the help of a "supercomputer" on board won't immediately eradicate jobs for America's 1.8 million truck drivers, say people in the industry.
"First of all, it ain't happening. We're not going driverless tomorrow, not five, not probably in 50 years out. … You're going to have drivers in trucks for a long time," Chris Spear, American Trucking Associations president and CEO, told a June 2019 congressional hearing.
Long-haul truck driving has been dubbed America's most dangerous job after the US Bureau of Labor Statistics reported that of 5,250 fatal work injuries in 2018, heavy and tractor-trailer truck drivers had the most fatalities, with 831. Truck drivers can also suffer from stress.
"TuSimple trucks don't get tired, distracted or need to rush anywhere, instead the technology is developed to drive the steadiest and safest path possible," Brown said.
But heavy autonomous trucks do raise safety concerns. There are currently no liability laws that allow a person who has been injured by a self-driving truck to sue the vehicle's manufacturer.
Peter Kirdock, general counsel for the group Advocates for Highway and Auto Safety, an alliance of consumer, medical and insurance groups, told China Daily: "We have significant safety concerns with the current state of autonomous vehicle technology … those concerns are heightened even more when you're talking about a truck that can weigh over 80,000 pounds."
A 2020 survey of 35,000 consumers of driving age from 20 countries released by Deloitte found that 68 percent of Americans are concerned about sharing the road with autonomous trucks.
Autonomous truck companies say the vehicles will have a positive impact on the environment and save at least 10 to 40 percent on fuel. At present, the trucking industry in the US, the EU and China combined uses 17 million barrels of oil per day, about one fifth of the global oil demand, according to the International Energy Agency.
Shaun Kildare, research director for the Advocates, added: "I don't know if they have come up with a solution on how an autonomous truck is going to top off its oil, check off its tires, secure the loads … there's a lot of things that go into trucks besides literally sitting behind that wheel. I don't see the advancements that we're seeing right now getting rid of those (human truck driver) jobs immediately … even if there is some type of autonomous system installed in the vehicle."