Smart manufacturing, logistics to help Baosteel maintain steady output
By Wang Ying in Shanghai | China Daily | Updated: 2020-02-25 09:19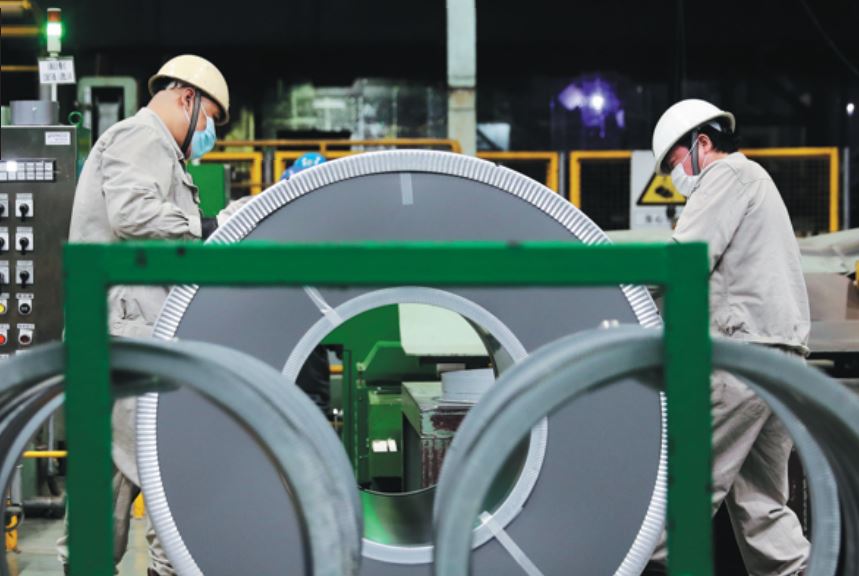 Steel major Baoshan Iron and Steel Co Ltd is banking on its smart manufacturing and logistics strengths to sustain production even as the novel coronavirus outbreak forces several companies to suspend production.
"Owning to its special characteristics, even a one-second suspension in manufacturing can cause huge losses for not only the steel mill itself, but also for upstream and downstream enterprises," said Fu Shunming, an engineer at the cold rolling plant of Baosteel.
Ever since the outbreak, Baosteel has been trying to strike a balance between epidemic prevention and stable production.
By using intelligent technologies like remote maintenance operations, big data, and artificial intelligence, the Baoshan production unit in Shanghai has operated smoothly around the clock, Fu said.
The two 200-meter-long major production lines in Baoshan are fully unmanned, and each line needs just two to three workers for inspections.
During working hours, the four to five operators who each wear a face mask sit away from each other in the more than 100-square-meter control room. They use an intelligent remote control system to maintain high efficiency.
The smart logistics system with only four operators effectively moves the steel products from production line to the warehouse, and then to the dock for shipments.
The Baoshan base ships 100,000 metric tons of steel rolls to destinations globally on a daily basis, said Li Qingyong, director of the finished factory center in the transport department of Baosteel.
Despite the epidemic, the consensus in the global steel industry is that smart manufacturing is the way forward for the steel sector to achieve the high-quality transition. It guarantees the Chinese steel industry's supply-side reform for high quality and elevated efficiency, industry experts said.
"The Chinese steel sector will develop in two directions. One is green development, and the other is intelligent manufacturing," said He Wenbo, Party secretary of the China Iron and Steel Association.
Against the backdrop of global oversupply, innovation stagnancy and development capability, as well as the requirement of sustainable expansion, Baosteel's intelligent manufacturing has set an example for the steel sector to forge a green and intelligent growth path.
Manufacturing is a pillar industry of the Chinese economy, and it supports the country's high quality as well as global industrial growth. It is widely believed that smart manufacturing is the only way for the transition and upgrade of Chinese manufacturing.
As the bellwether of China's steel industry, which is challenged by overcapacity, and need for cost reduction, efficiency improvement, energy saving and emission reduction, Baosteel is determined to lead the Chinese steel sector in seeking high-quality and sustainable development by improving its competitive cost, quality and service, said Zou Yuxian, deputy director of the intelligence manufacture office of Baosteel.
Since initiating the exploration in intelligent manufacturing in 2014, the Shanghai-listed company has rolled out its strategy for smart manufacturing.
In the past few years, Baosteel has established several digital and intelligent production lines in procedures for marketing and sales, research and development, manufacturing, logistics, finance, and services in its Shanghai base.
"The smart manufacturing is aimed to improve quality and efficiency through intelligent methodology. It has not only improved the operational efficiency, but also improved the human labor environment without working on-site," said Zou.
The plate casting intelligent production line has seen its production efficiency improve 30 percent, quality increase more than 30 percent, and the cost of production decreased 25 percent, Zou added.
In January, Baosteel's Shanghai factory was handpicked in the list of the World Economic Forum's lighthouse facilities, the first laureate won by the Chinese steel industry that is undergoing a wave of restructuring and upgrading, experts said.
"This 40-year-old factory adopted digitization early. Its extensive implementation of artificial intelligence and advanced analytics has allowed it to maintain its industrial competitiveness in the digital era, creating value for $50 million," said the World Economic Forum's white paper on the global lighthouse network, which was done in collaboration with McKinsey & Co.
For China's steel sector, the significance of having a lighthouse factory is that it is a cornerstone, marking China's shift from the world's biggest steel producer to an iron and steel power through smart manufacturing.
In the case of Baosteel's Shanghai site, its top five uses are production planning powered by advanced analytics that improved 83 percent in planning efficiency, advanced IoT applied to process optimization that caused $15 million in lower material and quality costs, predictive maintenance aggregating equipment and process data that improved tool lifetime by 30 percent, visual inspection powered by artificial intelligence that resulted in 70 percent improved labor efficiency, and logistics powered by real-time tracking, unmanned operations and automatic planning that cut $27 million in logistics costs, the white paper said.
"The fast-changing state-of-the-art technologies enable the rapid development of intelligent manufacturing and informationized technology, which will definitely make for a far-reaching impact for various industries, and steel manufacturing will be at the forefront," said Luo Tiejun, vice-chairman of the China Iron and Steel Association.