China-inspired samba show thrills revelers at Sao Paulo Carnival
China Daily Global | Updated: 2020-02-25 09:40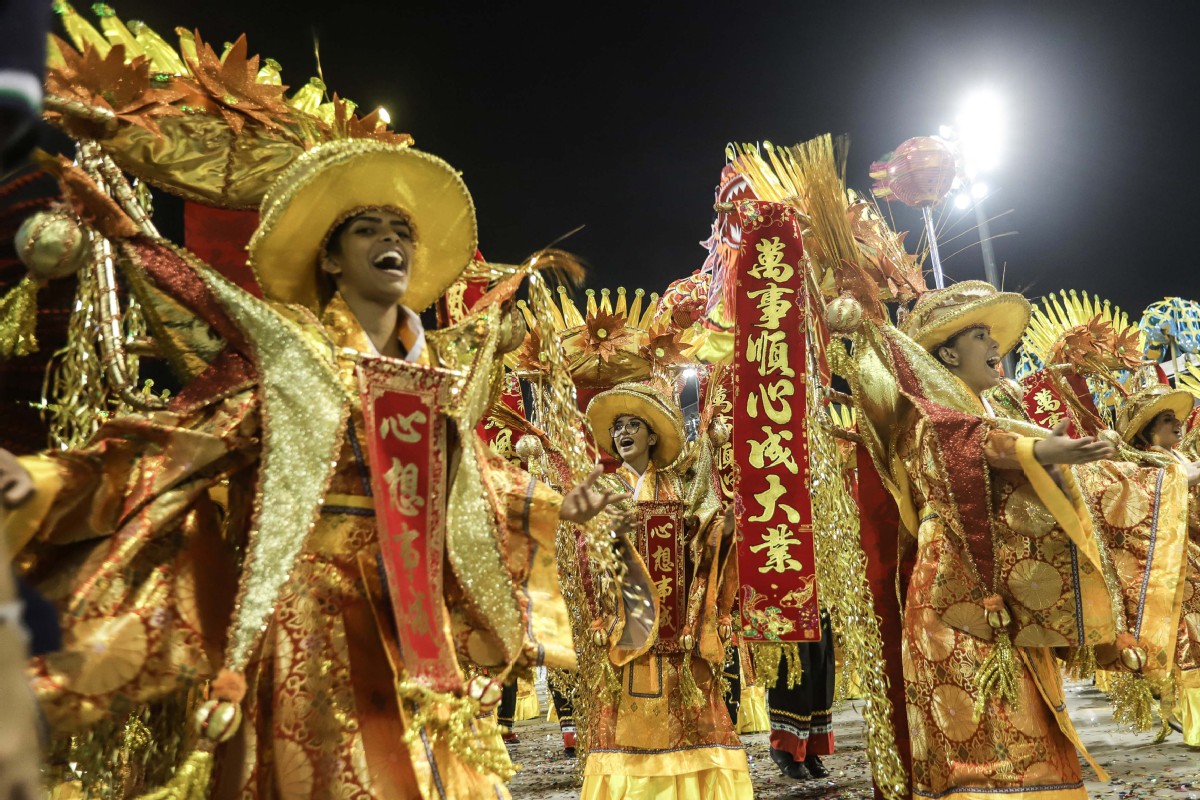 SAO PAULO-Thousands of spectators danced and sang along to the music as a China-inspired samba show took center stage during the second and final night of Carnival celebrations in the Brazilian city of Sao Paulo.
The crowd cheered wildly as the city's 2,600-member Unidos de Vila Maria samba school paraded through the sambadrome-the bleacher-flanked avenue where competing samba schools perform.
Carnival-goers marveled at the elaborate floats paying tribute to Chinese civilization and cultural icons, from Confucian wisdom and key inventions to giant pandas, bright red lanterns and fierce dragons.
Six other samba schools took part in Saturday night's parade, presenting a multicultural celebration of dance, music and traditions well into the wee hours of Sunday morning.
Leading the Chinese-themed parade was a theatrical staging of the Monkey King, known as Sun Wukong in Chinese, a central character in the 16th-century novel Journey to the West.
The initial float featured a giant dragon and recreations of the Summer Palace, as samba dancers shimmied to the beat of Brazilian batucada and whirled traditional Chinese fans.
Drummers were dressed as Xi'an Terracotta Warriors in shiny golden costumes that were brought all the way from China by Cristiano Bara, the school's artistic director and creator of the theme, and Adilson Jose Souza, president of Unidos de Vila Maria.
High-rises, smart buildings
Modern China was also showcased, with a green float illuminated to evoke the high-rises and smart buildings of Shenzhen.
"I'm proud to have a samba school feature China," said Liao Si, a Chinese teacher living in Brazil who took part in a Carnival parade for the first time.
Yang Xiang, a Chinese participant from Hunan province, said: "We are in a section representing the 56 ethnic groups to demonstrate the unity of China."
Yang got involved in the show after "the association of the Hunan community in Sao Paulo notified us that the Unidos de Vila Maria school was going to have a Chinese-themed carnival, so many of our compatriots came to take part," he said.
Brazilian Fabiana Flanato, who also participated in the parade, said it was a learning experience, since it takes some 10 months to prepare a show of this kind.
"For me it was an opportunity to find out more about China," she said.
Thomas Law, president of the Brazil-China Sociocultural Institute (IBrachina), took part in the final float, which was dedicated to the future of China, including its role in spearheading space exploration.
"This makes me very happy and excited. The parade depicted traditional China and modern China. I think everyone enjoyed seeing something so well done and so full of joy," said Law.
In addition to the revelers at the sambadrome, people around the world got the chance to enjoy the show, which was broadcast to nearly 70 countries.
XINHUA