China set to be the world leader in offshore wind market this decade
By ANGUS McNEICE in London | China Daily Global | Updated: 2020-02-26 09:45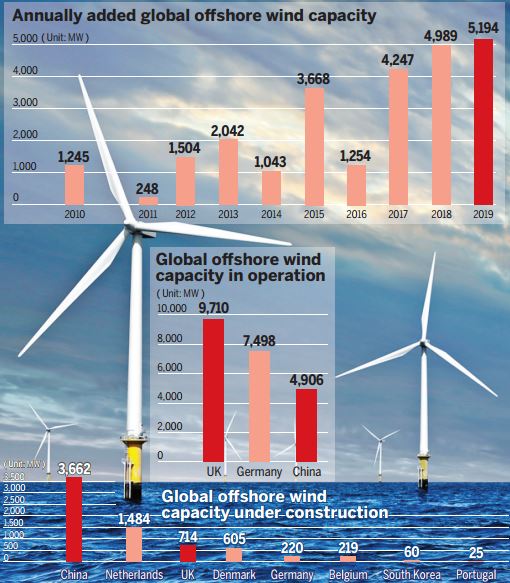 The global offshore wind industry grew rapidly in 2019, according to a new report, with a record number of turbines going online last year and China leading the world in new builds.
An unprecedented 5.2 gigawatts of offshore wind capacity was added last year, according to the World Forum Offshore Wind, or WFO.Globally, 16 new offshore wind farms went into operation in China, the United Kingdom, Germany, Denmark, and Belgium.
Last year, the UK and Germany maintained their status as the world leaders in installed capacity, at 9.7 gigawatts and 7.5 gigawatts respectively.
China is the world's third-biggest offshore wind market, with 4.9 gigawatts currently online, though the WFO says China will claim top spot this decade.
"China's offshore wind sector is growing rapidly with a total capacity of 3.7 gigawatts currently under construction," the report said. "China is expected to become the world's largest offshore wind market during the 2020s."
The Netherlands is a distant second in terms of new builds, with 1.5 gigawatts of offshore wind farms under construction in 2019, followed by the UK with 0.7 gigawatts.
Total worldwide offshore wind capacity reached 27.2 gigawatts at the end of 2019, a 24 percent increase on the previous year. There are now 146 offshore wind farms in operation around the world, according to the WFO.
The International Energy Agency, or IEA, predicts that China's offshore wind capacity will increase to 19 gigawatts in 2025, with this expansion driven by falling costs, supportive government policies and major technological progress, such as larger turbines and floating foundations.
Historically, offshore wind farms have been limited to areas that benefit from a shallow continental shelf. Floating turbines allow developers to exploit wind power in deeper waters.
Last year the 30-megawatt Hywind wind farm off the coast of Scotland became the first floating offshore facility to go into operation.
The vast majority of China's wind power is generated by onshore farms, though offshore wind is set to play a critical role in China's efforts to lower emissions, according to experts.
Most of China's major onshore farms are located far inland, hundreds of kilometers from populous coastal cities with a high energy demand, such as Shanghai.
In a new study, researchers from Harvard University in the United States and Huazhong University of Science and Technology estimate that if electricity prices are high, offshore wind could provide about 36 percent of all coastal energy demand in China. If electricity prices are low, it could provide more than 200 percent of total energy demand.
"This is an important new contribution, recognition that China has abundant offshore wind potential that can be developed and brought on shore to the power hungry coastal provinces at costs competitive with existing coal-fired polluting power plants," said Michael McElroy, professor of environmental studies at Harvard and lead author of the paper published last week.