China speeds up 'new infrastructure' investment to combat economic pressure
Xinhua | Updated: 2020-03-05 16:08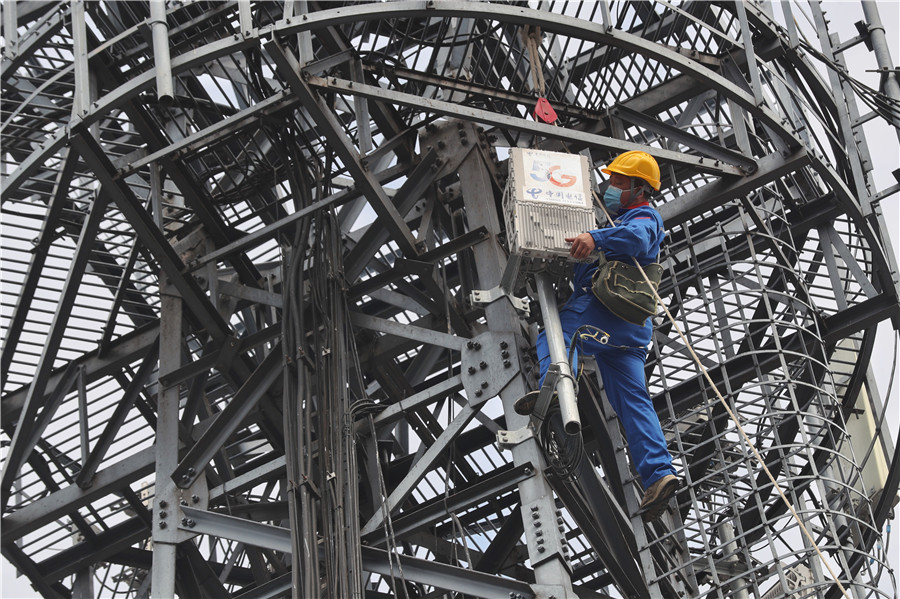 BEIJING -- China is eyeing "new infrastructure" projects to offset the economic impact of the novel coronavirus disease (COVID-19) and boost sustainable growth.
The country will accelerate the construction of new infrastructure such as 5G networks and data centers, said a Wednesday meeting of the Standing Committee of the Political Bureau of the Communist Party of China Central Committee.
Rather than resorting to a massive government-led stimulus to shore up growth, China is seeking more targeted investments in projects that facilitate innovation and improve weak areas in economic and social development.
A total of 25 provincial-level regions have put new infrastructure projects in their government work reports, with 21 intending to advance 5G network construction.
Among the first batch of major projects to be constructed in East China's Zhejiang province this year, 61 percent are in the high-tech field, compared with only 41 percent from the previous year.
On Tuesday, the construction of the Alibaba Damo Academy started in Hangzhou, capital of Zhejiang. With an investment of 20 billion yuan (about $2.9 billion), the academy is expected to become an incubator of strategic innovation industries such as big data, artificial intelligence, driverless cars and quantum computing.
The outbreak of COVID-19 has also pushed China Unicom to accelerate the construction of 5G network infrastructure. The leading telecom operator announced in February that it would work with China Telecom to finish the construction of 250,000 5G base stations across the country by the end of the third quarter, earlier than previously planned.
"Instead of simply turning to the old playbook of investment stimulus, the country should promote a new round of infrastructure construction through reform and innovation," said Ren Zeping, chief economist of Chinese property developer Evergrande.
Investors have already jumped on the bandwagon. In China's A-share market, stocks related to 5G networks, industrial internet, inter-city transit systems, vehicle charging stations and data centers -- all considered as new infrastructure -- saw continued fund inflows, with exchange-traded funds linked to these shares registering gains in the past weeks.
While policy incentives have guided market funds into the sector, the government is also expected to encourage new infrastructure via special bonds, public-private partnerships and credit support, said Tang Chuan, an expert with 360 Finance, noting that about 714.8 billion yuan of special-purpose bonds were issued in January, 10 times the amount of general bonds issued.
Lu Ting, chief China economist with Nomura, cautioned against the approval of massive infrastructure projects with low returns, but said that certain investments in major city infrastructure such as permanent epidemic control centers are necessary, as the epidemic revealed vulnerabilities in these areas.
"It is important that the government spends more on concrete projects and pools resources to areas including the healthcare system, medical research and education," Lu said.