Digital economy to get a big boost from China's 5G expansion efforts
By Ma Si | China Daily | Updated: 2020-03-06 07:05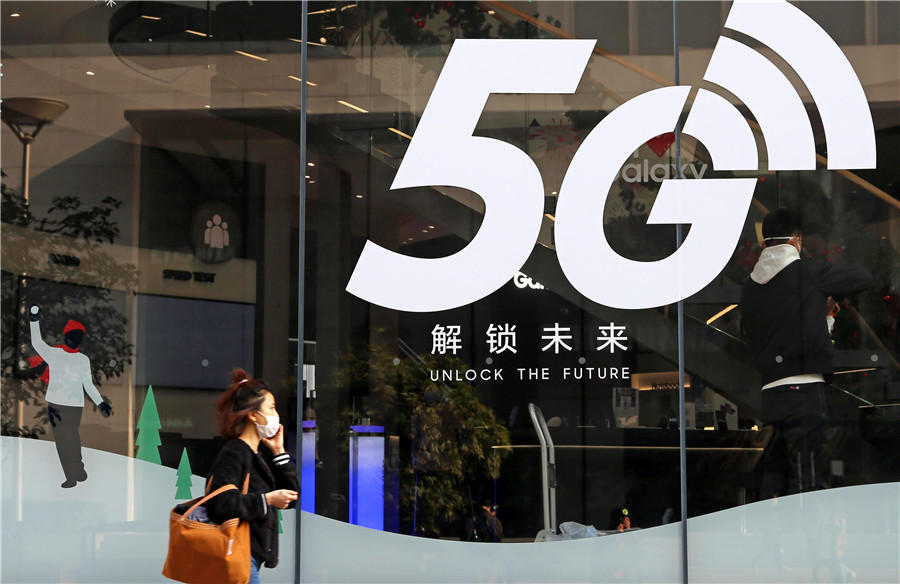 China's intensified efforts to build 5G network and data centers will help stabilize investments and inject new vitality into the digital economy, analysts said on Thursday.
The comments came as China enters a critical period of 5G network construction and the superfast wireless technology is being widely used in the fight against the novel coronavirus outbreak.
Wang Zhiqin, deputy head of the China Academy of Information and Communications Technology, a government think tank also known as the CAICT, said China's three major telecom operators have built about 156,000 5G base stations by early February.
China Mobile, China Unicom and China Telecom are expected to have more than 550,000 new, operational 5G base stations across the nation this year.
That will achieve continuous outdoor connection in prefecture-level cities across China, and cover the key areas in counties and townships. The superfast wireless technology will also support major indoor scenarios within this year, Wang said in an article.
A Wednesday meeting of the Standing Committee of the Political Bureau of the Communist Party of China Central Committee said the country will accelerate the construction of new infrastructure such as 5G networks and data centers.
Stocks relating to 5G-concept surged on Thursday. Shenzhen-listed Jiangsu Dewei Advanced Materials Co Ltd, whose new materials are used in 5G equipment, saw its share prices rise by the daily limit of 10 percent. Shanghai-listed Zhongtongguomai Communication Co Ltd's shares also rose by the daily limit of 10 percent.
Wang from the CAICT said 5G network construction will drive investments in applications not only in the upstream and downstream of the industrial chain but in other industries.
S&P Global (China) Ratings said in a new report on Wednesday that 5G investment is on the verge of peaking, with the annual capital investment of China's three major telecom operators expected to increase by 6 percent on an annual basis this year. This year, China will invest about 120 billion yuan ($17.3 billion) in 5G infrastructure, the report said.
The superfast technology has already played an active part in the fight against the novel coronavirus outbreak. 5G-powered telemedicine and smart robots have come from trials into frontline practices amid the battle against the epidemic, while remote office solutions and online teaching also contributed to quarantine efforts as well as the resumption of work and production, Wang said.
With a solid industrial foundation and maturing commercial products, the CAICT is expecting China's 5G industry to directly create over 3 million jobs as of 2025, with aggregate information consumption brought by 5G commercialization surpassing 8.3 trillion yuan.
Ren Zeping, chief economist of Chinese property developer Evergrande, said instead of simply turning to the old playbook of investment stimulus, the country now promotes a new round of infrastructure construction through reform and innovation.
Local governments are also offering help to expedite the construction of 5G networks. South China's Guangdong province will build 60,000 5G base stations this year, with 50,000 to be completed in the first three quarters.