Classrooms reopen in Xinjiang with wishes, wariness as epidemic wanes
Xinhua | Updated: 2020-03-18 13:30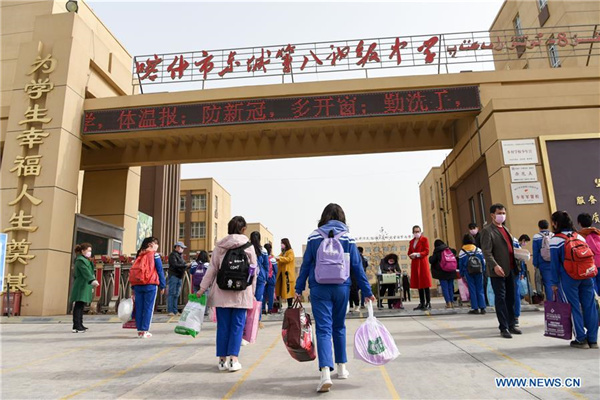 "It keeps you concentrated. Who knows if someone is clocking in for the online classes in bed," she joked.
Now Cao, in her neat uniform, is back in the classroom, but there is a lot of caution being taken.
Each class is limited to 30 students, seating is staggered and temperatures are taken three times a day. All the classrooms, canteens and dormitories are disinfected regularly, while closed-off campus management has been adopted to reduce imported infection risks, according to Tian Yun, head of the school's educational administration office.
Wearing a mask and filled with renewed determination, Cao had the first class of the renewed school life: tips on easing stress and anxiety during a unique exam preparation amid the epidemic.
"It's good to be back. I feel that I'm not fighting alone," she said.
China said last week that the peak of the current COVID-19 outbreak at home is over as new cases keep declining and the overall epidemic situation remains at a low level across the country. Life and production are picking up pace in returning to normal.
As the epidemic's risks dim in other parts of China, more schools will resume classes. Southwest China's Guizhou Province also resumed classes for graduating students Monday, while some schools in northwest China's Qinghai reopened even earlier.
The majority of the country's local governments haven't decided the date for school resumption, which would be carried out based on local epidemic control developments and in a phased manner. School reopening for graduating students in junior and senior high schools will be prioritized, while that for college students might be considered at a later time due to cross-region transmission concerns.
It's still up in the air whether the gaokao will be postponed due to the epidemic, but Cao said she would race against time to prepare for one of the most decisive tests in her life.
"I wish the epidemic would end soon and I could score high enough to attend Peking University (one of the best universities in China)," Cao said.