Discounts, freebies, coupons spice up consumption market
By HE WEI in Shanghai and CANG WEI in Nanjing | China Daily | Updated: 2020-03-20 09:09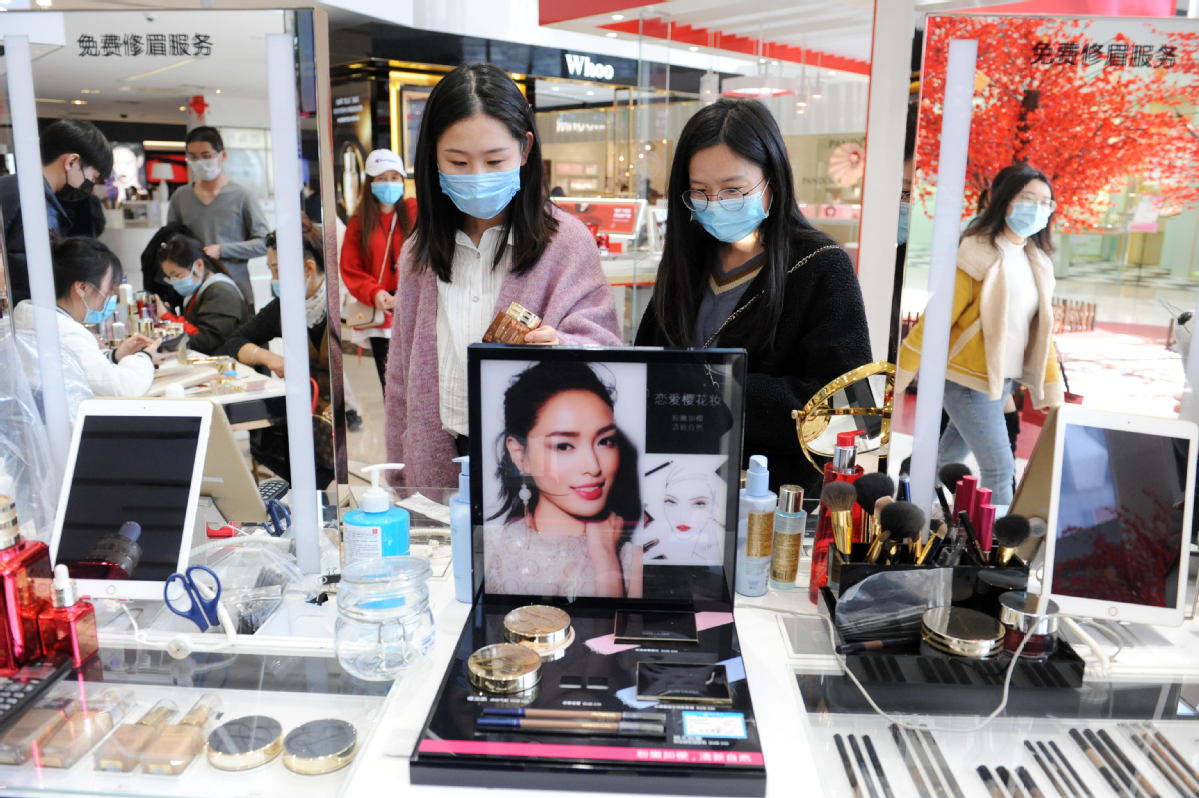 Public and private sector enterprises in China are joining hands to increase spending and stem losses from the novel coronavirus epidemic, even as the country has come up with a slew of policies to boost consumption, experts said on Thursday.
Be it the distribution of cash coupons or discounts, several experimental measures are being undertaken under a 19-point circular issued by a consortium of 23 central government agencies to fuel domestic consumption, the backbone of the Chinese economy.
To get people to spend, the municipal government of Nanjing, capital of East China's Jiangsu province, plans to offer 670,000 coupons worth 318 million yuan ($44.7 million) under a lottery-styled scheme.
Ningbo in Zhejiang province said the local government and companies would offer vouchers worth 100 million yuan to boost consumption in scenic spots, hotels, cinemas and bookstores, whereas consumers in Changsha, capital of Central China's Hunan province, stand to enjoy a discount of 0.3 percent and a 3,000 yuan subsidy for purchase of any of its 49 designated car models.
"It's no surprise that governments are offering coupons or even distributing cash, as it has been the case in some other countries for boosting consumption," said Jin Liyin, a professor at the School of Management of Fudan University.
But its effects remain to be seen, he said, as some people might see the coupons as purely a form of financial relief to expand rainy-day nest eggs, but are still reluctant to draw much from their own bank accounts.
Merchants are busy joining the fray. Hospitality giant Hilton has rolled out a number of discount offers across accommodation, catering and even laundry services nationwide, as the company pins hope on a gradual pickup in demand as the outbreak has showed signs of easing, at least within China.
"Leveraging livestreaming is new to our marketing playbook, with multiple hotel brands of our group engaging with customers on various online platforms," the company told China Daily in a statement. "This not only boosts traffic but directly drives takeout business of our catering services."
Shanghai's Century Link, among the city's top three shopping malls by traffic volume, has also jumped on the livestreaming bandwagon to market its services, as daily customer flow has witnessed a comeback to 50,000 from its nadir roughly a month ago.
It has also introduced a virtual shop via WeChat, providing steep discounts on an array of products from jewelry to fresh produce, said Huang Wenhui, the company's marketing director.
The package of online-to-offline stimulus "is really to keep clients informed when they are not able to visit the store themselves. When conditions do improve, they will want to come back to us immediately", she said, adding that more than 85 percent of restaurants in the shopping center have resumed operations and are allowing on-premises dining.
Alipay, the popular mobile wallet app that aggregates over 10,000 major retailers, is expected to give away over 10 million discount tokens across 12 cities in three weeks. Participating brands include restaurant chain Xibei, milk tea maker Nayuki, as well as health checkup agency iKang.
Discounts are most likely to revive upscale businesses whose big-ticket items or services were traditionally unattainable for shoppers on a spending budget, Jin said. But public-private partnership is the key to long-term success.
For instance, the Beijing Municipal Commerce Bureau has been advocating online shopping, recruiting over 300 vendors to join in a month-long, livestreaming session that entices spectators to open their wallets.
In this case, the Beijing arm of omnichannel retailer Suning handed out 30 million yuan worth of shopping coupons, whereas rival Gome followed suit by offering vouchers equivalent to 120 million yuan for appliances purchases.