China to reopen cinemas with Harry Potter in 3D
China.org.cn | Updated: 2020-03-20 16:36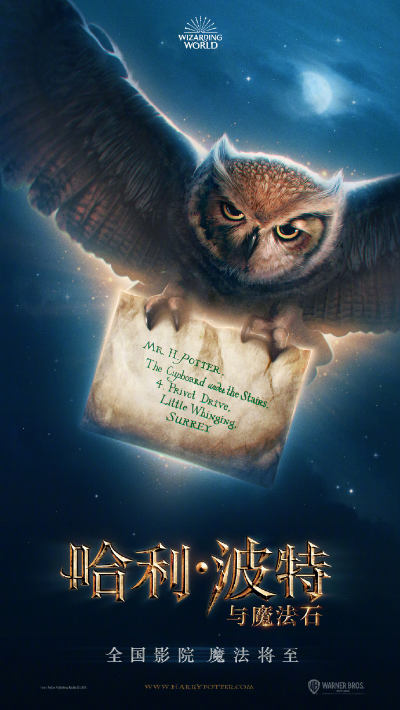 After an unprecedented two-month shutdown of the world's second largest film market, China's cinemas will bring back popular movies to tempt back audiences.
On Thursday, Warner Bros. Pictures announced on its Weibo account that a restored 4K rerelease of "Harry Potter and the Sorcerer's Stone" will soon be returning to Chinese theaters in 3D. However, no release date has yet been set, due to the ongoing fight against the COVID-19 epidemic.
The film, which hit Chinese theaters in 2002 and grossed 56 million yuan, will likely tempt nostalgic fans back to cinemas. On Weibo, many fans expressed their excitement as well as demands for the entire franchise to be rereleased.
The franchise ended with "Harry Potter and the Deathly Hallows: Part 2" in 2011.
Harry Potter is not the only movie to return. China Film Co. has also selected a batch of films for rerelease after the epidemic subsides, including: "American Dreams in China" (2013), "Wolf Totem" (2015), "Wolf Warriors 2" (2017), "The Wandering Earth" (2019) and Lebanese director Nadine Labaki's "Capharnaüm" (2018). All five movies were box office hits and received highly positive reviews.
China Film Co. announced that cinemas will keep all income from the rereleases, in order to revive the country's film market after long closures due to coronavirus. China's cinemas were shut down right before Chinese Lunar New Year, the world's most profitable film season. Nearly all new Chinese blockbusters were canceled, except "Lost in Russia" which chose to debut online.
China Film Co. further suggested that Chinese cinemas could set low prices for the films, which would benefit audiences.
The company stated that more films would be selected for cinemas to screen in the near future, while stressing that cinemas should prioritize epidemic prevention and control and strictly follow the demands and standards of local governments.
On March 16, several cinemas in the remote Xinjiang Uygur autonomous region reopened. Cinemas have also reopened in Sichuan and Fujian provinces, as well as Inner Mongolia. They have mostly screened films from 2019 such as December thriller "Sheep without a Shepherd."
With the Spring Festival season behind them, many blockbusters will not be released because of predictions of low box office returns due to the ongoing epidemic.
Comparing the box office gross data of the first quarter year-on-year, China's film market has so far lost 1.65 billion yuan. In Beijing, one cinema manager stated that cinemas should wait until the epidemic control is stable, otherwise the old films will not attract many people, and the empty theaters, though reopened, will still suffer by wasting time, electricity and staff.
Beijing and Shanghai film authorities have issued orders to distribute subsidies to cinemas facing difficulties and newly built theaters, as well as policies to give subsidies to film companies. Many cities' film authorities have also put out similar notices and policies to support the local cultural and film industries. At the same time, authorities have issued guidelines for cinemas on how to clean up, disinfect and ventilate their venues.
China will not be the only film market that suffers. As COVID-19 spreads around the world, many countries have shut down cinemas. Disney's much-anticipated "Mulan" and many other major Hollywood movies have postponed their release plans from March to May. Meanwhile, many film crews have halted filming. According to the Hollywood Reporter, the global film market is projected to lose $17 billion if the situation isn't fixed by the end of May.