Huawei Cloud helps global fight against COVID-19
By Ma Si | chinadaily.com.cn | Updated: 2020-03-23 16:53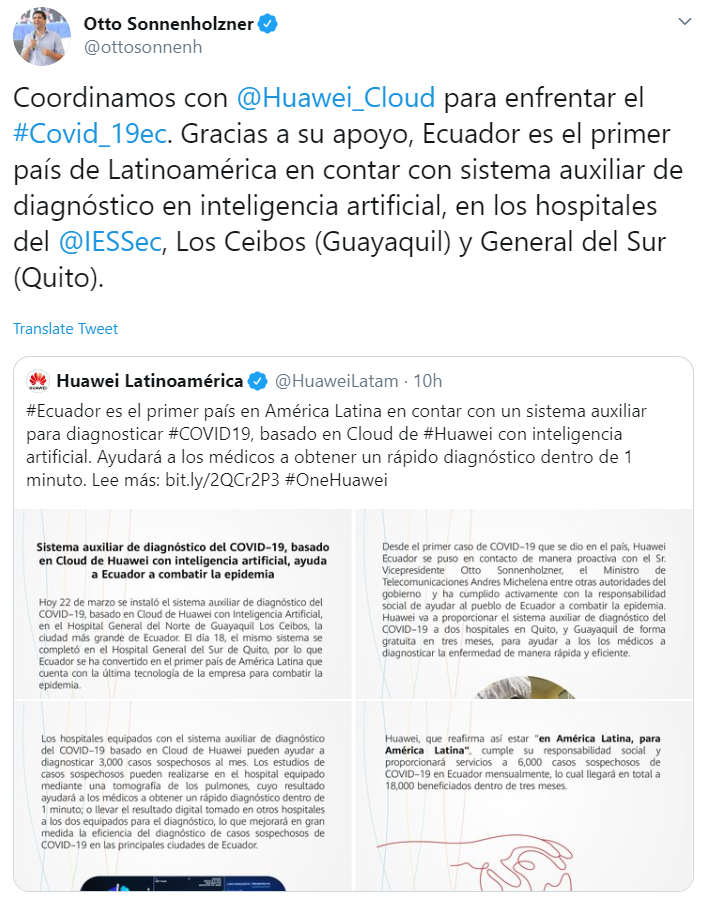 Huawei Technologies Co and its partners are leveraging their technological prowess to assist foreign countries in the global battle against COVID-19, as confirmed cases of the deadly virus rise overseas.
Huawei Cloud, the cloud computing unit of the Chinese tech major, and artificial intelligence company Huiying Medical Technology Co Ltd, are offering AI-enabled auxiliary diagnostic systems to hospitals in Ecuador.
Otto Sonnenholzner, Vice President of Ecuador, said in a social media post on Sunday that thanks to the support of Huawei Cloud, Ecuador is the first country in Latin America to have an AI-enabled auxiliary diagnostic system in two local hospitals.
Zheng Yelai, president of Huawei Cloud, said the AI-enabled system can help doctors make faster, more accurate decisions on whether patients are infected.
According to the company, it took only 14 hours for Huawei and Huiying to connect the AI-enabled system to a hospital in Ecuador. Hospitals in dozens of countries are contacting Huawei Cloud for possible cooperation.