A word in your ear
By Yang Yang | China Daily | Updated: 2020-03-25 07:57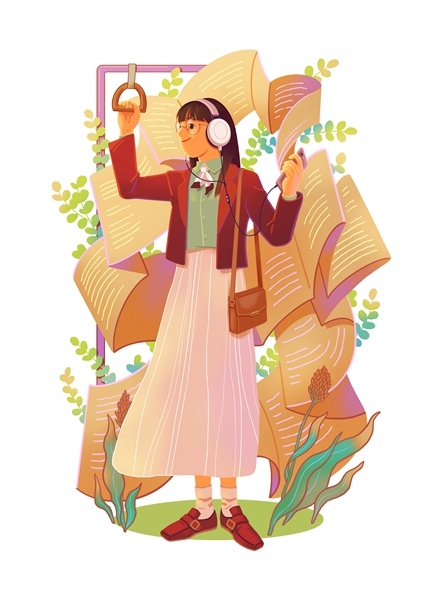 Podcasts provide listeners with information at a convenient time of their choosing, Yang Yang reports.
With the words quarantine and self-isolation entering our everyday lexicon, more imaginative methods of communication are taking hold. On March 21, Chinese publishing brand Imaginist announced that it is going to launch a podcast, Naive Cafe. In China, boke, or podcast, in a broad sense refers to audio programs on all kinds of online audio platforms.
Apart from publishing books, Imaginist has been planning and hosting cultural events, including a literary prize and a life festival. It already runs several popular podcasts. Which begs the question, why another? Ye Ying, who is in charge of the Naive Cafe podcast, said in the announcement that they want to use "a new media form" to convey knowledge and ideas.
Imaginist had planned to launch a physical cafe in Beijing, a space offering books, coffee, exhibitions and salons, which was to open this spring. The novel coronavirus outbreak, however, has delayed the opening, so a podcast becomes the ideal way to "transcend the limit of time and space" for people to gather at audio parties to share interesting stories and explore ideas, Ye says.
Imaginist is among a number of Chinese companies that have begun to explore the territory of podcasts. Audio books, radio plays, and audio programs consumed via podcast on people's smartphones and gadgets are gradually emerging into the mainstream of Chinese media.
Established in 2012, China's largest online audio platform Ximalaya saw its subscribers pass 600 million by December 2019. On average, active users listen for 170 minutes per day.
"Audio is a good medium for content that can break the limit of time and space," says Jiang Feng, vice-president of Ximalaya, adding that it has become an important channel for people to acquire information and knowledge when they commute, exercise or take a break from work.
Chinese audio platforms compound the functions of hosting services, program distributors, and RSS subscriber applications for users, "which makes it similar to an audio YouTube", Yang Yi, co-founder of a popular Chinese podcast, Left and Right, was quoted as saying by Hot Pod, an American newsletter about podcasts.
Buying sound knowledge
Since 2016, the "pay-for-knowledge" industry has been developing fast in China. People pay to listen to, or watch, online programs hoping to acquire knowledge and skills in a time-efficient way. Such content has become an important section on Ximalaya, including lectures and audio books.
Users paid 828 million yuan ($117 million) for more than 2 million pieces of content during Ximalaya's 12/3 Carnival held on Dec 3 last year. Of these, about 25 percent were new users. Two of the most popular are the radio play adaptation of The Three-Body Problem, which was subscribed to by about 200,000 users once it was released, and 100 Books That Change You and Humankind, a podcast of book introductions by Chinese and international professors and intellectuals.
Those born in the 1990s and 2000s have emerged as a force, accounting for 45.6 percent of all the buyers during the carnival.
More younger people use the platform to purchase audio content, Jiang says. "More than half of Generation Z users, born between 1995 and 2009, tend to pay over 100 yuan," he says, adding that audio books and programs about history, literature, finance, business and early childhood education are the most popular categories on Ximalaya.
Apart from pay-for-knowledge content, there are many free program formats, one of which is podcasts. In March 2018, Ximalaya paid 1.35 million yuan to buy one-year exclusive broadcasting rights to Left and Right, an interview-style talk-show program, to allow users to listen for free.
Officially launched in February 2018, Left and Right was listed as one of the best new Chinese podcasts of that year by Apple. Now subscribers on all platforms have passed 100,000. Cheng Yanliang, co-founder of Left and Right, says that subscribers doubled in 2019.
Users are growing, and "podcasts are entering the mainstream", Cheng says.
One reason for the podcast's popularity is due to the emergence of domestic online radio platforms, such as Ximalaya, Qingting and Lizhi, in 2012, he says. Another reason is the convenience brought about by smart gadgets, such as the pre-installed Podcasts app on iPhones. A recent poll among more than 500 users of Left and Right showed that over 70 percent of the participants use iPhones.
What's more important is that people, especially commuters, have more time to fill and consume entertainment on their way between home and their workplace, Cheng says.
One's company
Listening to podcasts has become a select choice for many commuters, as "you can't stare at the screen of your phone all the time, when you transfer to another subway line or walk on a busy road", Cheng explains.
For audio content producers, how to attract users and keep them tuned in is vital for their success. For example, new podcasts are often released on Mondays, as users have five workdays to listen to the programs, Cheng says.
Audio programs, hopefully, Jiang says, can play a role to accompany users in different circumstances-"working, studying, exercising, traveling and before going to bed".
Audio content user Pan Aijuan, a book editor at a publishing house, usually listens to podcasts while cooking and driving, when both of her hands are occupied, and she has to drive a long distance to work.
Pan usually listens to book reviews by the New York Times, the Guardian and Backlisted, but she also listens to other podcasts about politics and economy, such as Financial Times' Behind the Money, which talks about things like 5G and the barriers Huawei Technologies encountered in Europe.
The best thing about the podcast format is that it can exceed the limit of length often imposed on traditional news reporting, according to Pan. It can go as long as one hour with a flexible structure, because conversations tend to be discursive, which is interesting, she says.
"More often than not, you can't summarize two or three important points from those conversations, like you could from articles. They often do not have conclusions, either. So it's a very free media form, very friendly to listeners," she says.
"Podcasts flow, just like yoga; you need to follow it. After it ends, you can check the things you don't know."
If some topics are too demanding because they involve uncommon professional terms, she would listen for the second time.
"Besides, I don't have much time to read about other topics like politics, economy or the arts, but I can listen to podcasts about them while I am chopping vegetables. Listening to podcasts helps me to receive information that I won't normally receive," she says.
Podcasts have another advantage, to help build up our patience and be good listeners. "Podcasts can help train people to first listen to others before offering one's own opinions," she says.
Cheng agrees, adding that "audio programs can filter those bad-tempered men who would lose patience after reading several paragraphs and start writing awful comments to insult others".
"You need to listen to tens of minutes before you reach a conclusion. However, while that can be an advantage, it can also be a hindrance. For instance, it's hard to share online, because you can't just share one small section, you have to share the whole thing," Cheng says.